My original plans for the past weekend did not involve a big brunch, but Friday came and went with a relatively average outing to the rebranded Loft at the Opera.  One thing led to another, and it was a later day than initially intended.  On Saturday, I managed to pull together a somewhat productive day (Dubai Eye, meal prep, sort of packing for my trip to the States) before meeting a friend for dinner at the newly opened Akira Back, located at the W the Palm, a meal I was optimistic about. Having been on a string of nice, but mostly basic meals recently, I was more than ready to be impressed by a new outlet.  On arrival, the neon blue doorway is instantly Instagrammable, and a statement piece.  The interior is similarly suitable for the W, all dark tones, and a slightly modern Art Deco vibe, with views overlooking the property.  There are also two private dining rooms, should you be interested.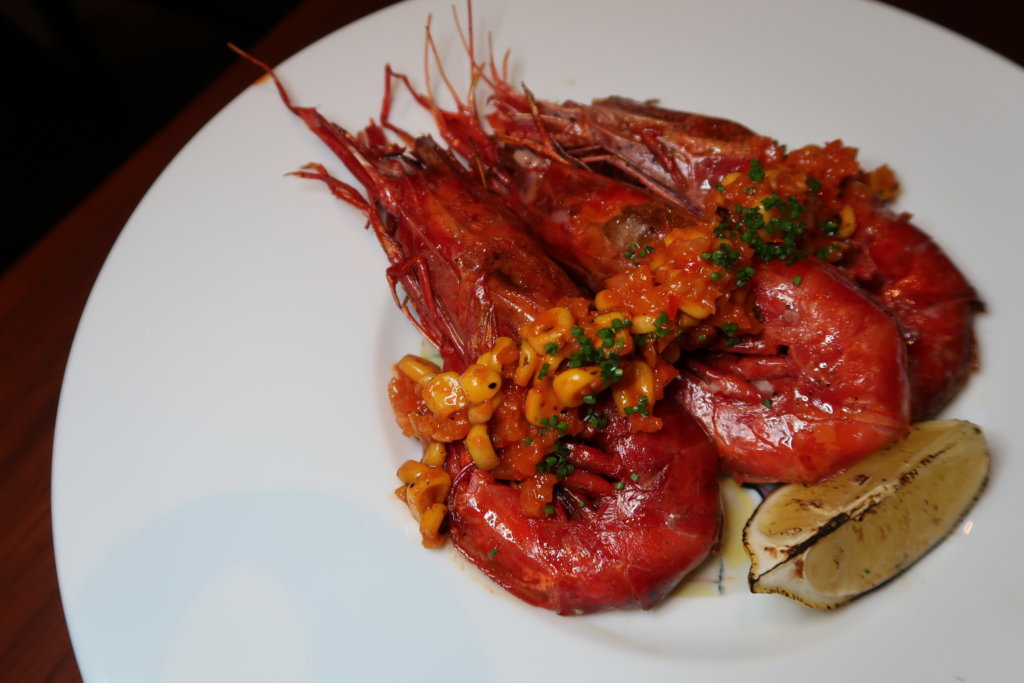 We're greeted by friendly GM Antonios, who walks us through the menu, which is broken down into hot and cold starters, robata offerings, sushi rolls, among other standards, along with larger main portions.  After discussing our allergies (or lack thereof), we agreed that the kitchen would send out whatever they wanted.  To begin, we were sent one of the signature starters, Tuna Pizza, AED110, which was a bit too truffle oil forward for me.  It finished okay, but I don't think I would order it again.  Fortunately, we were immediately won back by the Yellowtail Jalapeno, AED120.  With a bit of heat, and wonderfully fresh taste, it is definitely a dish I would order again.  Reminiscent of a dish from Toro+Ko, the Truffle Bomb, AED155 (for three pieces), was another luxurious dish.  I was glad the uni wasn't too overpowering, and unlike the pizza dish, actually wished for a bit more truffle flavor.  Of these three dishes, the Yellowtail was far and away my favorite.
Following these small plates, my dining partner was delighted to see Gambero Prawns, AED260 (3 prawns).  After living in Spain, not only did she know what this dish is supposed to taste like, but can also make a fair plate herself.  The prawns were sweet with a bit of spice, but I'll again note the price point seems a touch high to me.  My favorite dish of the night (and one of the best of the month) were the Scallops in the Half Shell, AED130.  Creamy, meaty, and slightly spicy, this preparation of scallops is one of the best I've had in ages.  Although the price point is a bit high for the serving size, it was still absolutely delicious, and I would happily order the dish again.
For sushi, we tried two rolls – one the signature 'pop rocks' the Pop Rockin' roll, AED70, and the Perfect Storm, AED90.  The pop rocks didn't do much for me, mainly because they lacked some texture.  As fun as pop rocks are, I wouldn't order the roll again.  Fortunately, the Perfect Storm offered quite a bit that I loved – shrimp tempura and chipotle mayo among the best.
For our main course, we split the utterly delectable Kiwami Ribeye 9+, AED450, served with wasabi butter.  Is the price a bit high for me?  Yes.  Was there enough wasabi in the wasabi butter?  Not enough to really be tasted. The steak arrived with Brussel sprouts, AED50, which my dining partner almost singlehandedly finished off, quite lovely with a caramelized finish and rice puffs for texture (not sure if they were needed, but whatever works).
Desserts were probably the least enjoyable course of the meal.  I didn't love the chocolate on the bottom dish, but one of the sorbet dishes was decent enough.  Really, in this instance, I would say – go bigger on the appetizers (and cocktails), and don't worry about sweets.
Would I go back to Akira Back?  Yes.  On this side of town, for me, this restaurant rates better than both Matagi and Ramusake.  I'm not entirely sure it matches Zuma for vibes yet, but Akira Back might be the one to get there.
Who is Akira Back best for?  A night without the kids.  Girls night.  Fans of something new.
What's your favorite restaurant on the Palm?
A to Za'atar was a guest of Akira Back.  Opinions are my own, just ask my husband.