Look at me writing again!  After a terrible run of underwhelming restaurants and many one-off fun festive evenings, I have been more than ready to get back into the Dubai dining scene.
Enter, Kizmet.
Located at the Dubai Opera plaza, (not, as I was somehow expecting, actually inside the Opera building – d'oh!) the restaurant is next door to Kohantei and Moishi.  Through the large front doors, once inside, the two-story space is well lit (mostly by the massive windows which allow maximum light) and my guest and I enter in the golden glow during the magic hour of early evening.  In keeping in line with the quirky charm, the fit out runs in something of a South Beach Miami vibe, including an open kitchen.  Curious, we walk upstairs (I'll ignore the mobility challenges here for persons of determination) to the bar/lounge area and are greeted by an equally chicly designed space.
With cohesion and attention to detail throughout, I'm happy to give A+ marks for ambiance (including listening to my request to turn down the music which was – I felt – a bit too loud for 5 PM).  Finally, with only 80 covers, although the restaurant is large, with fewer seats, it's easy to create an intimate arrangement (and I wish other places would follow this trend).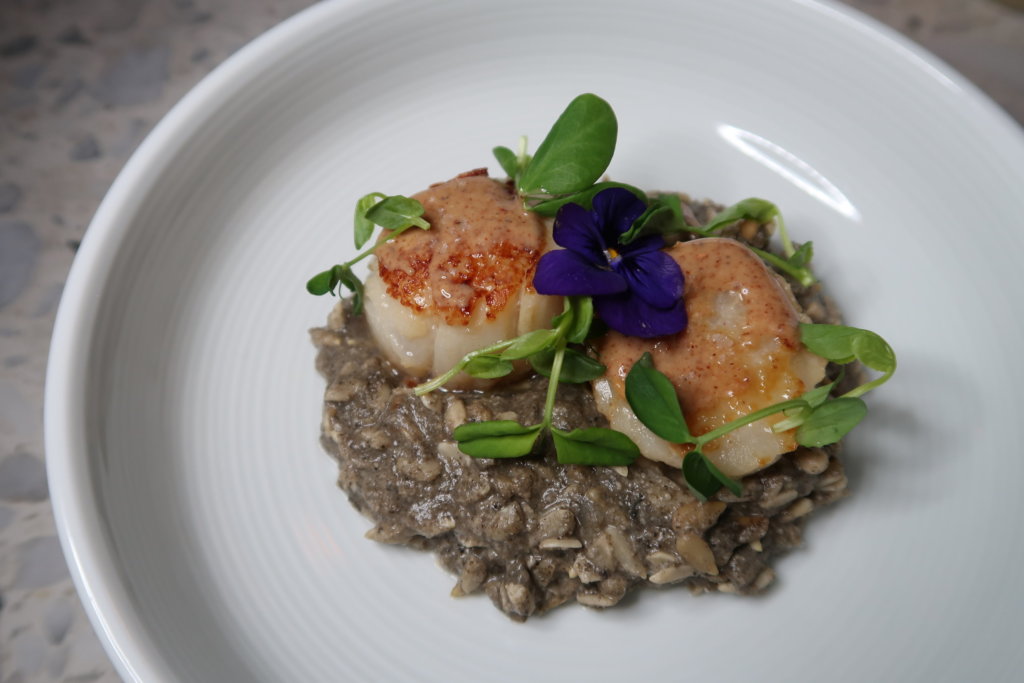 Taking a seat at a roomy booth (one of the best locations in the venue – ask for it if you can), as the opening hours of Kizmet are all day (12 PM – 12 AM, and later on the weekends), the menu offers up something for just about everyone.  First off, all the points to the cheeky 'this could be the best restaurant ever' logline on the menu.  Similarly, the 'a story of almost traditional cooking' lets diners know this is going to be an informal experience.
Jumping straight in, I'm attracted to the creatively named My Girlfriend is not Hungry (AED25 for avocado fries, in case you were wondering), and Bread Service (AED10, my inner carb lover is overjoyed, and probably should've asked for more miso butter, if I'm honest).  I round out our 'starters' with Artichoke (AED45), and Hummus AED45, and served with Tofu churros (yes, those are a thing).  So, that's all the points for vegetarian dishes, and honestly, I can't think of another place in town that serves artichokes on their own.  The plating of the dishes is perfect for sharing, or hungry solo diners.  While I want a bit more texture in the artichokes, it's nothing that would stop me from ordering the dish (or any of the dishes) again.
For our next course, naturally, I request the Scallops (AED75, perhaps just a touch high for only two, but I'll allow it), and we're brought out two additional specialties: the creatively named Layover in Poland (AED60) and Bone Marrow (AED110).  My guest and I both agree that the Layover in Poland — perfectly steamed pierogis, served with a shot of beet-y borscht, is our favorite dish of the evening.  The scallops come with a sunflower seed risotto, which also works – offering a milder bit of crunch.  We both agree the cook on the bone marrow isn't perfect, but the presentation is thoughtful, as it's accompanied with freshly baked (and buttered) bread.
Did I mention Kizmet is licensed?  Oh yes!  Spirits have a decent range, and I decide to try the Float Like a Butterfly, Sting Like a Bee, for its vodka and honey ginger.   Also, I like that the restaurant decided to take the guesswork out for guests, and have listed all their specialty cocktails at AED65.  My guest has a quick look at the wine selection and chooses a glass of white.  For what it's worth, we're attentively looked after for service throughout the night.  Pacing (which is a problem at the next venue I dine at the following day), is perfect here — stretched out in a way to feel normal, but not rushed.
Those in need of something sweet won't be disappointed, as there is a dessert menu.  The chef surprises with both the Tres Leches (a yummy steal at AED35) and the deliciously deconstructed Al-Ffogato (also AED35).  Presentation is at a peak here, and I spy other items on the menu I would love to come back and try.
With a need to differentiate from Sean Connolly and nearby Kohantei, I think Kizmet ticks many boxes I'm looking for in a venue, and separates itself for what's on offer in an already busy neighborhood in town.  Turning down the volume on the soundtrack, I think, is about all I would ask for on my next visit.
Would I go back to Kizmet?  Without a doubt.  This restaurant is a great out of the way place to get the best of downtown Dubai without the hassle of the Dubai Mall complex.  I'd pay attention to the opera schedule to ensure I wasn't trying to compete with a busy night or event.
Who is Kizmet best for?  Pretty much anyone and at any time of day —  although I don't think it's really a venue I would visit with kids. It's a textbook date night spot – cozy, dishes made for sharing, or a great spot to pre-party and get your night started.
A to Za'atar was a guest of Kizmet.  Opinions are my own, just ask my husband.
What are your favorite restaurants in Downtown Dubai?
The Verdict
Price

Atmosphere

Food

Service