After a very disappointing visit to next door Hugo's (who have the same owners), we stopped the following evening at Eventide Oyster Co., one of the premiere and most well-known restaurants in Portland, Maine.  My sister knows the deal, and even with a wait time of 90 minutes (be assured that during peak season this will probably be the case, if not longer), knew our dinner would be worth the wait.  Fortunately for us, my sister, an excellent hostess, suggested a quick walk over to one of Portland's many bars, and we enjoyed a pre-dinner cocktail at Portland Hunt + Alpine Club (another establishment well worth stopping by).  There are no reservations taken at Eventide, but the wait staff take phone details and will text you when your table is almost ready.  We timed it perfectly and, after some bar snacks and cocktails, waited less than 5 minutes for our table to be ready.  We were seated inside, which was preferable — as the outside temperature was well below our summers in the Middle East, I was happy to sit indoors.  A tip to those interested in dining here, do NOT be the family that stands outside the restaurant for the entirety of your wait time, it will not make your table available any faster.  There are plenty of venues in town that are a short walk away — go support local Portland business!
Eventide is home to an original drinks menu, and we all had fun picking out our favorites — including bro-in-law's very dark and gross cocktail, called Coffee and Cigarettes, which includes espresso infused vodka, Fernet Branca, and scotch.  In case you wondered, it smells about as wonderful as leaving a cigarette in old coffee overnight.  It is an acquired taste, and if you felt like you wanted to pace yourself, just order one of these.  Across the table, I enjoyed my Sauvignon Blanc just fine, thank you.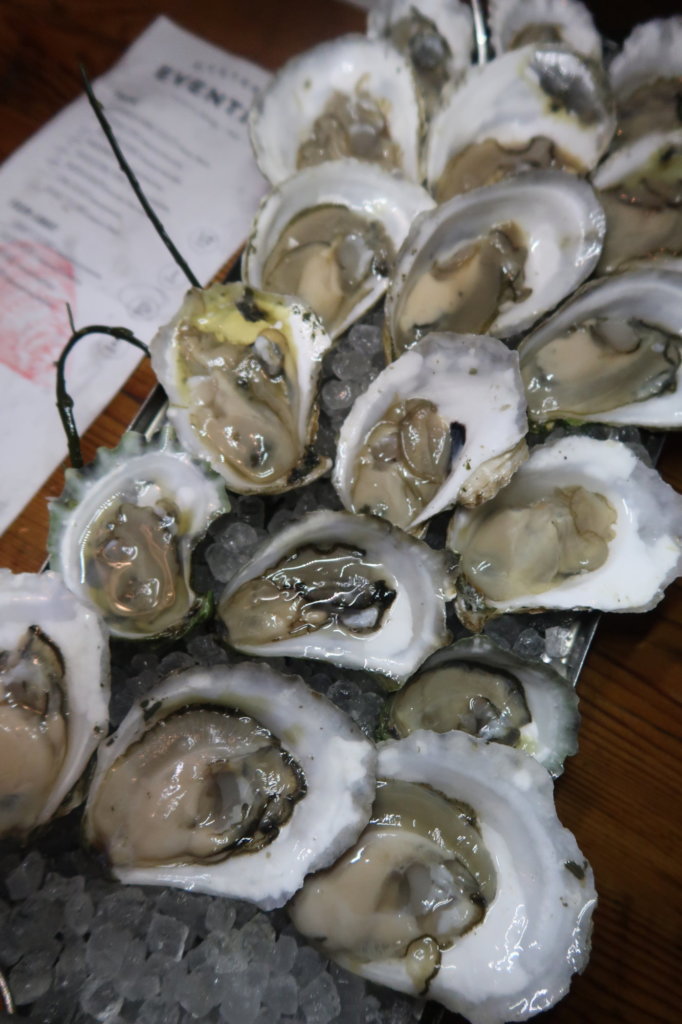 Of course, the hero of Eventide is the selection of fresh oysters.  How fresh?  We literally saw them being delivered in the back of a truck the previous evening.  If you are in the market for bivalves, this restaurant should be on your list.  As I've mentioned previously, I personally do not care for oysters (the texture is just…no).  However, the rest of the table was more than happy to indulge.  If ordering, six oysters er person seems to be the right amount, however — you do you.  Although the menu changes daily, there are usually close to twenty varieties to choose from — all of them regional, with a focus on Maine specific varieties.  I won't even pretend to know the difference between them all, but the wait staff are attentive and knowledgeable on the topic.  There's a large oyster bar in the main dining room, which sees a lot of activity.
While everyone slurped down their oysters (complete with unique house-made garnishes, including Tabasco Ice, an accouterment I would liberally 'borrow' should I open my own seafood place one day), I eagerly awaited the Eventide Brown Butter Lobster Roll.  While this region of the US has all kinds of rolls, honestly, Eventide's is one of the best.  I made the mistake of sharing mine with Hubs, then seriously considered ordering one just for me.  At USD11, it's a bit pricey for a smaller bite, but really, this is one plate you cannot leave without ordering.  The bread is perfectly soft, the lobster portion is generous, and the brown butter soaks the whole thing, thus creating the perfect ratio of sauce, carbohydrates, and protein.  We also placed an order for one of the seasonal specials, a panko chicken sandwich, which disappeared quickly.  For those not interested in seafood, have no fear, the Eventide Burger is worth ordering, and we split ours in half.  There is a range of daily specials, all of which are worth considering.
Music was a plus, as was the creative drinks menu.  Is the price point a bit high?  Perhaps, but then again, Eventide is a one of a kind experience, and certain venues are worth the tourist tax.
Would I go back?  Yes, definitely and without hesitation.
Who is Eventide best for?  Anyone visiting Portland or local residents.
What's your favorite kind of oyster?
The Verdict
Atmosphere

Price

Food

Service
Summary
Add Eventide to your 'must visit' list when in Portland, ME.