Friends will know more often than not, for much of 2017, there were a few reliable venues in my life — Nola, Cocktail Kitchen, and Lucky Voice.  These places always provided the kind of atmosphere I was looking for — with out of town friends, for after work drinks, or, just to sing and have fun.  Thus, when Cocktail Kitchen announced it was closing, I was sad.  They will be relocating, but not to my neighborhood.  So, when Axe House was advertised, I was a bit wary.
Hubs and I made reservations for Friday night, and when we arrived the place was buzzing — which, for a restaurant that has only been open for less than three weeks, was very impressive (especially as the majority of the population has left town).  Inside, former patrons of Cocktail Kitchen will be relieved that while the layout has changed slightly, overall, everything is where it should be.  Some minor cosmetic tweaks have been made, but the overall vibe is still in place.  Patrons will most likely be happy to find pool tables where the private dining area used to be, but will be perhaps less enthused by the still slightly confusing bathrooms — we had to point a particularly inebriated gentleman in the right direction.
Both the drinks and cocktail menu have received a fairly significant overhaul, and I think these decisions are both for the better.  The cocktail list is imaginative, and the beer selection has been increased by a considerable factor.  The menu now plays actively towards a pub vibe rather than the in-between menu of its predecessor.  Similarly, with the previous version, the staff here are friendly and approachable — ready to chat to you and, as I noted across the restaurant, always prepared to ensure you get the last drink before happy hour ends (venues take note — THIS IS HOW YOU DO IT).  There were a few starters that caught our eye, but we decided on the Halloumi Fries (AED40), Crispy Cauliflower (AED35), and Beer Marinated Short Rib (AED55).  I would happily order any of the starters again, and the Short Rib blew both of us away – both on taste and value for money.  The remainder of the 'small eats' menu has some other delicious choices, so you could easily stop by for a drink and a snack without destroying your wallet.
Moving on, I select the Axe Claw Daddy — described as 'lobster claw, sriracha mayonnaise, poached egg and sweet potato fries' (AED120) and what I got was something like a Lobster Po Boy (with a deep fried egg).  I think there is a miscommunication of sorts on the menu, and I recommended tweaking the title/description.  Would I order it again?  Probably not, but the fries were nice.  Hubs decided on the Spicy Chicken Sandwich (AED65), which was not really spicy and more of a simple chicken sandwich.  He asked for hot sauce, and we suggested incorporating the hot sauce y'know, actually into the sandwich.  The mains weren't disappointing, more average than anything else.  Given the venue has invested in a Josper oven, I would be tempted to try something else on my next visit.  Vegetarians will also feel the love here, with plenty of options for them as well.
A Sticky Toffee Pudding (AED40) finished off our meal — treacly sweet, but (mostly) balanced with vanilla custard, and easily split between two people.
Towards the end of the night, something happened which hasn't occurred in ages — we got to chatting with the table next to us.  This is not to say that Hubs and I or whoever I usually dine with live in our own little Dubai bubbles, it's more that venues aren't set up to engage with people next to you.  And to be fair, while I generally want to do my own thing at a restaurant, our night was improved by the layout of the restaurant and our new friends.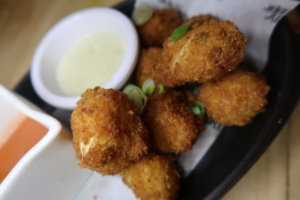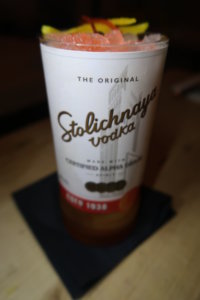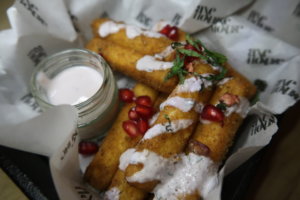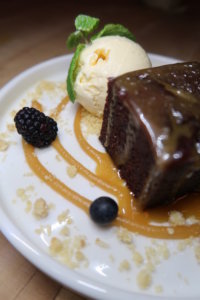 My changes and suggestions are minimal — a harder working system of removing smoke (or more strict seating for smokers) would be welcome.  That is, if you are sensitive to smoke, this is probably not the venue for you.  Also, in my advanced age, I'd probably bump down the music by a few notches, but overall, I thought the playlist was a good one.
Would I go back?  Yes, for the creative cocktails and small bites menu — no hesitation.
Who is Axe House best for?  Drinks with work mates, JLT locals, and those looking for a more inclusionary bar than Marina, Downtown, etc.  Flip flops and shorts are welcome here.
Have you been to Axe House yet?
A to Za'atar was a guest of Axe House.  Opinions are my own, just ask my husband.