It's November 2017, and I've been reviewing restaurants across the world for nearly two years, and I've never been more conflicted about a venue than Al Grissino.
When earlier plans went awry but I had a blowout that I didn't want to waste (shallow living FTW), The Emireati and I scrambled to find a last-minute venue that would be receptive to a review (FWIW, I usually try and schedule things at least a week in advance and generally hate to ask for something the day of).  Al Grissino had crossed my mind the previous summer, where I debated going to their brunch, but given the amount of restaurants that open in Dubai on a monthly basis, I managed to forget all about it.  Thus, unlike most places I visit — where I have a preconceived idea about what the location will yield, how the menu will be laid out, and more or less what my expectations are — Al Grissino represented a venue where I went in with a completely blank slate.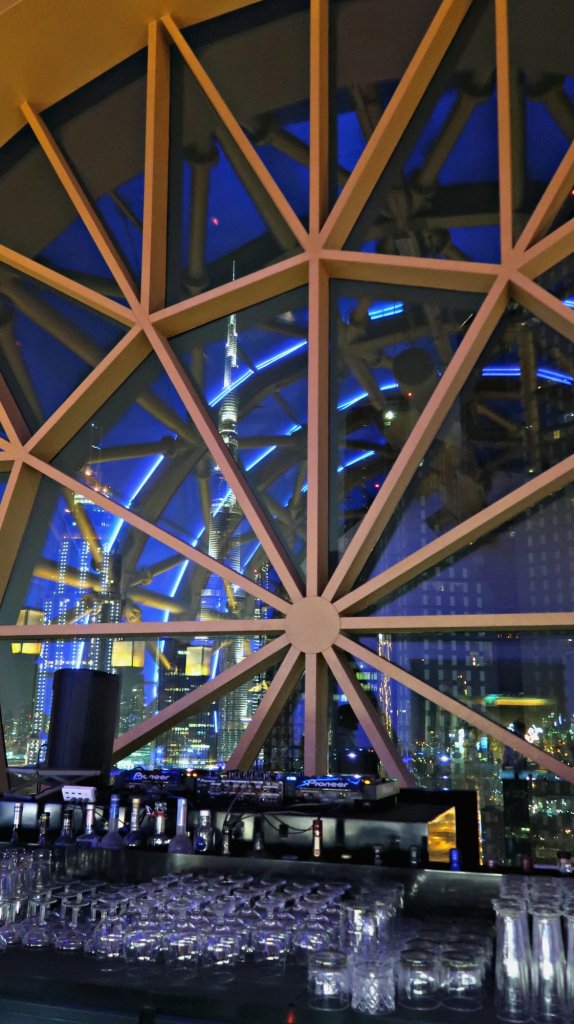 So, let's talk about what works:
The view.  Imagine a table where the collective time lived in Dubai surpasses 40 years.  Now, imagine all of those expats utterly shocked when they are seated.  In the many places I've been to, I've never seen Dubai from this angle.  And, for the first ten minutes of our visit, we literally could not stop talking about the view.  As we arrived a bit later than Hubs, he had a drink or two at the funky Tube Bar that you've probably seen while driving by the Emirates Financial Tower and has similar showstopping views.  With wrap around windows, there really isn't a bad seat in the entire house (well, there is terrible seating, but we'll get into that later).
The food.  We wanted to love it… And we did!  Trusting in the direction of our expert server, we opted for both hot and cold starters and a selection of main dishes.  I will say that the focus skews heavily towards seafood, so if you do not care for fish (or have an allergy like someone I know), then this restaurant might not be the right match for you.  However, I will mention my new current favorite pasta dish in the city is the flavorful Chitarrine Alla Granseola, AED135 (with king crab, cream, and cognac).  And a few more things worth noting:

Portion sizes…  Let's just say my American needs were met with our mains, which were simply too large to finish.  If you've done a few starters, consider sharing a plate.
Plating… This was a bit hit or miss (my lack of photos on this post should tell you something).  While the taste definitely delivered, I think there are better ways to plate pasta (a visit to Roberto's would be the right place for the Al Grissino team to start).  The starters are where I think the most work is needed.
Timing… I prefer a short break between the starters and mains, but I felt the amount of time between courses was approaching the limits.

The service.  One of the most frustrating things about living in Dubai is how good service is the exception and not the rule.  For our visit, not only did we speak at length with the manager, the charming Luca, but our waitress was highly knowledgeable and quite proud of the kitchen.  And while you might think the red carpet was rolled out just for our table, I sincerely believe this was genuine service they would provide to everyone.
And there's no getting past:
The interior. I'll be honest, and this is nothing I haven't told to the team at Al Grissino already, the interior is so bad that it actually detracts from the experience.  In our various attempt to describe what we were seeing, our descriptions ranged from '1970s cruise ship' to 'dated hotel function' to 'a wedding venue for your grandmother.'  The team is well aware of these shortcomings, but whoever bought/approved the chairs should be forced to personally drag them to the dumpster and light them on fire.
The tonic water.  It was universally decided at our table that Everest was an unacceptable choice to serve with high-end gin.  Details matter.  High end is as high end does.  Fever Tree or better, please.
The smoke.  While the smokers area is opposite the main dining room, if you are sensitive to smoke (or simply do not want to dry clean everything you wear), this might be worth taking into consideration.  Fortunately, I think some additional adjustments can be made to truly keep the smoke where it belongs.  Or, y'know, just make it entirely non-smoking.
And because it's worth mentioning in the neutral category (the good and bad balance each other out):
The music.  Personally, I think the addition of a live singer adds a fun element to a night out.  However, when the pianist has a 1980's backing track and is playing on a light up neon piano (no, I am not lying, this actually happened), the bonus of the live music becomes something of a distraction.
Would I go back?  Ultimately, yes.  Because everything being equal, I can't wait to take my parents to this restaurant next time they are in town.  But my conflicted nature about this Al Grissino begs the question: what do you find most important at a venue?  Is it the quality of the food?  The pricing?  Where and what helps you decide to return to or suggest a place?
Have you been to a restaurant that you were conflicted by?  Did you go back?  Did you offer suggestions?  Did it get better?
A to Za'atar was a guest of Al Grissino.  Opinions are my own, just ask my husband.