I have fond memories of visiting the Hakkasan in both Doha and Abu Dhabi, as well as the Emirates Towers (fun fact: my first job in Dubai was on the 42nd floor in September 2007!).  Thus, when an invitation to try the brunch at Hakksan Dubai came across, I was interested.  Unfortunately, I didn't realize that by accepting the invite, I would set my friends and me on an afternoon full of disappointments.  How bad was it, you might ask?  So bad, that at 1:15 PM, I texted another restaurant to see if they might have room so we could bail.  Yes, I was ready to walk out.
The fails, should you be interested, in list format:
Shockingly terrible service.  Being my (admittedly) high maintenance self, there is not much I will put up with when it comes to dining at the better venues in the world.  I'm much more inclined to cut slack at lower market venues because my expectations are much more straightforward.  The smaller the price point, the more I'll happily queue at a bar, etc.  Given the caliber of which I believed Hakkasan to hold (including a Michelin star at the London branch), I was then even more confused as to what happened at a media launch on Friday (y'know, when us media types are supposed to be impressed).  We're talking waiting over 45 minutes for drinks that never came (and then giving up and going to the bar, shades of the disaster at Zoco).  Wanting to speak with the manager, we only connected with him after a specific request was made to the PR (not the employees, who we had asked the better part of an hour previously).  Blatantly being ignored with food as plate after plate went to other diners (never mind rocking up well after we had been seated).  Basically, our four top appeared to be in some sort of black hole, where we didn't exist, and if our existence was acknowledged, it was then blatantly ignored.  I think we are still waiting on soy sauce and a beer.
Poor pacing.  In my opinion, a good brunch has a leisurely beginning: drinks at the bar, followed by a few courses in quick succession, then a break before mains and another before desserts and coffee.  Throughout a well-run brunch (see, Intersect by Lexus, my longtime favorite), drinks flow smoothly, and guests do not spend over an hour waiting for food of substance to be served.  This isn't even taking into consideration the random order in which the food arrived at Hakkasan.
Mediocre food.  The worst part about waiting a long time for food is when the dishes that are delivered do not meet expectations.  Multiple friends have recommended Hakkasan.  As we waited (and waited and waited) for food, I thought, 'Well, at least when it's finally served, it's going to be decent.'  To start, we received scraps of duck (see below), then poorly constructed dim sum, a chemically laden pumpkin dish, and mains that didn't match the cuisine (including a 'spicy prawn' that was anything but).  Most shocking perhaps, the meal finished in a surprisingly un-Cantonese way with a tray of pastries that looked to be produced elsewhere in Emirates Towers some amount of hours earlier in the day.  While it would be difficult for me to forgive the unfortunate (and preventable) errors above, in the end, paying for a Friday brunch is not cheap, and the food must deliver.
Music/atmosphere issues.  Not trying to #humblebrag here, but I go to media events with some degree of routine.  Generally, I prefer to visit a venue on my own and not as part of a crowd, but brunch is brunch.  Unfortunately, I believe the numbers overwhelmed the restaurant to the point that guests had to sit in the bar (and not at actual tables).  Watching people wander around looking for somewhere to enjoy their brunch throughout the afternoon was distracting.  Additionally, a good Dubai brunch knows to start the music level somewhere around a 5 (on a scale of 1-10) and not reach the 7-9 range until about 3 PM (unless you're Bazxar and believe your guests prefer volumes that do not allow actual conversation).  At Hakkasan, they went straight for shouting level by 1 PM, which only added to the chaos above.
I'm not going to bother with more photos than this telling one from our first 'course' at 1:30 PM (this was for four people, served with a microscopic 'pancake' and green onions/cucumber).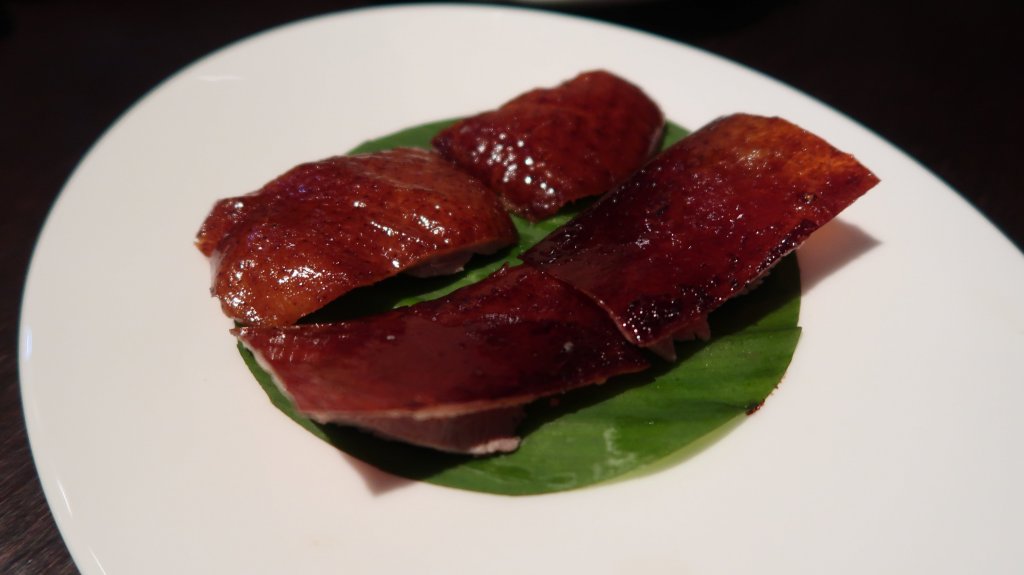 Finally, I'm not going to waste much more of my time except to say that service needs significant training, the kitchen needs an overhaul on how and when they are going to deliver 200 covers at the same time (or limit the number of guests), and that topped up glasses go a long way in keeping customers happy.  Senior management could've worked the floor much harder and offering one beer option is a cheap look.  In a competitive market with Zuma, Nobu, and Play, Hakkasan falls utterly flat.
Would I go back?  Sorry, a repeat visit is not going to happen.  There are plenty of other options in town.  Should you be looking for a far better experience (albeit with some service issues of their own), give the brunch at Play a try.
Also, P.S. to Hakkasan — your business cards are cheap and a terrible representation of your brand — please remedy this ASAP!
Have you been to Hakkasan Dubai?  Have you had a terrible brunch experience?  Got any places to avoid?  I'd love to hear about it!
A to Za'atar was a guest of Hakkasan.  Opinions are my own, just ask my husband.