Although signage is still a bit of an issue at The Pointe (and really, many places in Dubai), my dining partner and I found our way to A Capella, a newly launched global tapas bar on the Palm Jumeirah.  Located on the second level, there is room outdoors for shisha, although on the night we're visiting it's one of the rarest of Dubai occasions – a rainy evening.  Inside the venue, I start looking for individual tables, only to find there aren't any.  At first, this is weird to me.  As our meal progresses, I realize the layout works and appreciate the restaurant has gone all in on the tapas theme.  And really, I love this sort of outlet — if it was a busy night, it would be the kind of place you might start talking to your neighbor (something of a rarity in this city).  We find two seats close to the bar, and really, there isn't a bad seat in the house, as everything overlooks both the kitchen and the bar.  Additionally, with celebrated lead bartender Sherine John in charge, guests who enjoy a creative cocktail are sure to be impressed.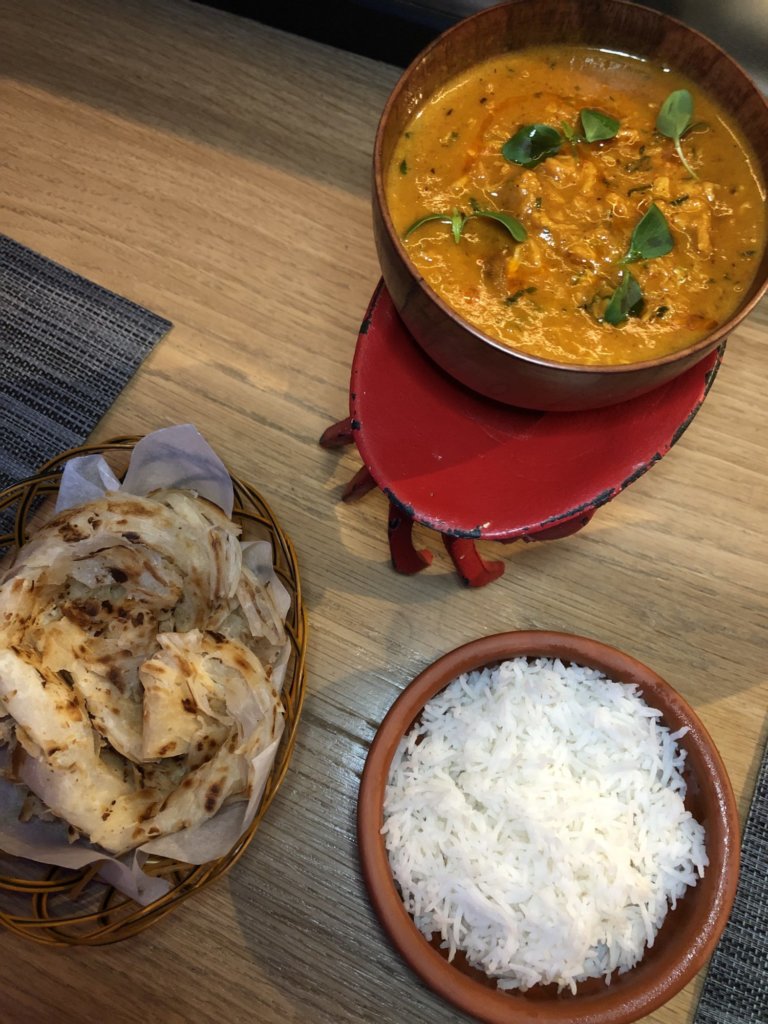 With a quick look at the menu — cleverly divided into a colorful 'passport' — the selections are broken down into different countries.  I like this approach, as it allows diners with different tastes to each find something they can enjoy.  While we're debating some of the dishes, our Pani Puri Chapmenoise, AED30 from the India menu arrives first.  Our version comes with sparkling wine (meant to be poured into the round pastry).  While I understand the concept and find it quite creative, in reality, the delivery is still a bit messy.  I think I would stick with the original if ordering again.  As another light bite (and vegetarian, should you be interested), the Bao, AED25, is a perfect little bite of mushroom.  Personally, I enjoyed the 'build your own' nature of the dish.
Favorites from India arrive in the form of Tandoori Chicken, AED50, and one of my favorite dishes of the evening, the Crab Kari, AED55.  While the chicken was cooked perfectly (and served creatively, as one would expect from a team who has connections to Tresind and Carnival by Tresind), it was the blend and balance of spices in the crab curry that made me want to order seconds (and really, thirds).
The kitchen continues to send out dishes including the American Cheese Burger, AED45, which disappears quickly — although we thought maybe a higher quality cheese could be used, and really, I believe might be better listed as Sliders, given their relative size.  There was also one of the signature dishes, the Lamb Chops, AED45, which offers a high point when it comes to presentation, but read just a bit too salty to me.
Although the crab curry was outstanding, imagine my delight when the unexpected but out of this world Kung Pao, AED30, showed up.  Another delightful vegetarian option, this cauliflower was beautifully sweet and sour, with a bit of cashew nut for texture.  No lie, within a matter of seconds, I've eaten my portion, and am eyeing what's across the table on my friend's dish.  I wouldn't hesitate to order this plate again.
For desserts, we're treated to the creatively plated Tiramisu, AED, and a show stopper in the form of the Chocolate Sphere, AED35 — perfect for those Instagram moments to share with friends.  Although we're both nearly at capacity from all the food we've eaten previously, should you be in the mood for something sweet, both of these dishes would fit the bill (and at their price points, not break the bank).
Overall, I'm impressed with the approach at A Capella.  I like the idea of small bites and trying a lot of things.  Furthermore, it's a testament to the kitchen to only do multiple cuisines, but do them well, and offer everything at fair prices.
Would I go back to A Cappella?  Yes.  For now, Seafood Kitchen and A Capella would be my 'go tos' at the Pointe.  Furthermore, I didn't just 'like' my two favorite dishes, I absolutely loved them, to the point of considering driving back to have them.
Who is A Cappella best for?  A very cute date night.  A bunch of mates after work.  Anyone who wants views of the Atlantis.
A to Za'atar was a guest of Acapella.  Opinions are my own, just ask my husband.
What's your favorite tapas dish?  Do you have a favorite restaurant at The Pointe?