Although I rarely drive to Jumeirah, and even more rarely to review a cafe, from what I'd heard about Kulture House, there was something unique enough about the venue to draw me in.  Was it the unique decor?  Maybe.  Was it the lure of deep fried Oreos?  Well, partially yes.  Could it be the valet parking?  Not necessarily, but still, a nice and totally Dubai feature.
Close to similar-ish (and near-ish) restaurant Comptoir 102, Kulture House occupies a space all its own.  Designed by the owners, there is not a single inch of the venue that has not been considered.  Global influences exist not only in the eclectic decor but also from the range of fair trade goods available to purchase.  There's also an in-house florist (yes, really — and from the talented work of Fleurology), and a small gallery space dedicated to local artists, all available for purchase.  In cooler months, guests can enjoy the beautiful outdoor area, and there are seating arrangements for just about everyone.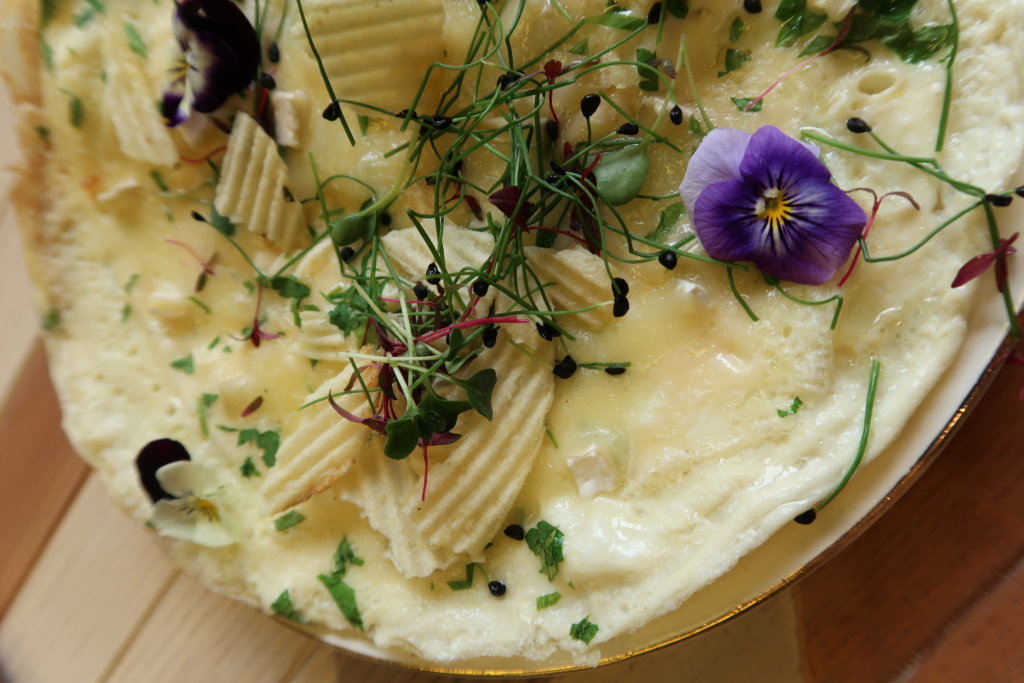 I stopped by for brunch during the soft launch, so I cannot confirm whether or not the menu will change, but an all-day breakfast is always a good place to start for a cafe.  With a range of coffee (freshly brewed by one of the ubiquitous local coffee makers) and tea (including matcha), there are also plenty of other items to tempt diners.  Trying my best to keep low carb this week, I was happy to find both the Herb Omelet, AED45, and Fried Onion Guacamole Rings, AED40, both of which I would order again.  However pleased I am with my omelet (which, yes, does include potato chips as pictured above), I am mostly eyeing the Mezze Platter with Meloui Bread, AED55 across the table.  This looks like the perfect snack complete with lots of dipping options — both sweet and savory.   Other familiar items (Avo Toast, Acai Bowl) are also found.  For those looking for something a bit more substantial, there are salads and other small bites that look tempting.
As we receive a tour from one of the owners of Kulture House, I'm struck by just how much attention to detail there is in every inch of the building — from the tiles are the entry to the beadwork which took months, and some of the most unique bathrooms in the city, there is a lot to explore than an average cafe.  Furthermore, this sort of usable space is welcome in Dubai.  Is it exactly how I would use the square footage?  Perhaps not.  However, I love that maximizing the number of tables or guests is not the priority.
Do I have any advice to this new outlet?  While I did love what the menu offered, I'd like to see a bakery selection (for a take-home or diners at the restaurant).
Would I go back to Kulture House?  Absolutely.  We need more locally developed spaces like this that are flexible to the community.
Who is Kulture House best for?  Friends, colleagues, well-behaved children, and art lovers.
A to Za'atar was a guest of Kulture House.  Opinions are my own, just ask my husband.
Have you visited Kulture House yet?  What was your favorite piece of design?