For reasons I'll get into later in a later post, last week was a weird week.  There were highs and lows, and as my 38th year drew to a close, I decided to meet up with a friend for a long lunch on Thursday afternoon at Alici.  Having heard good things, I was cautiously optimistic.  While a bit difficult to find (seriously, Meeras, get your act together with the signage at Bluewaters), my patience paid off, and upon arrival, I found the location to be appropriately themed and decorated.  Much like similar restaurants serving this cuisine, there is a beachy chic vibe going which does well to match the food.  Should you be interested, there is a crudo bar downstairs, where you can literally see what will become your lunch or dinner.  I chose to sit upstairs, where the best views of the marina can be found.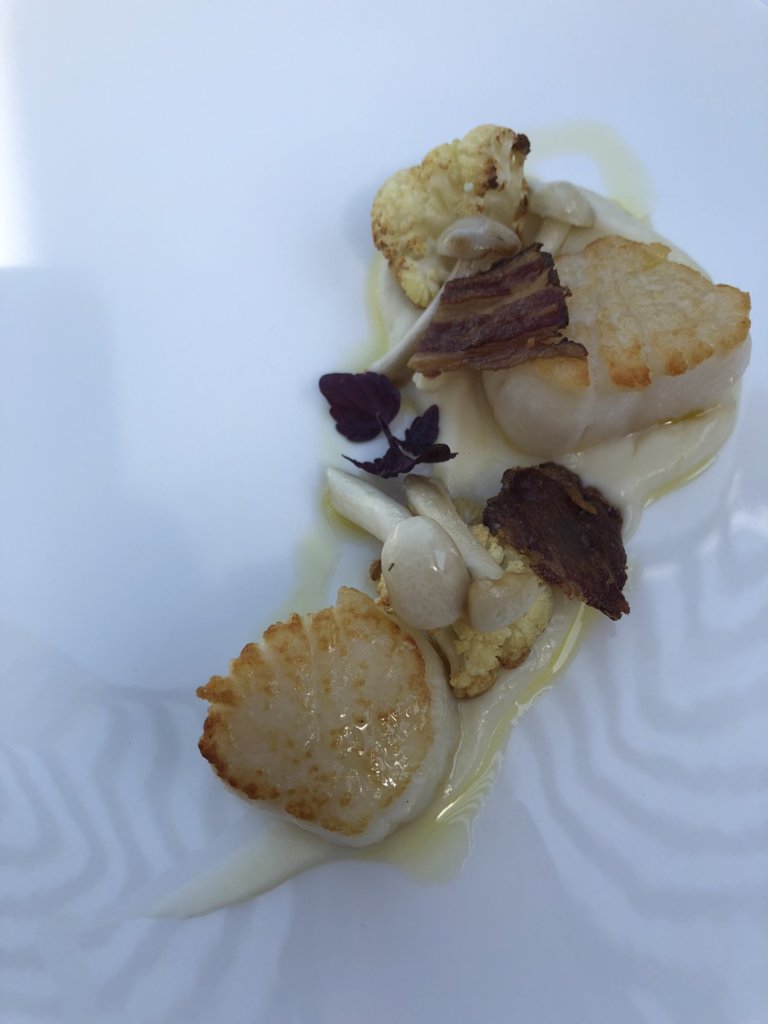 As my guest was running late (and I am perpetually on time), I decided to jump in and order straight away.  First up was an Amici Spritz, made with Limoncello, Prosecco, and soda — delightfully pleasant on a warm March afternoon.  Yes, please and thank you.  From the crudo menu, I decided on the Tuna Tartare/Tartare Tonno, AED70 and, because it's one of my favorite fish dishes and I rarely seem to find it, the Ricciola (Amberjack), AED65.  To 'balance' this, I ordered the Frito Misto, AED95.  Excellent knife work aside, I genuinely loved the slight amount of heat in the tartare (something rarely found in servings here), and while I still love Amberjack, my dining partner and I agreed there could be a bit more acidity.  In the Frito Misto, the fried food was balanced by some lovely and crispy vegetable chips, along with a sweet chili sauce, and herbaceous mayo.  Would I order all of these starters again?  Heck yes.  Also, were all the dishes priced appropriately?  Absolutely.
As the meal progressed, and perhaps because my dining partner came from the world of fine dining, when introduced to chef Domenico, we all got to talking (apparently, there is always an intersection from time worked in London) and received a few extras — including the Scampi (Langoustine), AED90 and Arancini, AED48.  While I was happy to have the little crustacean dissected in front of me, my guest was more than delighted to get in and go for politely eviscerating it (too much work for me).  As Arancini goes, the balls of rice were perfectly lovely, but honestly, I think the crudo is where the team at Alici shine.  Should you be interested, there's also a Crudo di Mare available, which takes all the guesswork out of what to order (and would probably be what I would order on return).
We were served a simple tomato-y bread-y soup with mussels that my guest (who knows her Italian flavors far better than I) raved about, but I probably wouldn't have ordered (in the sake of keeping room in my stomach).  I had expressed interest in the Tagliolini (pasta with caviar, butter, parmesan, and lemon zest), AED95, and was not disappointed in the slightest.  With a wonderfully subtle palate, this dish lets each ingredient sing on an individual level.  More restaurants should consider this approach.  I quite literally inhaled my entire portion before my dining partner finished a story (and had barely started her plate).  Although we weren't prepared, the chef sent out an additional pasta, the Pasta Mista, AED145.  Served with fresh seafood, more delicious pasta, and another light sauce, had we not already consumed the Tagliolini, I think this would have been another equally devoured portion.  (Fortunately, the kitchen understood we were nearing capacity).
As a final course, we received the Capesante Scottate, AED170 (although our plates reflected the fact we had asked the kitchen for less).  As a bit of a scallop connoisseur, I was absolutely delighted by the continuance of the light touch from the pasta.  Having recently had incompletely cleaned scallops, or some floating in sauce, I was happy to receive perfectly cooked scallops.  The addition of cauliflower, beef bacon, mushrooms, and a very light sauce was all that was needed to complete this excellent dish.
Did we need dessert?  No.  Did that stop us from ordering dessert?  Also, no.  In this instance, my dining partner requested the warm souffle (no pricing, because I didn't snap a photo of the dessert menu), that wasn't cloyingly sweet and technically perfect.
My notes are for Alici are very minimal — could I have used a bit of a soundtrack?  Yes.  Would I like to see local oysters on the menu?  Also, yes — but we had a chat about this to clear things up — ending with a discussion around sourcing products from Oman.  Overall, this is my favorite Dubai venue in a very long time.  As we prepared to leave, I asked my guest if Alici was worth crossing town for, and she readily agreed.
Although Italian food isn't a particular favorite of mine, when compared to some of the perennial favorites: Il Boro, Villamore, and Scalini, I find Alici easily edges these out — although Bulgari's Yacht Club does offer healthy competition.
Would I go back to Alici?  In a heartbeat.  With apologies to Hell's Kitchen (bland) and London Project (whose menu doesn't entirely make sense), Alici is by far the best thing going on Bluewaters at the moment.  The pacing, professionalism, and plating are really at the top levels of what Dubai has to offer.
Who is Alici best for?  Really, anyone, but residents of the Marina should make a trip over for an excellent date night or long weekend lunch al fresco while the weather is still pleasant.
A to Za'atar was a guest of Alici.  Opinions are my own, just ask my husband.
Atmosphere

Food

Service

Price
Summary
A beautiful location with equally gorgeous food.  Highly recommended.