Although I've heard from numerous friends that Drift Beach is a dynamic location for a sophisticated beach day, I hadn't had the fortune of visiting the venue until recently.  Hubs and I don't have regular access to a pool, which doesn't usually bother me — mostly because not doing anything for hours is literally torture, and there are only a few days in a year I want to spend time by the pool.  Furthermore, we've stayed previously at the One & Only Royal Mirage (spoiler alert: it did not live up to expectations), but Drift was not in operation at that time.
On arrival, I'm quickly shown to a waiting golf cart, and really, 'being whisked around by golf carts' lifestyle that I am always aspiring towards.  The entrance to Drift is tucked at the very bottom of the property, in the shadow of the ongoing work on the Palm.  Oh well, not everything is perfect.  The resort is lush, and on arrival, the hostess is friendly (and not pretentious like other places might be).
The beach club is broken up to into multiple sections, with the expansive beach chic restaurant immediately at the front right.  Tables, overhead fans, a bar, and appropriate beachside themes dominate.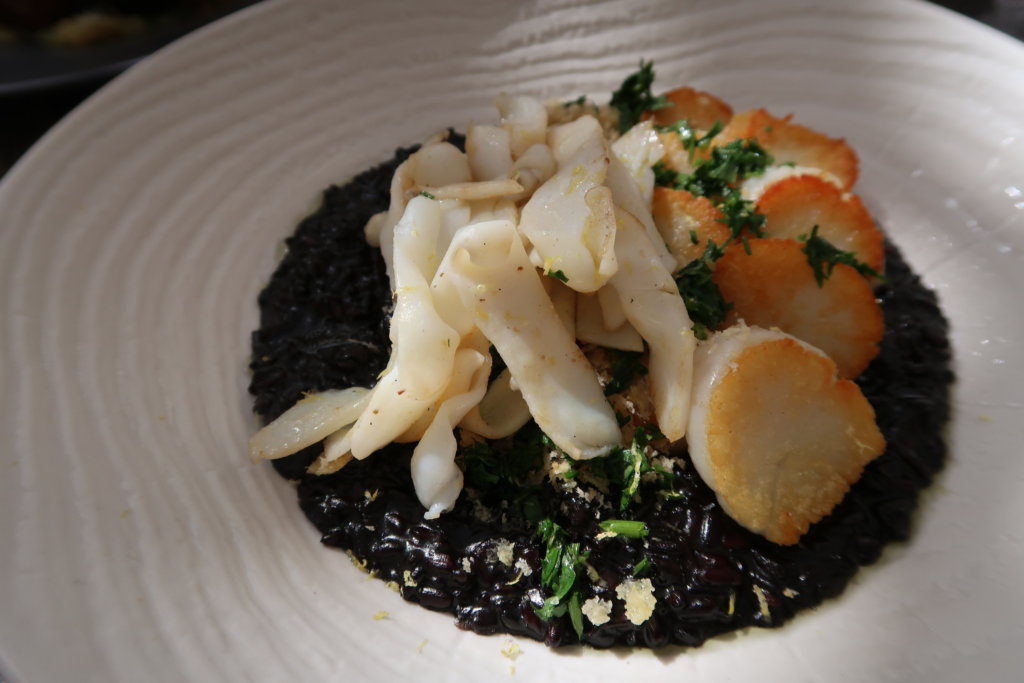 We had a lovely Provance style preview menu, mixing in some of the classics from the previous menu and other additions.  The group was a fantastic one – and I have to tip my hat to the PR team for arranging such a dynamic collection, as balancing a group for an event is such a delicate thing.  I always appreciate when invites are designed for those who clearly care about cuisine and locations.
Our appetizers (listed under the 'To Start' portion of the menu) offered a range of easy crowd-pleasing bites to share – including flatbread pizza, burrata, octopus, gnocchi, and one of the signature Drift dishes, Le Tarte Tatin de Tomate, AED90.  I (of course) loved the Pizzeta Truffe Noire, AED100, because bread.  Additionally, there is never a version of La Burrata (this one served with artichoke, AED95) I will not love — especially with a tasty mix on a classic.  The tatin and octopus didn't hit quite the same notes for me — the tomato a bit too acidic and overwhelming the pastry, and the octopus, well, I've been spoiled recently and have had better versions at other restaurants (Andes, for one).  My favorite dish of the day was a starter (which has since been moved to the 'To Continue' category) the Gnocchi with braised beef, AED155 is simply delicious.
Our mains were unfortunately not quite to the levels of the starters.  We received Linguine with Asparagus, AED155, and even with the smoked egg on top, I wasn't crazy impressed.  Really, the pasta should've been luxurious, sumptuous, but was completely lacking yummy yolk.  For the proteins, Roasted Cod, AED195, was nicely cooked, but very bland, and the price point seems a bit high.  Similarly, I'm still puzzling what the Le Tian de Légumes, AED135, were doing on the table.  The dish read liked stuffed peppers — nothing wrong with stuffed peppers, but they are a weeknight keto staple, and not particularly luxurious or beachy (or tasty).  It was only the Black Shellfish Risotto, with King Scallops, AED215 that I would consider ordering again (and I wasn't even that excited about it, to be honest).  Fortunately, the team seemed receptive to our comments.  If the three were scrapped or enhanced, and the Gnocchi was added as a main, I think the menu would be in much better shape.
The meal was back on a high note with the desserts, with a range of sweet treats 'To Finish' to close things out.  Honestly, I'd be happy ordering them all again.  The Tarte Au Citron, AED45, and Cheesecake, AED45 were both highlights.  This is a case of definitely needing to save room for sweets at the end (because, hey – they aren't always worth it).
Overall, I would be content to return and order a bunch of starters, a few desserts, a bottle of rose, and be perfectly happy for an afternoon visit.  While I think the mains could be improved, the overall setting at Drift is such a lovely one, that a few minor quibbles with the menu wouldn't stop me from spending a day at this beautiful property.
Would I go back to Drift?  Yes, for those two days a year I want a beach day.  While RIVA on the Palm is nice enough, Drift is much more my speed.
Who is Drift best for?  Those looking for a more sophisticated beach experience, and some nice dishes for lunch or late afternoon snack.
A to Za'atar was a guest of Drift.  Opinions are my own, just ask my husband.
What's your favorite beach club in Dubai?  Any favorite seaside dining?