After some delays (damn you, cold), I finally managed to make it to The London Project, a newly opened endeavor at Bluewaters Dubai, the man-made island (where the Caesars Palace is located).  To start, my Careem driver and I were a bit unsure of where exactly the drop off was for the restaurant and spoiler alert — there are no real indicators.  As of now, the signage/wayfinding (at least near the London Project) leave something to be desired.  I mention this because customers finding the restaurant is more or less the base level of the start of the experience…  Anyway, in the shadow of the absolutely giant (and not functional) Dubai Ain, sits a series of food and beverage outlets, including The London Project.  With its just opened sister restaurant, The London Slide (serving up burgers), I finally walked around to the marina side of the area to where the entrance to restaurant actually is.
Inside the venue, shades of Hotel Cartegena and Mama Zonia, walls are lushly decorated with plants and with the inclusion of unique artwork throughout the space, there is an altogether loft-like feel.  Also, like many a new restaurant in Dubai (especially those in the 200 covers+ category), the venue is broken down into a few separate zones.  Downstairs, families are welcome and there is an outdoor terrace, along with a bar and open plan kitchen.  Upstairs is a gin garden, dining room, private dining outdoor area, and additional bar space (guys, it's a lot of seats).  Heck, there's even a soundproof booth and Insta-worthy bathroom!  As we walk up the stairs, I'm a bit perplexed why there is no elevator (persons of determination should have every right to enjoy the upstairs, but I digress…).
As my friend is running late, I decided to sit with the GM and chat for a bit, while we enjoy a drink in the gin garden (because really, it would be rude not to).  With an excellent collection of gins on hand, I'm quite happy with my Ginny, AED69 (maybe a bit more as I ask for premium Gin Mare, my all-time favorite gin).  Additionally, the bartender was kind enough to mix together an elevated non-alcoholic drink for my friend.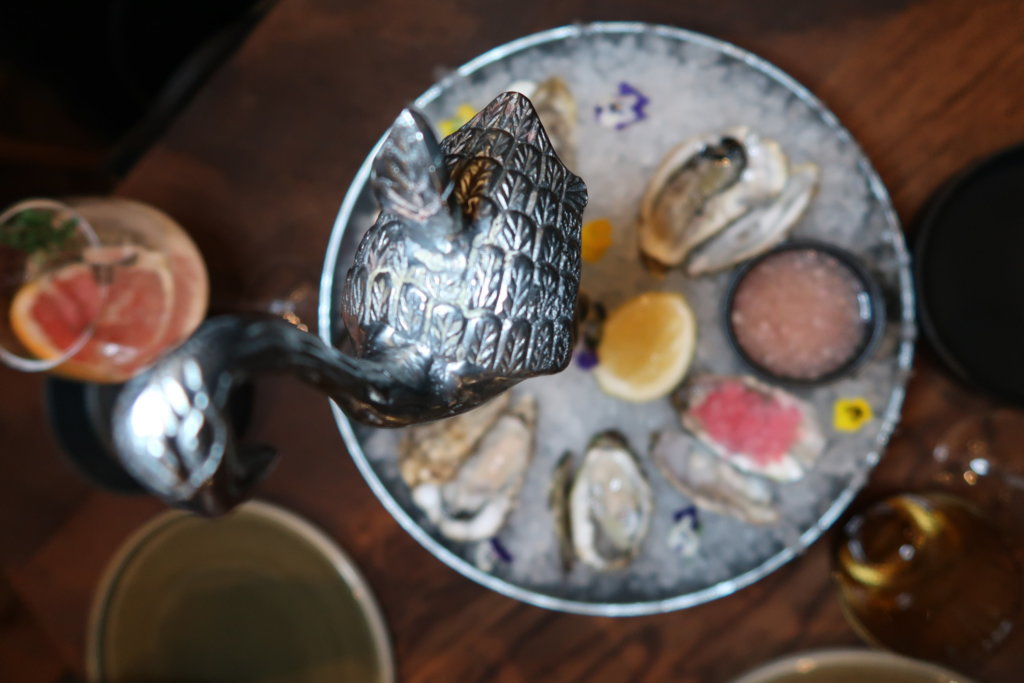 Taking a seat in the chandelier room (named for the massive lighting structure), we're given a set menu – something I try to avoid when reviewing, but hey, I was a guest of the restaurant.  Thus, when Oysters (half dozen, AED130) come out (above), both my dining partner and I get some pictures, but turn down the dish.  I'm assured that the food will not go to waste.  Also, slightly disappointing, the oysters are flown in rather than sourced locally (Dibba Bay, ahem).  Next up, we're served Ika Mata Ceviche, AED65 and Pulled Beef Soft Shell Tacos, AED70.  The tacos are perfection with an excellent blend of flavor and texture and my favorite dish of the evening.  We also receive Buttermilk Chicken, AED55, which is nice, but a bit too smoky for me, and I'm not sure I would order it again.  Similarly, the Nordic Cured Salmon, AED70, is perhaps the most beautifully plated dish of the evening, and could probably be pushed in terms of texture (rye crumbs? celery?), salt (just a few flakes) and acidity (a squidge of lemon), but is pleasant.
As an interim course, we get one of the four flatbreads on offer, the wildly delicious Wagyu Panchia (sorry, I didn't get the price).  As we're a bit full from the other dishes, the servers are kind enough to wrap up the leftovers, which I enjoy for lunch the following day.
For our mains, we receive one of the signature dishes, the Wild Mushroom and Truffle Gnocchi, AED120 and Line Caught Sea Bass, AED160.  I love the presentation of both, including the silky slow egg on the absolutely perfect cooked gnocchi – truly one of the best versions in town.  The presence of truffle is just a bit too overwhelming for me, and I would dial back the flavor by a bit, or simply serve the gnocchi on their own with the mushroom and egg — I don't the truffle adds all that much (and is a bit overdone in town IMHO).  The Sea Bass is also cooked very well, and plated beautifully.  I wasn't particularly in the mood for fish, so I didn't finish the plate.
Desserts read a bit too sweet for both of us, but in Dubai, I'm sure that will not be a problem for most consumers.
So, overall, I'm not sure I 'get' London out of the experience.  While anyone can play fast and loose with interpretations of names of restaurants and expectations of diners, there simply wasn't a lot that tied to the culinary scene of Britain's capital city.  Pricing felt fair, and service was quite competent, but with so many seats to fill, I'm not sure how the restaurant will fare in the long run (especially with Dubai Ain not coming online any time soon).  It's certainly a far better offer than the overpriced Hell's Kitchen down the street, but for those in search of British classics, I think The Scene or Duck Hook might be a better bet.  Perhaps I'm reading too much or expecting too much of a name, but Dubai is more crowded than ever and being a restaurant with a clear message and cuisine might be necessary.
Would I go back to The London Project?  While I did enjoy the meal, there wasn't a specific signature dish I would go back for.  The views of the marina are nice enough, but I'd wait for when Bluewaters is a bit more activated for my next visit.  Or, I might go back to record a podcast — let's see.
Who is The London Project best for?  Love the idea of families welcome downstairs, and the lounge service upstairs.
A to Za'atar was a guest of The London Project.  Opinions are my own, just ask my husband.
Have you visited BlueWaters yet?