When I first started this blog back in 2016, Tresind was one of the first 'big' fine dining experiences I had in Dubai (read my original review, here).  I was struck by the creativity, which is also echoed in the sister restaurant, Carnival by Tresind, which not only takes gastronomy to new levels, but also frequently changes the entire menu.  However, on some retrospection, I realized while the food at Tresind stood the test of time (mushroom chai, anyone?), the former experience did not.  The too low ceilings, dated decor, and children screaming throughout the venue (even late on a Friday night) did not, in my opinion, equate to an authentic fine dining experience.  Thus, I was excited to hear about the refurbishment and refresh for Tresind.  Hubs and I, finally free from jet lag, chose a recent Saturday night to check out the new experience.
Stepping off the elevator, we were warmly greeted and immediately took in the new layout.  While I still wish the ceiling was a bit higher (floors at Al Nassima always feel cramped to me, not sure why), the refurbishment (much like Brunswick) is a big step in the right direction.  Previously, the overlarge chairs and clunky design distracted from the creativity and delicious dishes that Tresind were known for.  Now, the modern blue palate, updated floors, and overall decor are a much better fit.
We're invited into the lounge area, which is chicly outfitted in the same shades of blue found throughout the restaurant.  Slick fonts of the drink names make for creative artwork on the walls.  We're met personally by the best bartender in the city, Mr. Sherine John (what? anyone want to fight me on this?  He's so incredibly creative).  As usual, Hubs orders a take on the Old Fashioned, while I opt for something from the Petit series (something mild, as I'd – oops – overdone it the day before at Brunswick).  While seated in the lounge, we were given an amuse bouche — in the form of a drink, which I found to be not only creative, but also delicious.  With fresh, chilled towels to wipe and clean our hands with, things were off to a great start.
After finishing our cocktails, we decided to move to our table, which, as mentioned, was also a substantial improvement over the previous version.  Here, tasteful and modern decorations are in place.  To further enhance our experience, a vase (urn?) was brought out to release a cooling, sweet-smelling fog around our table — let no sense go untouched.  We then begin with a tray of amuse bouche, four separate bites to tempt the palate.  Explanations are on point, and Sherine stops by to see if we might be tempted to enjoy another cocktail.  Even though it's a school night, we are easily persuaded.  Hubs receives the memorable Sailor Jerry inspired drink, which fits well with one of his sleeves (and prompts me to finally start this side piece Instagram account).  I am presented with a rose infused cocktail.  As I'm not particularly a fan of rose — too floral and prone to give me a headache, it's not one I would personally order again, but the presentation is perfect.
The meal is well paced, with portions aligning for the number of courses we're given.  And for those interested, there are both veg and non-veg options available for the degustation.  Each course is a lovely balance and showcases the various skills of the kitchen.  Our favorite of the starters was most likely the butter pepper garlic prawns, which is made at the table.  Moving forward, guests will be impressed by the showstopper of the…palate cleaner?  Yes, the largest plate is saved for the yuzu berry sorbet blend.  And why not?  This is Dubai, after all.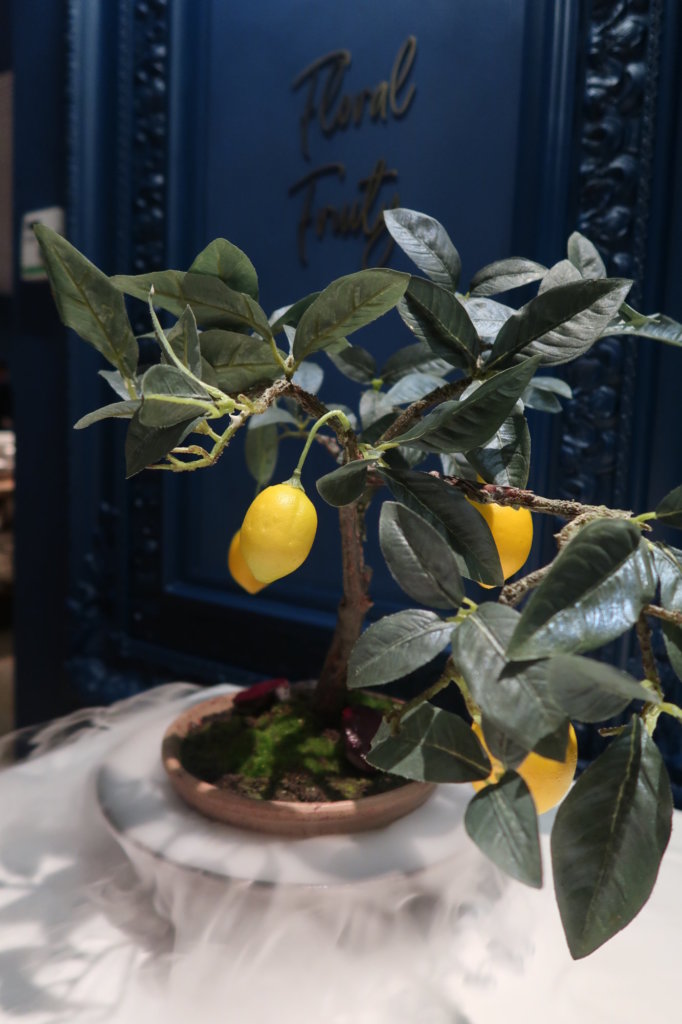 Mains were a highlight, with the kadhai lobster, a particular favorite.  Beautifully presented, there is not much more that can be done to the dish.  Waiters are on hand to serve the everything, such that guests will feel very looked after throughout the meal.  As a special request, we're also given the memorable mushroom chai (which can be ordered a la carte).  For our final courses, there is a dessert, a sweets trolley, and petit fours.  The concept of the sweets trolley is a uniquely inspired one, and a decision I haven't seen many other places.  Allowing guests to make their own choices is an excellent way to engage people.
Overall, while food and service hit their marks at Tresind, I couldn't help but compare to the talents of Chef Pradeep over at Mint Leaf of London.  When I asked Hubs which restaurant he preferred, his answer was the same as mine.  For reasons I can't precisely define, I think Mint Leaf manages to edge out Tresind.  That said, I'm super excited about upcoming projects with Tresind.  The refurb was just a start — I can't wait to see what the Chef's Studio is all about.  Furthermore, at AED300 for the non-veg tasting menu, the value for money is incredible.
Would I go back to Tresind?  Yes, definitely.  Dubai doesn't have many restaurants that deliver dishes of this caliber, with an enhanced cocktail menu to match.
Who is Tresind best for?  Those looking for something a bit different, but with familiar comforts still available.
Have you been to the newly relaunched Tresind?
A to Za'atar was a guest of Tresind.  Opinions are my own, just ask my husband.
The Verdict
Price

Atmosphere

Service

Food
Summary
An excellent example of fine dining in Dubai. Come for the cocktails, stay for the creativity.