Flamingo Room by tashas – where African Glamour meets the Arabian Sea. 
Is that a thing?
Whenever Flamingo Room by Tasha's has popped up on my Instagram feed, I've always been impressed by the design of the restaurant.  Furthermore, having visited Tasha's in Abu Dhabi (and enjoyed the experience), I've had this venue on my list for quite some time.  Perfect timing then, as one of my favorite South Africans is leaving Dubai and was happy to join me for dinner.  Located in Jumeirah Al Naseem (next door to Katsuya and nearish to Il Boro), the interior is striking.  In a Miami art deco meets pastel romance palate (just go with it, people), the fit out is inviting and stands apart in the market.  While just approaching oversized, the layout ensures a bustling ambiance, and with two bars present, both are attractions.  Music is very low key (such that I don't remember much of an impact less than a few nights after my meal, however, I was dining during Ramadan).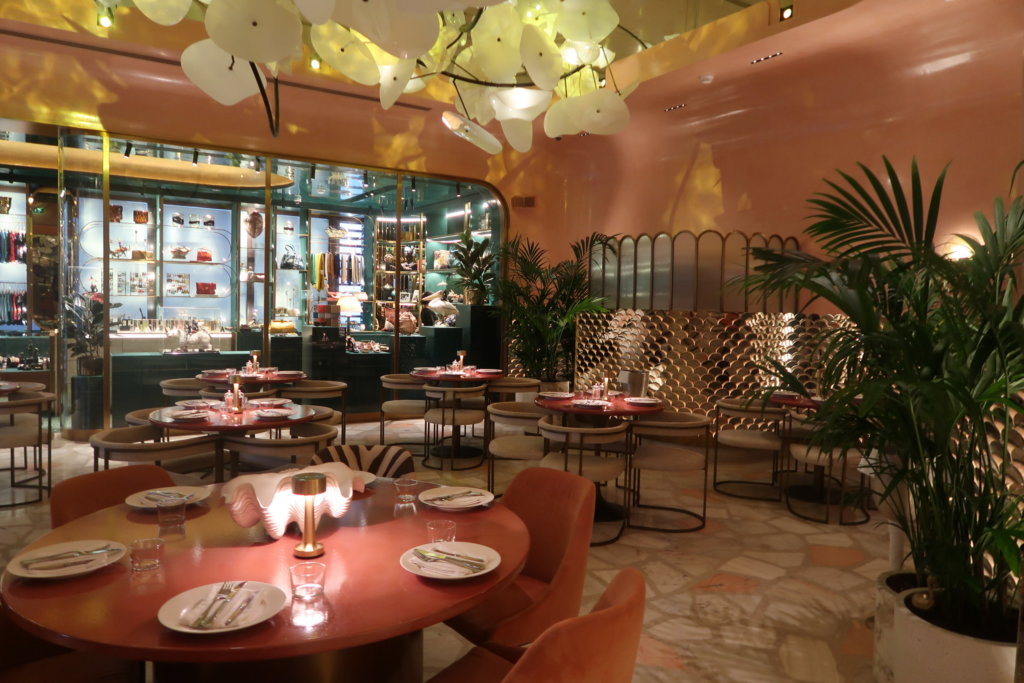 Having a bit of a sore head from a night out with some of my favorite foodies the night before, I tread lightly when reviewing the cocktail menu.  The prosecco mixtures are all of interest, and I choose the Pearlini, AED68.  My friend, on arrival, asks for the signature Flamingo Room cocktail (complete with a flamingo logo emblazoned on the foam, AED70).  I think my 'old Dubai' is showing through, and while I thought the drinks were perfectly lovely in their presentation and taste, believe a price point closer to AED50-55 would be more in line.  We switch to Sauvignon Blanc after finishing these cocktails.
Turning our attention to food, looking for something a bit lighter, I placed an order for the vegetarian-friendly Butternut carpaccio (AED68), which was the perfect amount for two people (and maybe a third, if you each wanted a taste).  A healthier version of the beef version (rocking in at AED98), I wouldn't go so far as to say I prefer the veggie version, but I thought the option was something I would order again.  Debating another starter, I asked my guest what she preferred (it was between ceviche and tuna tartar — I would be happy with both), and we decide on the Whitefish ceviche, AED98.  Packing a slightly sour punch as ceviche should, I'm satisfied with our choice.  Honestly, in the heat of Dubai summer, all of these cold dishes are a welcome respite — many of the other appetizers follow this trend.
Although there were plenty of appetizing mains on offer, I'm delighted we chose the Calamari Mozambique (AED150) and balanced it with a Beetroot and Quinoa salad (AED84).   The squid dish is easily large enough for at least three people.  Covered in crunchy shoestring fries, this towering dish offers a bit of heat in the form of the peri-peri sauce, which is offset by the inclusion of lemon butter.  The cook on the calamari is spot on, and while I generally hate to use the term 'moreish,' that's precisely what the plate offers (and we can't stop picking bits of it off the plate).  In regards to portion sizes, the salad, dressed not too heavily in pomegranate dressing, has enough for a table of four (and we end up having the remaining portion boxed up to take home for lunch the next day).
With no room for dessert, we sadly bid our goodbyes.
My suggestions for the Flamingo Room are limited.  Overall, I think the price points are simply too high.  Even for sharing plates, my eyes were watering a bit at the prices.  Additionally, both my dining companion and I commented on the fact that there were FAR TOO MANY staff on hand.  Literally, at one point during the meal, there were six people just watching us eat…  It was not an experience I'd want to sit through again.  I guess I can understand wanting to offer a high staff to patron ratio, however, when six people are just staring in your general direction, it's rather off-putting.  Finally, as one would imagine for a South African influenced menu, offers for vegetarians are a bit lacking, although there are a few pasta dishes available.
Would I go back? I… I am conflicted.  Our bill at the end of the night was AED900, and I felt like it should've been more around AED600-700.  As we had a relatively conservative order (two starters, one main, and one salad — no sides or desert), my dining companion commented that a table of four could easily see a bill of AED1,000 per couple and upwards.  Furthermore, while I felt our server delivered wonderfully personal service, I'm still not entirely over the gallery of people watching us eat.
Who is Flamingo Room best for?  Diners after payday!  Seriously, those looking for something original, or for guests who appreciate unique design elements.  I'd be willing to go back and try out the breakfast/brunch menu, which looks like a good solution in keeping the cost of the overall bill down.
Have you been to Flamingo Room by tasha's?  What's your favorite dish to order?
A to Za'atar received a discounted bill from Flamingo Room by Tasha's.  Opinions are my own, just ask my husband.
The Verdict
Atmosphere

Price

Food

Service
Summary
A stylish venue in Al Naseem with well-presented dishes — just be prepared to pay for the privilege.