When you're meeting the best chef in the UAE, you are pretty much happy to meet up wherever he suggests.  In this instance, a return trip to Al Naseem — perfect for a beautiful day in January, to Il Borro Tuscan Bistro.  To be completely honest, I don't usually crave Italian food — especially when dining out.  Yes, I'm probably doing it wrong, but pasta rarely comes off as genuinely elevated to me.  Additionally, I've had a few friends visit this venue with decidedly average feedback.  Anyway, delighted with the company, I would've been happy to dine just about anywhere.  With three foodies together, we all defaulted to 'please let someone else make the decision for us.' That is, I make food choices EVERY SINGLE TIME I go out.  I am continually ordering for myself, my husband, and larger groups of people.  Thus, with the briefest look at the menu, for starters, we decided on (and no, I don't feel like writing in Italian today, so these are the choices in English): Baked Zucchini Flower (AED85), Burrata (AED88) and Grilled Octopus (AED88).  Of the group, the stuffed zucchini flowers disappeared the quickest, because, beautiful vegetables stuffed with cheese are always well received. The octopus, while beautifully plated, doesn't get eaten as fast (we actually leave some).  And well, burrata is burrata.  What you see is mostly what you get, although I think variations at both Cafe Milano and the Lighthouse offer something more elevated.
For our main dishes, not stepping too far out of traditional Italian, we tried Mushroom Risotto (AED108), Pumpkin Tortelli (AED108), and a Seafood Spaghettini (AED135).  The risotto was easily the best of the three and achieved everything I look for in this style of pasta — equal parts creamy, savory and a seamless inclusion of mushroom.  The price on all of these dishes has me raising my eyebrows a bit, but I suppose they could be split between diners (or, at a minimum, enjoyed at another time).  The tortelli are the most beautifully plated, but the technique isn't quite up to perfection, as we find some chewiness in the construction of the pasta.  Similarly, the seafood pasta is nice, but not particularly memorable.  Of the main courses, I would most likely only order the risotto again (to be fair, it was outstanding).
Utterly full from the first two courses, we decided to bypass any desserts.  And, as we chatted, there was a lot of action at a table close to ours (pictured below).  And then, one of the most unique (and rarest) Dubai things happened — HH Sheikh Mohammed bin Rashid Al Maktoum, Vice President and Prime Minister of the United Arab Emirates (UAE), and ruler of the Emirate of Dubai walked in!  We were absolutely star struck.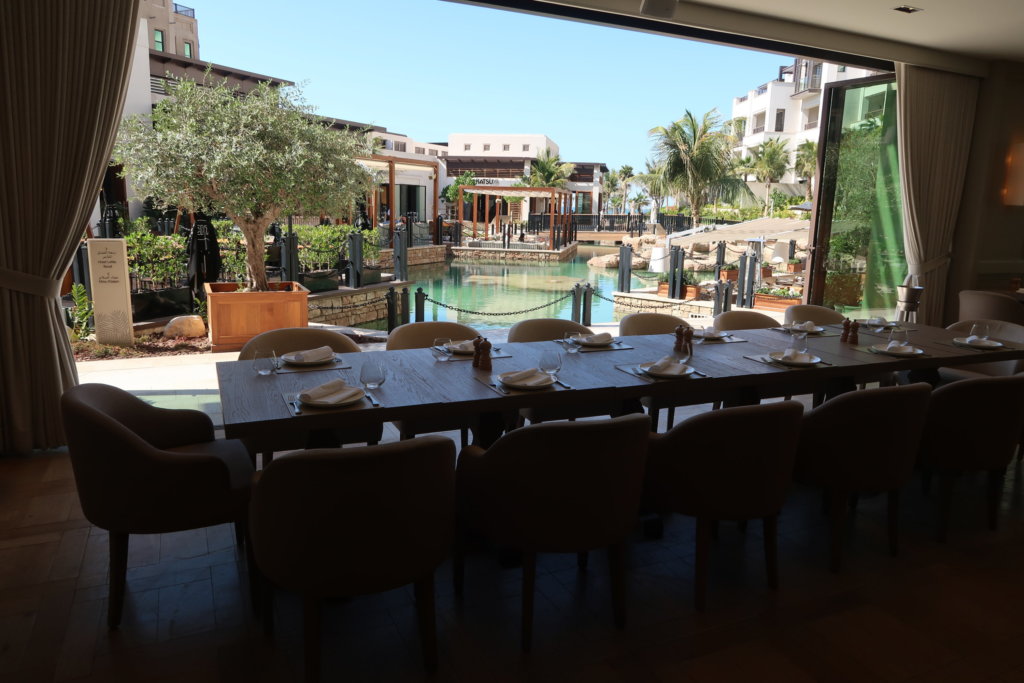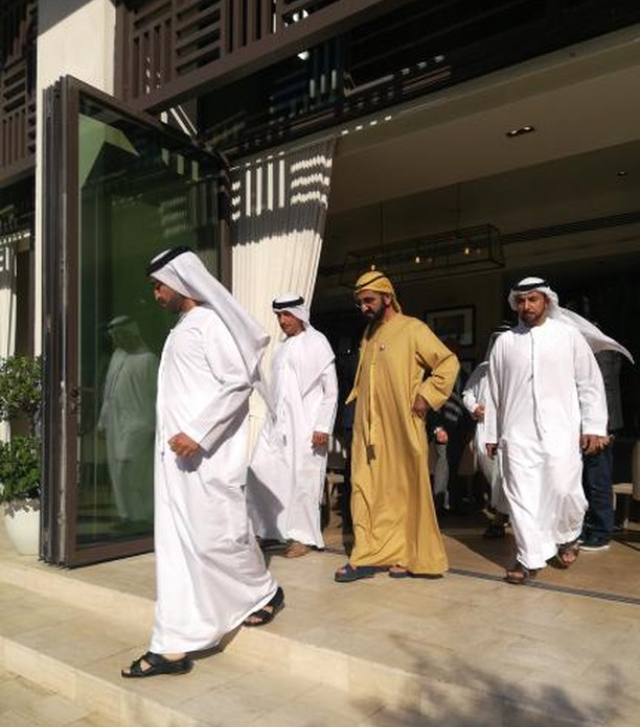 I don't have many suggestions — while I did like the layout, the less intrusive approach of the wait staff, and the variety of dishes, the food seems a bit overpriced and average to warrant a return trip any time soon.
Would I go back? In all honesty, probably not.  It's rare that I crave Italian food, especially when dining out, and the pricing here feels a bit high.  As nice as the meal was, if I was at Al Nasseem, I think I would opt for Katsuya or nearby Flamingo Room instead.
Who is Il Borro best for?  People who do like Italian food.  Guests at the hotel looking for an easy, filling meal at Al Naseem.
Where's your favorite restaurant at the Madinat?
The Verdict
Atmosphere

Pricing

Food

Service
Summary
A beautiful setting, yes, but relatively average food does not excite.