Having had an unexpectedly above average meal at Bhar, I was excited to return to the Renaissance.  After all, with two restaurants by the acclaimed 'gypsy chef' David Myers, I knew I was in for a treat.  While I somehow managed to miss the prominent and very large independent entrance of Bleu Blanc by David Myers (also accessible from inside Basta!), a quick ride in the dedicated elevator and I was on the first floor and warmly greeted by the hostess.  Inside the restaurant, the layout is quite an open plan and done in the style of a charming French countryside home.  Overall, I almost would like to see a bit more definition in the space, or a few more private tables, but I think that's just my personal preference.  Across the room, I spy seating overlooking the lobby below, as well as the canal, and I'm sold on where I want to sit.  This table is also close to the GIANT oven, which is fun to look at, because…FIRE.  I'm charmed when two women who are apparently 'cold' (temps in Dubai dipped into the 20's) moved to sit as close as they can to the oven.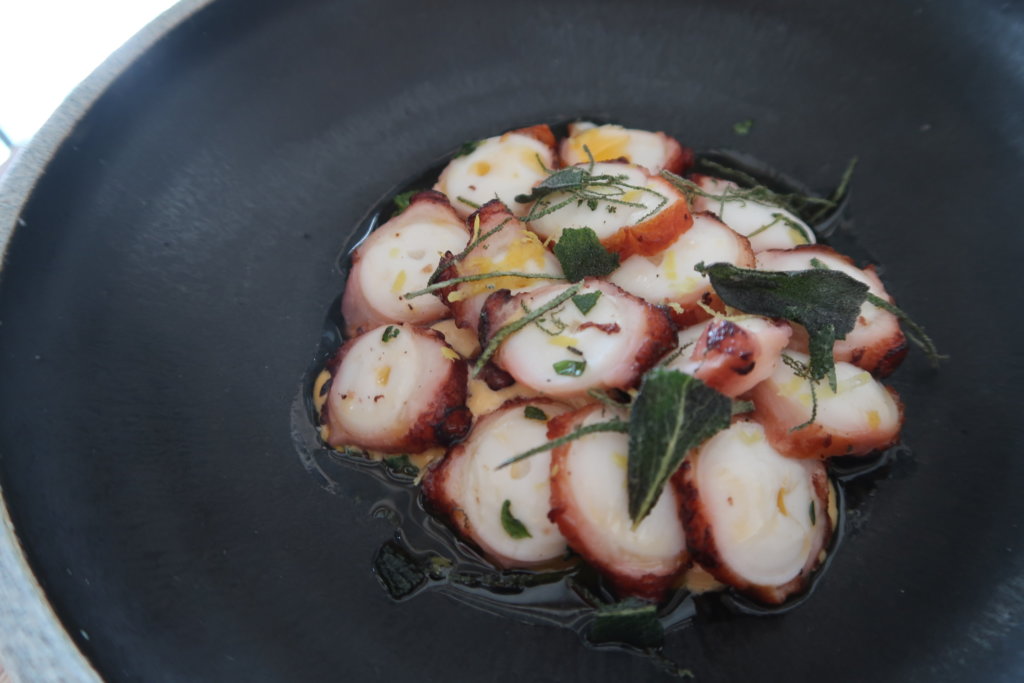 My dining partner and I are presented with menus for both the set business lunch menu (two courses for AED90, with dessert for another AED20) as well as a la carte options.  Because I see things I want on both menus, we end up making a bit of a hybrid selection (and I would encourage you to do the same).  My dining partner is an agreeable sort and lets me do the ordering.  We order the Beef Carpaccio and Charred Octopus off the lunch menu (the beef being the special of the day), and I ask for the Sturia Caviar Flatbread (AED65) from the a la carte menu.  As we share the plates, we both realize the octopus is one of the best varieties either of us has had in the recent past.  Seriously.  I'm not sure if it was the pesto or the tenderness of the protein, but this is definitely one to order.  Similarly, the beef carpaccio (served with cheese) was unique enough in its presentation (and taste) to place it high in the ranks of similar plates in the city.  The caviar 'flatbread' was a little more like a cracker than I expected (the restaurant is playing a bit fast and loose with the term flatbread), but for the price, its an elegant bite for two people.
For mains, we receive the Skirt Steak and Baby Chicken.  Both portions are generous and served in a rustic manner.  At the urging of our waiter, we also agree to the Mac and Cheese (AED40), because, well, who can resist cheesy carbs?  My steak is medium rare loveliness and decorated with a few salt flakes, a salad, and an aioli (which I try not to eat all of).  It's a generous portion, so much so, that I can take some home to a happy Hubs.  My friend's baby chicken is lemony and comes with some slightly sad looking (but ultimately tasty) chips.  The mac and cheese is steaming and moreish, the kind that you won't find coming out of a box.  It's more than enough for two people to share.
Although my guest has to leave, for dessert, I ended up ordering the berries and am very happy with their presentation.  With a light bit of meringue and a bit of vanilla ice cream, this is an easy way to finish the meal.
My suggestions for the restaurant are very limited.  I would happily reorder everything again.  The music fits, the service is engaged and friendly, and the price is right.  While this may sound obvious for any venue, you'd be surprised at how few places manage to get all of these factors right (along with the great food, of course)!  And, of course, while we didn't order any specifically, there are vegetarian options that do not feel like an afterthought (always welcome).
Would I go back?  Yes, definitely.  Not only does the lunch offer excellent value for money, but I'm VERY curious about the a la carte brunch.
Who is this best for?  Those looking for an alternative to the sometimes pretentious DIFC.  Business Bay lunch crowd.  When you want elevated home-cooked dishes, and you don't want to cook them yourself.
Highly recommended.
A to Za'atar was a guest of Bleu Blanc by David Myers.  Opinions are my own, just ask my husband.
The Verdict
Atmosphere

Pricing

Food

Service
Summary
A charming addition to the Dubai food scene. Lunch, dinner, and brunch all deliver at high levels. Highly recommended.