Although certain friends seem to be confused by the name and vibe of the venue, I was in good spirits as I made my first trip to La Mer to visit Masti.  With an equal focus on both the lounge and food elements, this Indian inspired venue stands tall against the beach pavilions and recognizable lights of the establishment.  Inside the restaurant, the modern interior is done in bright colors – teal and similarly decorated as Little Miss India.  The lounge (aka, the place where alcohol is served) is upstairs and includes both intimate bar seating (complete with a giant stained glass elephant head) and an outdoor terrace (fairly cold for our visit in early January, but pashminas are offered, which help).  From our vantage point, we glimpse buildings on the Dubai skyline.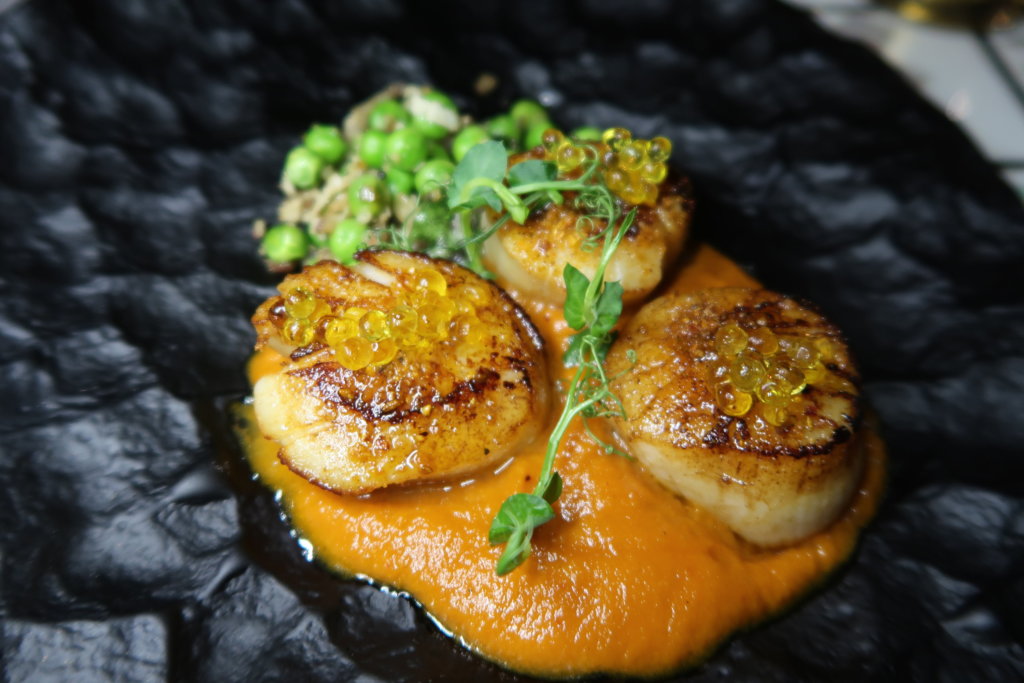 Like many a restaurant these days, the menu is intended for sharing, which suits my guest and I just fine.  Reviewing our options, there is plenty to choose from.  Food is served as it is prepared, so if you're keen for a more formal approach, just ask.  We receive the Butter Chicken Pizza (AED75) first.  Served on an overlarge piece of naan, the butter chicken is as expected (with the superb addition of Burrata) and easy to share between two people.  The naan isn't quite up to the task of holding all the toppings, but it's so delicious we decide to let this oversight pass.  The Gunpowder Scallops (AED130) are next, and while not quite the in your face punch of flavor I experienced at Mint Leaf (yes, I'm still dreaming of the Gunpowder Naaan), the scallops are cooked as they should be — tender and sweet.  Is the price tag justified for this dish?  Honestly, I don't think so.  AED90 feels much more appropriate for what we receive (three scallops).  We finish the first round with Eggplant Bharta & Crostini (AED75).  The eggplant is served grilled and with two kinds of dip.  Our server is kind enough to finish the preparation at the table.  Have I had better crostini?  Yes.  And dreams of the grilled bread from Izu would be a much better fit here.  I also think AED75 for Eggplant (no matter the infusion of truffle in one of the sauces) seems pricey.  Ultimately, I would order each of these dishes again, but if you are on a budget, well…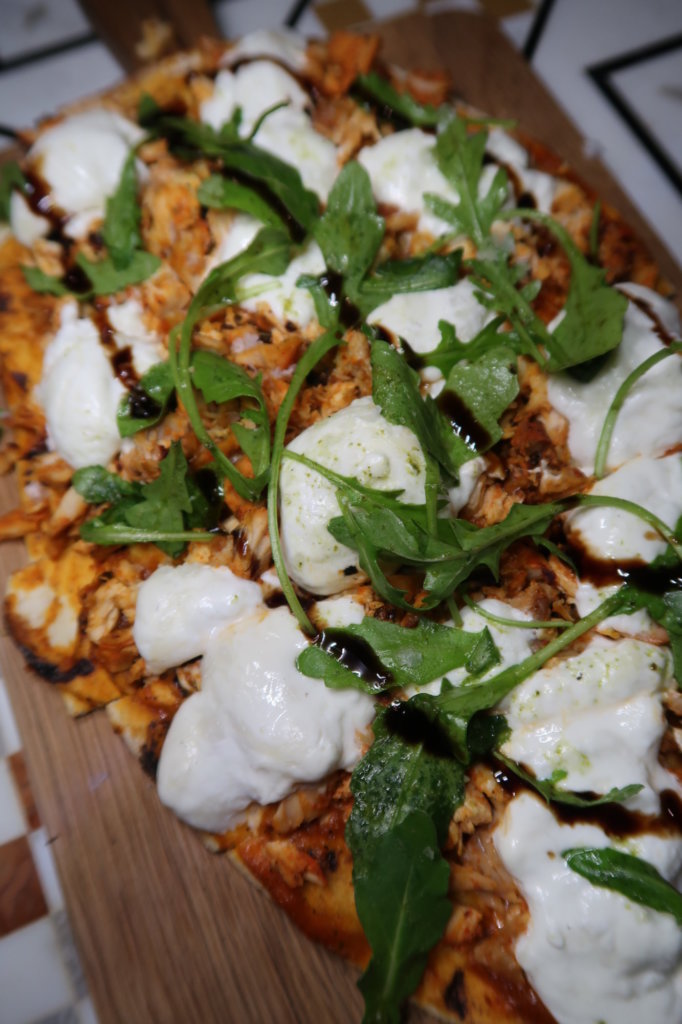 Ordering another cocktail (this time, tamer versions of the signature ones we've been pointed to start our meal), we place an order for Pulled Tandoor Chicken Bao (AED70) and Masti Fries (AED40).  The Masti fries arrive first, and — I'm sure you will be surprised to hear this — are overpriced.  The chips are of the crispy, matchstick-y variety, with togarashi spice and truffle cream melt (of which I do not really taste).  Similarly,
For dessert, we place ourselves in the hands of our server and ask him to bring us the best of the menu.  We're not disappointed by the slightly bitter, not too sweet Chocolate Delice (AED50).  Complete with popping candy, this is one to share, as the chocolate is quite dense.  At the end of the meal, these small plates are enough.  I feel full, but not bursting, and like any well-designed menu, I see other dishes I would like to come back and try at a later date.
My suggestions are limited — while it took a little longer than necessary in between drinks, I think it's okay to assume the restaurant is still getting the hang of service (they've not even been open a month).  I thought the range of options was in line with the theme of the venue, and plenty of choices for both vegetarian and non-vegetarian diners.  Overall, I think the pricing needs to come down by at least 15%, or the portion sizes need to increase to present better value for money.  Also, I was left almost stranded after dinner when nary a taxi was to be found.  Fortunately, I used my trusty Careem app, but it seems strange that I could wander around La Mer and not run across a taxi.  ¯\_(ツ)_/¯
Would I go back to Masti?  I don't think I would specifically cross town to visit, however, the sound of drinks on the beach on a Saturday afternoon seems like a good fit.  I'm also curious about the gin room they have yet to open…
Who is this best for?  Those who appreciate a bespoke cocktail.  If you want to impress out of town guests, but don't want to go to a hotel.  A date night.
What's your favorite restaurant in La Mer?
A to Za'atar was a guest of Masti.  Opinions are my own, just ask my husband.