Knowing myself, I was both frustrated and delighted by Past Courtney's decision to make plans for breakfast on Boxing Day.  Fortunately, due to a wildly disappointing Christmas Day brunch at Traiteur (spoiler alert: it was a total cash grab with no holiday food whatsoever), we woke up hungry and ready to eat.  Our visit to Izu Brasserie forced us out of the house and, as I followed my preference for not dealing with traffic, it was easier to try City Walk on a weekday when most people were traveling outside the country.  With perfect winter weather, Hubs and I decided to sit outside under one of the covered tables (which was more than Traiteur could offer #iamnotbitter).  A note to those trying to find the entrance, the restaurant is best accessed from the main boulevard, on the ground level of LE BLV / Marais (rather than wandering through the store, as we did).
With both a Brassiere and a Bakery — split, somewhat awkwardly by a child's clothing section — guests are more or less spoiled for choice.  Off the bakery menu, although the French toast was loudly calling my name as were all the sweets inside, I decided a selection of lighter fare was in order.  To start, we ordered the Bruschetta (AED35), which was accompanied by some of the finest grilled bread I've had in the city.  I liked the 'build your own' approach to the dish (especially good for me, as I don't care for olives and spent my time building heaps of tomato).  Along with that was (of course) Burrata (AED65).  Certainly not the very best I've had (the thickness of the rind was a bit too much), the creaminess of the cheese is always welcome (and the price was correct for the serving size).  As usual with Burrata, I ever long for the dish to be accompanied by bread, crostini, or some form of carbohydrate, so we made do with the delicious bread from the Bruschetta.  Similarly, the Feta and roasted tomato salad (AED45), along with the Kale and avocado salad (AED45) both seemed refreshing choices and delivered as expected.  Do I think the kale salad could use a bit more avocado?  Yes.  Do I think it's dressed a bit heavily?  Also, yes.  Can you easily split all the dishes we ordered?  Yes, definitely.
Although we were plenty full from these four dishes, and I forced myself away from what appeared to be an exceptional cinnamon roll, the kitchen sent a plate of Squid ink ravioli stuffed with prawns, sea bass, and butter sauce (AED75).  Honestly, I kind of wish they hadn't.  The consistency of the pasta was much bulkier than I wanted it to be, and the stuffing could've used more seasoning.  Of all the dishes we tried, it was the one I wouldn't order again (no matter how lovely it looked).  Hubs loved it, but I prefer a more delicate pasta.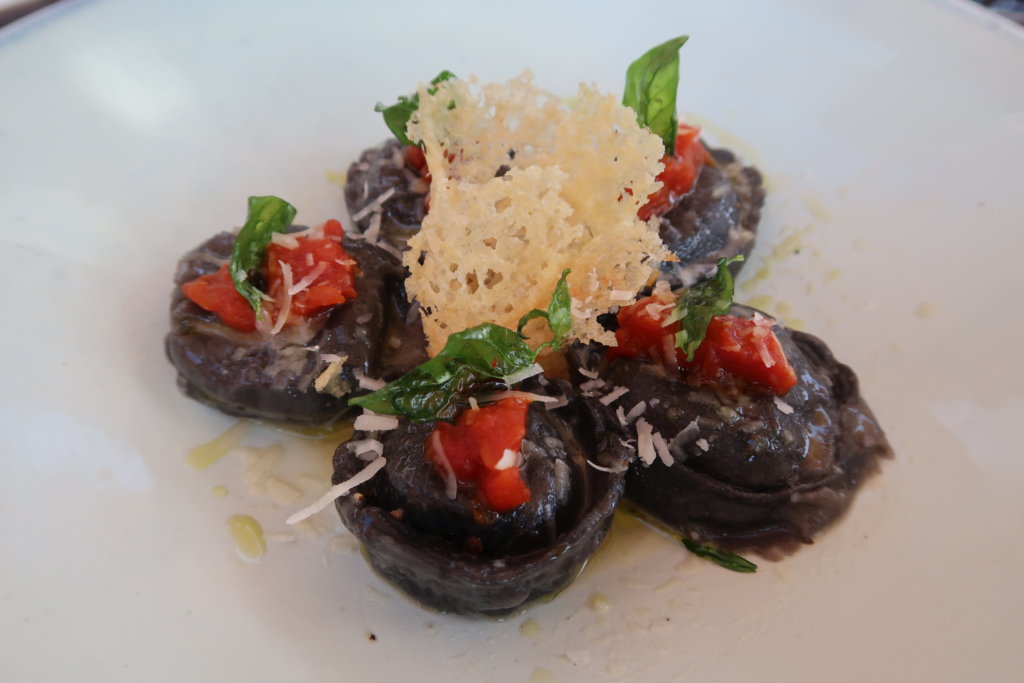 Would I go back?  Well, the food isn't worth crossing town for, but if you're at City Walk, it's a relatively easy choice.  The food is fresh, the service is friendly, and the prices are fair.
Who would enjoy it?  Friends looking to catch up.  A solo spot for yourself and a good book.  A place to catch sit and watch the world go by.
Where's your favorite place to eat in City Walk?
A to Za'atar was a guest of Izu Bakery and Brasserie. Opinions are my own, just ask my husband.