My visit to Cafe Milano in Abu Dhabi has been a long time coming!  Having heard great things from foodie friends in the capital, I timed my reservation for an evening in early December.  With absolutely beautiful dining room views (ask for a table overlooking the water for maximum romantic value), and a soundtrack that not only a) makes sense and also b) was played at the correct volume, this meal had all the hallmarks of a lovely evening.  Warmly welcomed, for a Tuesday evening the restaurant was quite buzzy — a mix of holiday office parties and perhaps those at the Four Seasons to catch a glimpse of a particular famous football team in residence.  Settling in, upon reviewing the menu, I appreciated a rotating list of specials so that diners can try old and new favorites alike.
To start, after placing cocktail orders, we received a small arancini, which was quite twee and yummy, the perfect size and choice to begin the meal.  Moving on, my dining partner and I were a bit too chatty and got carried away before I managed to point to my usual standards for some sharing plates to start: Beef Tartare (AED45) and Burrata (AED100), and because I love them, Roasted Scallops (AED45).  Our appetizers were served with a selection of fresh bread (the focaccia was divine).  Of the group, the burrata was my favorite (yes, I know, big surprise).  Accompanied by pumpkin 'carpaccio' and black truffle, the creamy cheese was outstanding.  I don't ask for too much with my burrata, and this was a version I would definitely order again.  For the rest of the starters, while it felt like a correct price point, the two scallops seemed a bit of a small portion.  In all honesty, I would rather a slightly elevated price and more scallops.  While the scallops were perfectly cooked, the accompanying beans were too bland to add much value.  While perhaps this is a traditional Italian method of preparation, I would've preferred a salad or something with more heat.  Similarly, I realized my preference for tartare is with a protein preparation that is more cubed and less mashed.  The consistency of the tartare at Cafe Milano is simply not for me.  The taste was decent enough, but the presentation (almost like the consistency of canned tuna fish) was a turn off for me.  You might feel differently, and my dining partner was happy to finish my portion.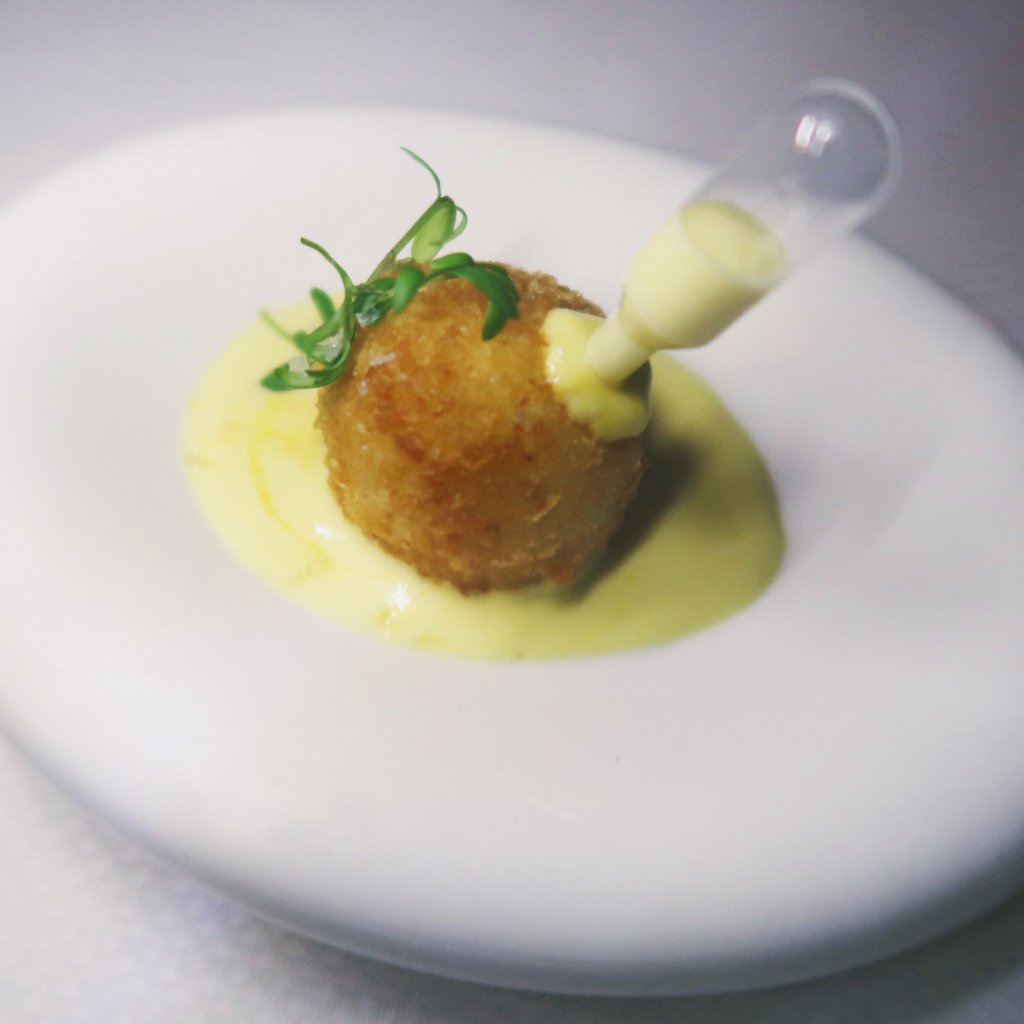 At the advice of our waiter, we decided on splitting a pasta dish for the next course.  My favorite dish of the evening was the House-made Braised Veal and Spinach Ravioli in a Sage and Veal Reduction Sauce (80AED).  The plate is served without much accompaniment (not that it requires any).  With eight perfect pieces of pasta, this is everything I want — savory, slightly chewy, and with the right amount of depth in the sauce.  Four pieces per person seemed like the right amount (although it might also make a lovely main course for someone as well).
For our main dish, we again ask advice from our patient waiter and he suggests fish, one of the Cafe Milano specialties, which arrived in the form of a beautifully presented, but ultimately bland, Roasted Whole Mediterranean Sea Bass with Sautéed Seasonal Vegetables (AED250), ours was served baked in a Cervia Salt Crust.  While I appreciated all the work that went into the dish and the delivery, the ultimate result was a relatively plain white fish.  The accompanying vegetables were nice enough, but an overall lack of seasoning across the plate would not have me rushing to order this dish again.  Furthermore, I think the price is a bit out of line with what is delivered.
For dessert, we once again rely on our helpful server, who comes out with not a traditional Tiramisu or Cannoli, but instead a chocolate dish, which we are happy to split.  My apologies as I did not capture the name or price, but I would imagine it would appear on the menu as a Chocolate Fondant (and hope it would be somewhere around AED50 or less).  Can you really go wrong with melty chocolate and vanilla ice cream?  I don't think it's possible.  My guest and I happily split this dish between us.
Would I go back?  The views are stunning, the venue vibes, and the service is above average.  Given the proximity of the two restaurants, drinks or dessert at Cafe Milano with dinner at Roberto's seems like the best of both worlds.  I've also heard the Saturday brunch at Cafe Milano is one of the best in the city, so that seems like another opportunity to try more of the menu.
Who is this place perfect for?  First dates (with bonus drinks in the lounge at Butcher & Still).  Parents or in-laws visiting.  Out of town work colleagues.
Where is your favorite Italian restaurant in Abu Dhabi?
A to Za'atar was a guest of Cafe Milano.  Opinions are my own, just ask my husband.