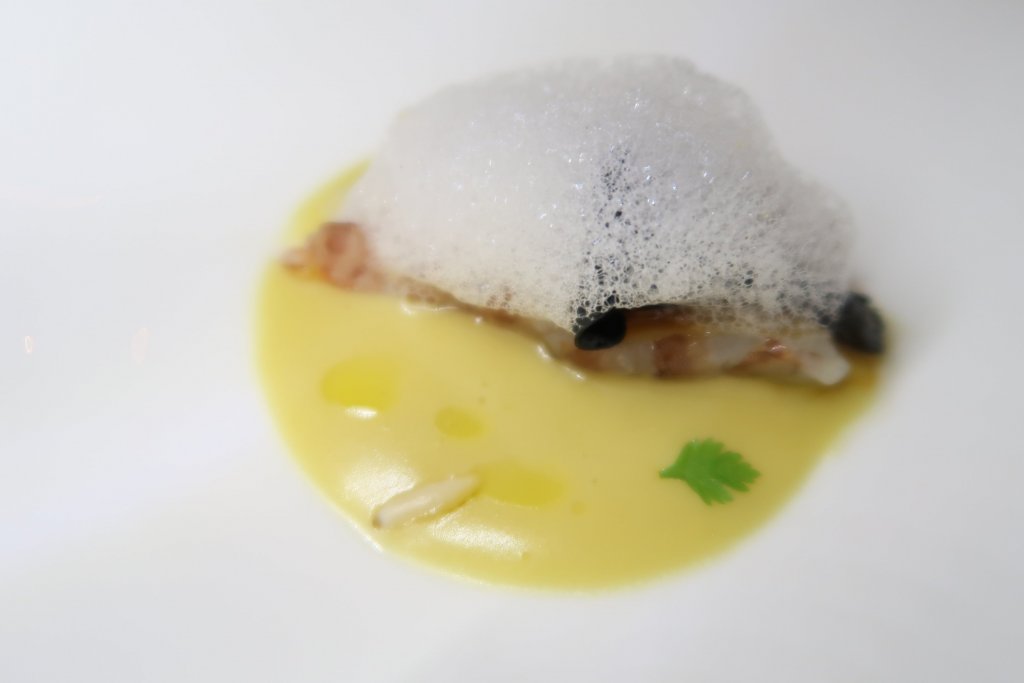 Dubai and Abu Dhabi are both excellent cities for offering discerning diners something unique from some of the best chefs in the world (Emirates Palace continually shines in this element).  Enter Paco Perez, the Catalan chef of Restaurant Miramar fame, in town for a three month pop up at the Ritz Carlton DIFC.  In addition to the usual ala carte options, he's developed a special tasting menu, which Hubs and I went to review.  Luckily for us, it was also the night of the hotel's tree lighting, which was a lot of fun to see and put us in the festive spirit.
After an amuse bouche arrived in the form of tiny 'tapas' and a glass of cava, we were served our first course, Oyster tartar and caviar.  Longtime readers will know I am not a fan of bivalves and the trend continues.  While I appreciated the briny nature of the dish, I thought the plate lacked texture and similar to the King Prawn that followed, I wanted more acidity and heat.  Additionally, while I generally like foam as an element, I did not understand why the chef would plate two dishes with a bit of froth back to back.  Foam is one of those ethereal, quirky elements, and it seemed a strange choice to use them in adjacent courses.  Furthermore, the creaminess and powerful amount of flavor in the sauce (pictured above) almost rendered the foam pointless.
Similarly, I thought the Langoustine cannelloni & caviar was another 'almost but not quite.'  While recognized as a signature dish for Chef Perez, for me the lack of texture and acidity once again brought this dish down.  Sorry, I like chewing and pay attention to — dare I use the phrase — mouthfeel.  Also not for me?  Plates that are all one color.  I prefer dynamic, eye-catching dishes, which cannot be successful with a bland white canvas.
Continuing the seafood theme, yes, for the fourth course in a row, a dish of Turbot followed, giving us something with actual texture for the first time in the evening.  Although there is a clearly a theme here, the dish didn't push the culinary envelope far enough for me.  Or, perhaps I had grown bored of eating seafood.  A better choice here might have been lamb or duck, as I think four courses in a row is a bit much for any style of protein.  It's not that any of the seafood was anything less than perfectly cooked, it's that the meal delivered a very middle of the road experience.
With the Wagyu beef loin (served with impeccable wild mushrooms), I was finally given a dish I could sing praises on.  Beautifully crafted, well portioned and seasoned, and just right, I would be happy if more of the plates had turned out in this manner.
For our final courses, the Basil, thyme and green apple was an excellent palate cleanser.  Light, with a nice crispness from the apple, to me, this was a textbook example of how to transition from a more substantial main course to dessert.  The dessert presented in the form of Chocolate, licorice, and tonka bean (my first time have the latter ingredient).  I loved the creaminess and thought it was a high note to end the meal on.
Would I return?  The price point seems a bit high, even for the Ritz Carlton.  Given the value for money of a similar amount of courses at the JW Steakhouse (priced considerably less), I'm not quite sure how to categorize my experience at Center Cut.  I welcome chefs of this caliber, but in the end, for my personal tastes, this wasn't a fit.  Amazing service and well-paired wines cannot overcome a menu where only one of the courses stood out to me.  Overall, I'm going to stay home and wait for the upcoming refit of the restaurant to see what happens next.
Have you tried the tasting menu at Center Cut?  What did you think?
A to Za'atar was a guest of Center Cut.  Opinions are my own, just ask my husband.