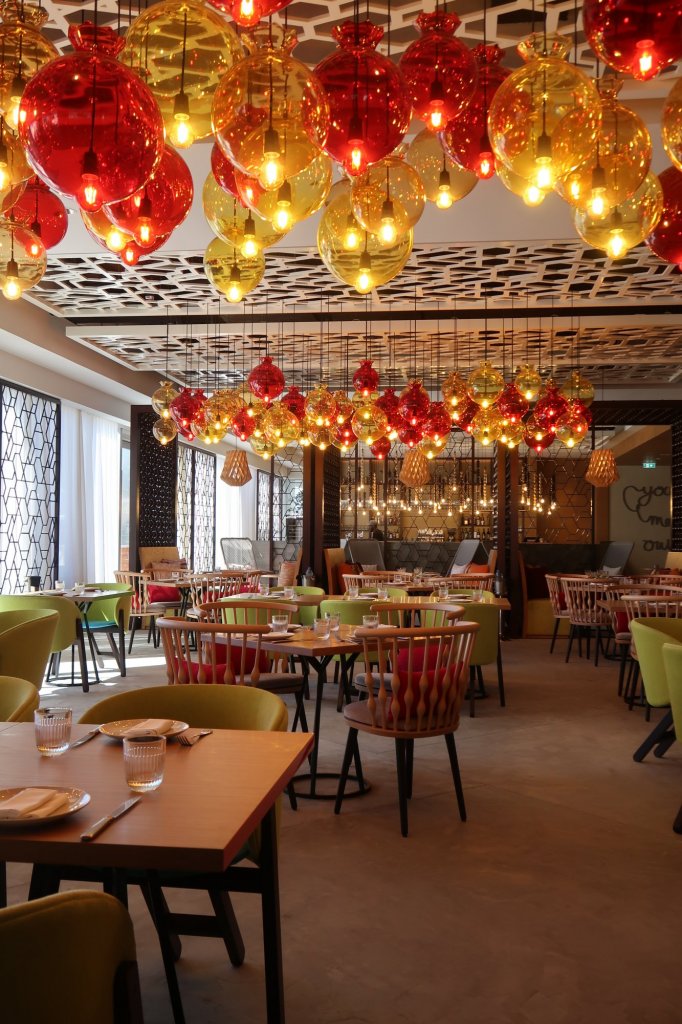 Self-admittedly, I am not the biggest fan of Middle Eastern cuisine.  Yes, even after ten years in the region.  I'm not sure exactly why, but — and please feel free to get angry — it always comes off a bit basic to me (with the exception of Zahira, which I did enjoy).  Thus, I was a bit hesitant to accept a reservation to newly opened Bhar, located at the Renaissance Downtown Dubai.  I was happy to wait for the launch of Morimoto or to meet for lunch at Blue Blanc by David Myers, but my contact encouraged me to come out, and I'm so glad I did.  Furthermore, fans of the celebrated (and now shuttered) Qbara will be delighted to find a familiar style.  Some of the former team have been brought over to open the restaurant and, just as ever, bring a unique take on Middle Eastern fare.
The interior is spacious, with access to the outdoor lounge and terrace which overlook the Dubai Canal.  Broken into a number of different spaces, there is a traditional dining room (complete with an open kitchen at the back), an interior lounge area (with a bar), and outside, guests can find a large terrace with seating, a shisha bar, the pool, and cabanas.  Compared to its neighbor, the Renaissance has a more sophisticated offering.
As is tradition, the menu is arranged with plates that are intended to be enjoyed in a sharing style (my preferred method of dining).  While there was an excellent business lunch offer available (AED90 for two courses), we decide to sample a bit more of the menu.  Fattoush with avocado, lemon and mint dressing, AED39, and Butterbean, feta & za'atar crush, with flatbread, AED29, were immediately brought to our table, with a selection of Fresh bread and olive oil and wild za'atar dip, AED35.  I found the take on fattoush to be my favorite of the group, and wished for a touch more salt or heat in the butterbean dip.
I also had my eye on the Salmon kibbeh, AED68, and was told the Soft shell crab saj, AED40, was not to be missed.  With another signature dish in the form of Chicken tagine, AED98, there was plenty of food on the table.  A small side note — I loved the 'buy a round of beers for the chefs' (AED60) on the menu.  I would love to see this pop up on more menus in the city!  Ahem.  Of our 'mains,' the salmon was the weakest for me.  The portion was a bit small for the cost, and while the fish was cooked well, the taste was a bit on the bland side.  Fortunately, the chicken was memorable, both in presentation and taste, and an excellent not too heavy option to share.
Altogether, there was entirely too much food, and I had the leftovers packed up for another meal (food wastage is bad, peeps).  While I would personally be more likely to seek out venues that were a bit smaller (and perhaps a bit warmer), overall, I think Bhar is off to a wonderful start.
Would I go back?  Sign me up!  I would happily order all of the dishes again — always a great sign.
Where's your favorite Middle Eastern restaurant in town?
A to Za'atar was a guest of Bhar.  Opinions are my own, just ask my husband.