"Inspired by the beauty of vintage France, La Môme Dubai serves homemade French cuisine and exquisite wines with a breathtaking view over Dubai's skyline."
As excited as I have been by recent restaurants (Cabin and Bhar), my optimistic mood was promptly and quickly shut down when I ventured out to La Mome (and no, I'm not going to bother with the little mark on the 'o').  To be fair, we had been warned off of the venue by some friends and fellow foodies whose advice ranged from 'average' to 'the worst meal I've ever had.'  As with 360, I set my expectations low and then was shocked when those hopes were not even met.  To start, one of my most significant problems with Nassima Royal hotel is the lack of space in their restaurants.  Tresind also suffers from claustrophobically low ceilings (no matter how good the food is).  I can understand how some venues can be charming and intimate, but there is a fine line between 'cozy' and 'I feel like I can touch the ceiling if I just stretch.'
As I'm not going to waste additional time on this review, let's jump straight into the pros and cons.  You'll note that many of the drawbacks are actionable items and some of them relatively easy fixes for the venue.  Others might take a while longer — we did suggest closing the restaurant and starting over to a senior F&B person.  As the hotel has received ownership of the restaurant back from the original owner, thus far, it appears they've made changes for the worse and not better.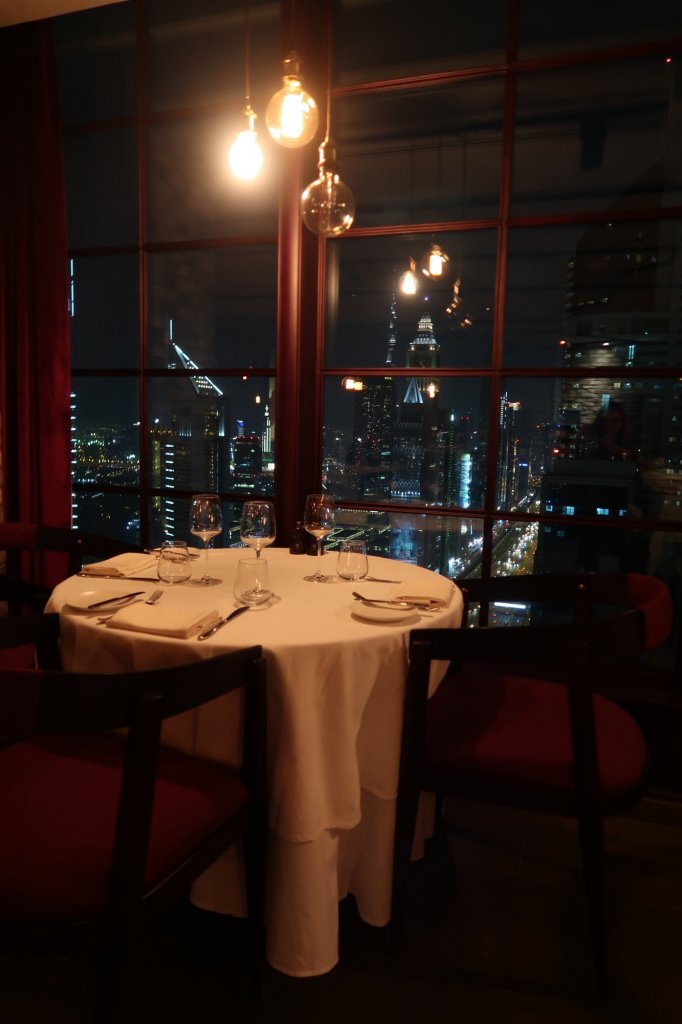 Cons
A menu in need of a complete overhaul.  Not only is the design of the menu awkward, but also from the point of a diner, it's difficult to understand exactly what and how much to order.  With random sections and no descriptions of any of the dishes, we were left wondering what was a starter, what was considered a main, and really, what sort of direction the meal should take.  Terrible font choices aside, whoever put the words together decided to play fast and loose with quotation marks, to the point that we had a fun time using them "randomly" throughout our meal.  Furthermore, there was nothing about the food or presentation that I interpreted as particularly French.
An interior design that makes no sense.  Obvious fake brick, low ceilings, and the strange placement of a private dining room all add to an unwelcoming environment.  Case in point?  The couple that walked in, took a good look around, were met by no staff or personnel and walked straight out.  When a venue loses customers before they even have a chance to eat, you know you're in trouble.
A team that is in desperate need of training.  A simple question of 'what wine would go best with the duck' triggered a twenty-minute discussion with all staff in which we never received an answer.  Food was brought out too fast, then too slow.  Basic questions that we asked were given inadequate responses.  Incorrect menus presented.  And when we asked for a signature plate, we were pointed to meatloaf.  Yes, meatloaf, the most French of all dishes.
Staff uniforms.  When dining out, attention to detail matters.  And there is nothing 'fine dining' with screened black t-shirts and trainers.  While the 'too cool for school' can work for some venues (Automata comes to mind), in this instance, a crisp white oxford, black apron, and dark trousers would go a very long way.  This ensemble is easy to procure and looks good on just about anyone.
Food that is tasteless and overpriced.  Over the evening, we dined on gritty scallops (which shockingly cost AED165 for four), bland fish, unrendered duck, and unseasoned steak (all priced about 15% above where they should be).  The only dish that we liked was the selection of pork, which I improved by asking for mustard.  And no, the pork wasn't actually cooked or prepared by the kitchen, it was merely arranged on a tray.  I'm sure you can understand we were not prompted or inspired to stay on for dessert.
Food wastage.  I love bread with butter (sidebar: I prefer butter served in ramekins, not in ugly packets, but one challenge at a time).  At the La Mome, we had but a piece of bread each from the small basket, when said basket was whisked away, never to be seen again, and then replaced with another full basket of bread.  In total, an entire loaf of bread was easily thrown out until we asked the servers to please stop replacing and taking our bread away.
Not pouring at the table.  Courtney's pet peeve, but in general, ALWAYS POUR WINE AT THE TABLE.  There are no excuses for this.
An overall mismatch.  In attempting to come off as French fine dining, the result is laughable.  Save yourself from the effort of this restaurant and go for LPM instead.
Pros
The view is nice.  Honestly, 49 floors up and overlooking Shiekh Zayed Road, it is a one of a kind vista.
Random Thoughts
I genuinely felt bad for the lovely lady who was singing to an empty restaurant.  While we were not whisked away to a 1950's French bistro, she did have a pleasant voice.
While we dressed up for dinner (as one tends to do when dining with friends), all the other patrons were in jeans and t-shirts (or diapers).  Sartorial choices aside, it was a mismatch from start to finish.
Leonardo DiCaprio dined here and said it 'felt like Paris.'  Oh, Leo.  If you had been with us, I don't think you'd be as happy.
Would I go back?  No, and honestly, I hope it's a long time before I have this kind of experience again.
A to Za'atar was a guest of La Môme.  Opinions are my own, just ask my husband.