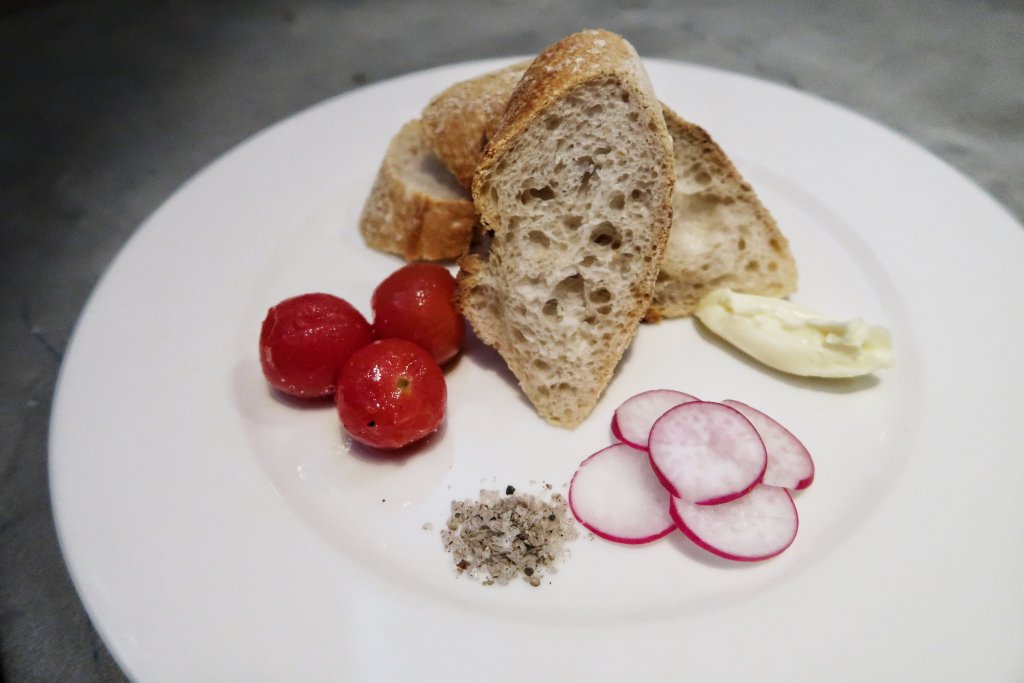 I'm going to admit to something you might have already guessed.  For the past month, I have been in a bit of an eating slump.  There, I've recognized my problem.  And as someone who genuinely loves food, this is a giant bummer.  To not be excited about dishes, or to receive plates and view them in a hypercritical manner isn't much fun for anyone.  Add in boredom and the unwillingness to go out and try new restaurants, and you would pretty much have my modus operandi for the past month or so.
Thus, when I saw the new restaurant Cabin, I thought, "I will have a nice enough brunch and be on my way."  My expectations were not high.
Readers, I was very wrong and so happy to have my faith in food and service renewed.
Greeted warmly by owner/artist Jonny, we were immediately given a tour of the venue.  While I would initially classify the interior as 'hipster,' having actually dined at the location, I would move towards 'authentic.'  With eclectic art everywhere, an open kitchen, bar style seating and booths, outdoor seating, coffee sourced from local roasters, and a relatively creative menu catering to whatever you want at almost any time of day, Cabin is the place in Dubai I didn't know I had been looking for.  Did I mention they only play vinyl?  Service is laid back, but efficient, and the menu skews towards fresh, healthy cafe food — with more substantial fare if you want it.
We ended up speaking with Mr. Gent for the better part of two hours.  While I would not demand this sort of time with other owners, this sleepy Thursday afternoon was the right time to have an engaging chat about all the trials and tribulations of opening a restaurant in Dubai (have no fear, Jonny has plans to open additional versions of Cabin in the United Kingdom and Los Angeles).  Jonny's approach to the kitchen, hiring, and life in general were all refreshing to hear.  I don't walk into every restaurant expecting to make a friend, but, lucky for us, that's precisely what happened.
After a fair amount of conversation, we were unable to decide on breakfast or lunch, and opted for Charred Broccoli, Pine Nut, Pomegranate, Bulgur Wheat Salad (AED45), the Pure Salad (AED50), Poached Eggs with Hollandaise (AED45), and Rib Eye (AED60).  I also appreciated the small, simple plate of bread with salt, freshly peeled tomatoes, radishes, and butter which started our meal.  The beautifully plated food was delivered in a timely manner.  The ribeye was the absolute winner for both of us, served with small potatoes, beetroot and an earthy green sauce, it's one you can share, but for the cost, why not just order your own.  As our discussion waned, we decided to enjoy some Lemon Tart (AED25) al fresco.  Split three ways, it was an excellent way to tie up the meal.  We left feeling satisfied and excited to start telling everyone we knew people about the restaurant.
Is there room for improvement?  Well, yes, of course.  The only thing that would make this venue better is perhaps a bit more central location (honestly, what is Barsha South) and an alcohol license (add in a bottomless mimosa and I might still be there).
Cabin does what so few restaurants in Dubai manage — a perfect je ne sais quoi of ambiance, food, and pricing — so rare in this town and therefore immediately recognizable.
Would I go back?  Yes.  I can't wait to see what the team comes up with next!  With a seasonal menu that changes four times a year, there will always be something new to try.  If I needed a place to meet up, or wanted to try working away of my office, this would also be a go-to destination.
Highly recommended.
A to Za'atar was a guest of Cabin.  Opinions are my own, just ask my husband.