Let's get one thing straight about Dubai — for the most part, the cookers (ovens) here are small.  Too small, in fact, to do much of anything useful, especially when a holiday meal is involved.  With thirty hungry diners invited to our villa, I knew I had to outsource most of the food for our recent Thanksgiving.  If there was one thing I wanted to avoid, it was a burned, dry turkey or one that was underdone in any capacity.  While there are a number of excellent options in the city which offer Thanksgiving fare, Christmas roasts, and the like, it was Clinton St. Baking Company that won me over for our holiday order.  Having already been for breakfast (and loved it), I couldn't wait to share a little bit of home with my guests.
In case you weren't aware, Clinton St. Baking Company is a well known U.S. brand, and I've decided to 'borrow' a bit from their website, which explains more about the founders:
When they began, Neil and Dede were a small wholesale baking company with a storefront and a few loyal neighborhood customers who lingered over coffee and muffins and tapped out on their laptop keys (before smartphones were born). 

These days, most folks know Neil's pancakes are voted best in the city, but it's his savory roots that ground the menu and make them proud. People call it "comfort food," but what they are dishing out is American Classics made with the highest quality ingredients, locally sourced — whenever possible — with lots of love (and butter).
As we had a number of first time Thanksgiving participants, it was important to me that our guests received a very traditional meal, and that's exactly what we received!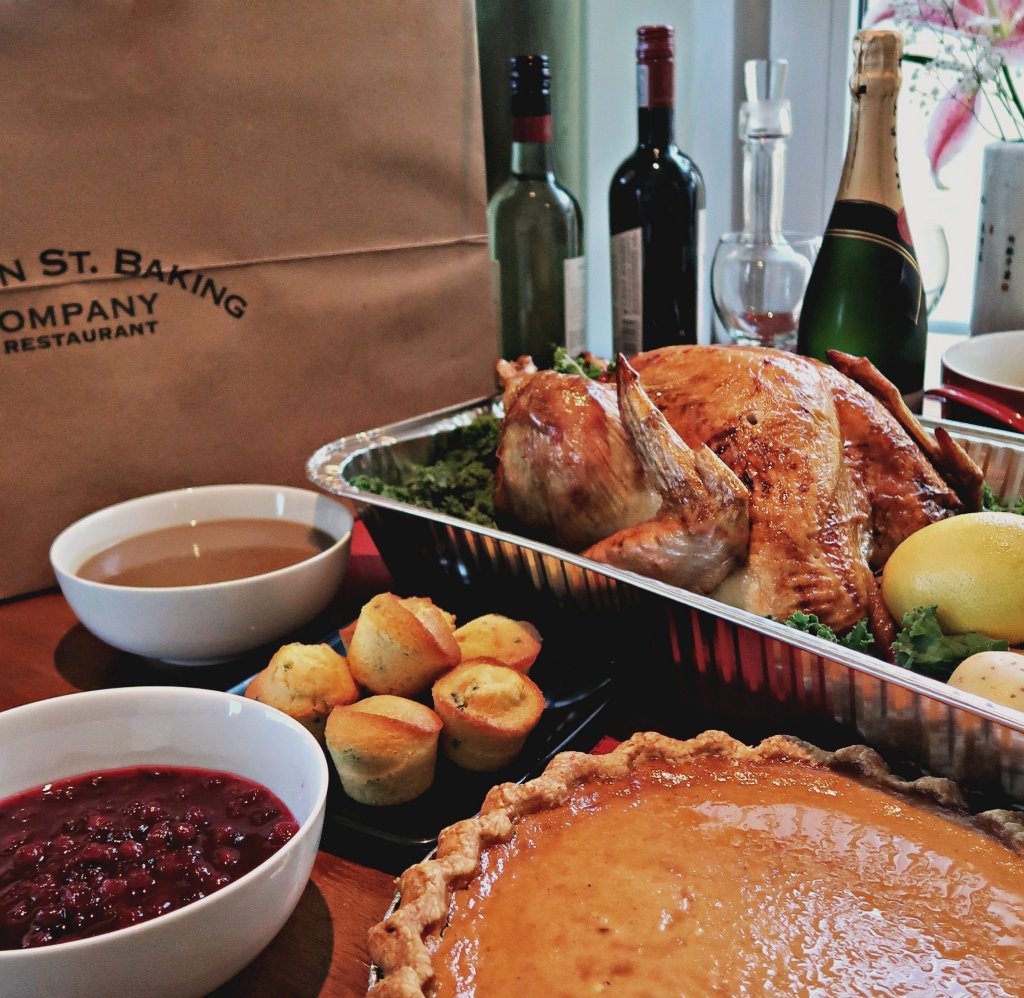 What was on the menu?
Pretty much everything you could want for the holidays!  Our order included the following: whole roasted Turkeys with trimmings (including extra gravy), cranberry sauce, herb and chestnut garlic stuffing, mashed potatoes, maple glazed carrots, jalapeño cornbread, and pumpkin pies.  To supplement this, we made green bean casserole, spinach artichoke heart dip, and sweet potato souffle.  Our guests brought raspberry cheesecake, a big salad, spinach and ricotta pie, a cheese tray, more stuffing, and extra cranberry sauce.
What was the food to people ratio?
My guest list was much larger than initially planned, however, there was plenty of food to go around.  Even with 30+ people, two turkeys and two pies were enough to keep everyone happy.  I would say that if I were to order anything extra, it would be the jalapeño cornbread, which disappeared quickly after the first round of guests.  I also probably could've done a better job circulating the food as the night went on, however, I only had a few moments of panic wondering if we would have enough (spoiler alert: I have this anxiety every year, without fail).  Overordering is something I am not bothered by, because, leftovers are an essential part of the holiday experience.  We had enough for a big batch of turkey curry and Hubs' lunch for the week.
What is the cost?
A turkey with all the trimmings costs AED650 and pies cost AED195.  Personally, I would work with the team directly to put together a menu that works for you.
Do they deliver?
I believe the restaurant delivers if you are in the Downtown/Business Bay area of town.  We had to pick up the order.  While there is significantly less parking now at the Burj view location, we were able to snag a quick spot in the taxi loading zone and completed the pick up in under twenty minutes.  The food was wrapped and came with reheating instructions.
What was my favorite dish?
Don't check my foodie card, but it was the gravy!  In the ten years I've lived here (and have been hosting Thanksgiving), this was the closest to the home-style taste that I can remember.
Would I do it again?
In a heartbeat!  Having people over for the holidays is stressful enough, I think it's in the best interest of the sanity of the host and hostess to let someone else do the heavy lifting.  Yes, we're still doing dishes a few days later and sure, I've had turkey as part of my meal for the past four days, but I think the party was a success — which starts with great food!
What are your plans for the holidays?  Will you be staying in Dubai?  Where do you order your holiday meal from?
Clinton St. Baking Company provided our holiday meal.  Opinions are my own, just ask my husband.