Before the move to Al Naseem, I visited Katsuya at the original location in Dubai Mall and remember lamenting about the lack of licensing.  And, while my memory starts to fail in my late 30s, I believe I've also been to the original Katsuya in Los Angeles from my pre-expat days living in the beautiful San Fernando Valley (circa 2002-2007).   So, what's new?  First and foremost, there is not one, but two full bars in the new larger than it appears (licensed) venue, tucked away by the new Flamingo Room by Tasha's.  Through the large sliding glass doors (complete with an enthusiastic verbal welcome from the entire team), Katsuya offers the main dining room with an open sushi kitchen, a chic lounge, a second dining area, and outdoor terrace, all overlooking the beach and turtle rehabilitation area.  Personally, I found the covered terrace to offer the best seat in the restaurant, but our meal in the dining room isn't a bad location either.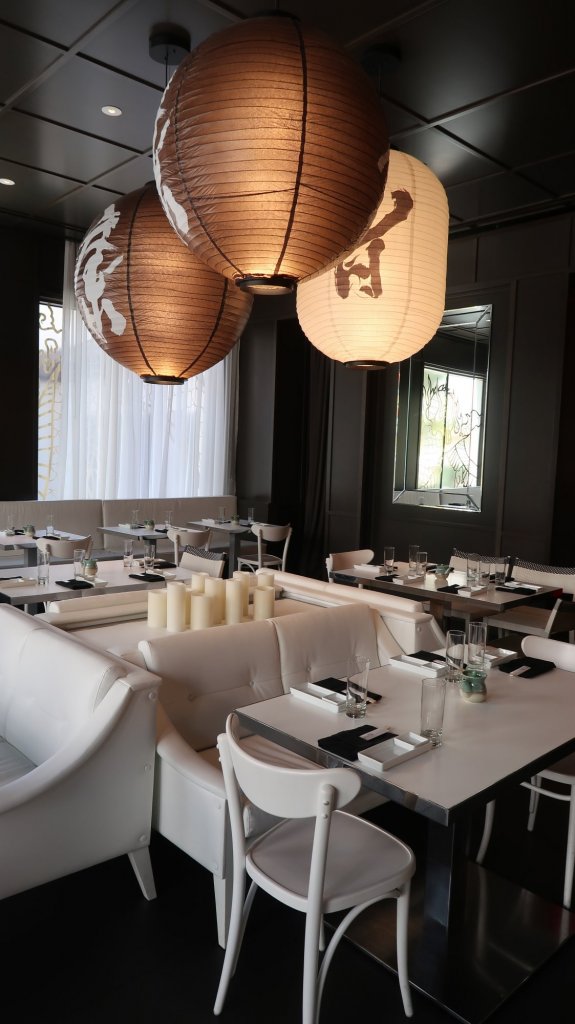 If you're looking for choice, I can assure you the menu at Katsuya is more substantive than its competitors with everything from salads to sushi to a wealth of signature dishes.  Hubs and I were in the mood for some sushi rolls, so that's where we gravitated towards, but not before first ordering the Edamame Hummus, AED69 as well as my pedestrian favorite Creamy Rock Shrimp, AED55.  The hummus, already unique, is made even better by the addition of delicious homemade grilled pita bread.  Essentially, my order of business here is to generally sit down, order these two items with a bowl of edamame, and then consider the rest of the menu.  Thinking on an empty stomach can be difficult, yes?
Although there is a lot to tempt diners — seriously, there is something for everyone on the menu, including the overplayed and expected in Dubai (Wagyu and Black Cod) — we're feeling more or less lazy and order some of the recommended specialty rolls (Double Double, Hollywood, Salmon Lemon, priced between AED95-70).  My lack of commitment doesn't necessarily pay off, and I wish I had paid a bit more attention to the menu.  I will admit the serving sizes are quite large, 8 pieces per roll, more than generous for ambitious Hubs and I, but there wasn't anything that truly wowed us, and I wouldn't specifically seek out any of the rolls again.
I had a look at the extensive cocktail menu, and for the sake of 'research' ordered the Watermelon Cucumber Mojito, AED60, which was lovely, but seemed to lack nearly any alcohol whatsoever.  If getting a buzz was my end goal for this drink, I'd say it fell quite short.  I would try another selection next time.
We skipped any dessert, although I will say there were a number of temptations, including the Brownie Toban and the Yuzu Tart, but given my week in food, I had to draw the line somewhere. #thestruggleisreal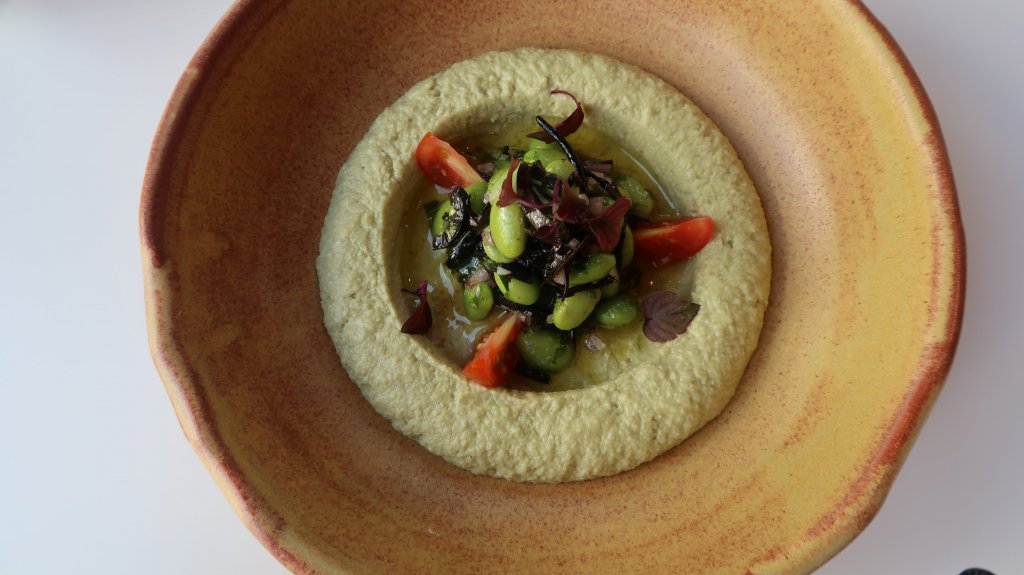 Would I go back?  The outdoor terrace would be a lovely place to spend an afternoon when the weather is nice.  I wouldn't seek out the venue specifically, but would be happy to meet here if friends suggested it.  Had I paid a bit more attention to the menu, I'm sure I would've found dishes to love.
Where's your favorite place to eat in the Madinat/Madinat adjacent?
A to Za'atar was a guest of Katsuya.  Opinions are my own, just ask my husband.