That pun makes no sense.
My love of sushi is a deep one, and nary a week goes by that I don't consume raw fish in some capacity.  Thus, when a restaurant like 99 Sushi Bar announced it was opening its doors in Abu Dhabi, I immediately reached out for a review and was delighted to obtain an invitation.  Although it seems to confuse some of the PR in the country, as I live in Dubai (not Abu Dhabi), I have to nearly constantly reorientate myself whenever visiting the Galleria.  Passing the almost opened Le Petit Maison (!), with nary any signage to designate the direction I needed to follow (a problem that I find is persistent for those who are not frequent visitors to Al Maryah island), I had to reach out to my friend to ask, 'Where exactly am I supposed to go?'  For those not aware, 99 Sushi Bar is above Loca (which depending on where you park, can be a bit strange to orient yourself towards).  As I am married to someone who cares deeply about this sort of thing, I'd love for some additional marketing/branding effort to be made here to truly differentiate this space from the rest of the mall.  I think the caliber of restaurants deserve it.
Just me and Mr. Wright?  Moving on then…
The upstairs entrance of 99 Sushi Bar is tucked in an almost medicinal hallway, but if you are facing it directly, is a bit of a showstopper.  Gold, red, black and…flowing water, I only wish it occupied a better location to complete the look.  Fortunately, once inside, the interior is expertly fit out.  High ceilings, dramatic metallics, plush seating, and a small lounge to sit for a drink…  Plates and plating have also been given some extra attention.  Honestly, it's a hidden gem for those looking for an intimate date spot in the capital.  Having seen photos of the venue at night, it appears to be even more dramatic.  Outdoor space will be available as we reach cooler evening temperatures.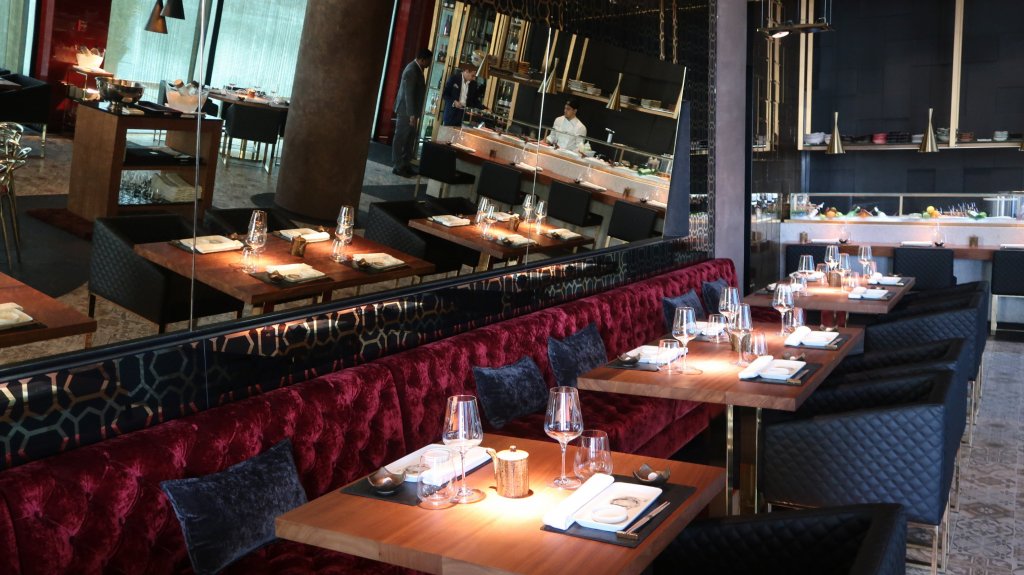 And the menu?  Nothing is being reinvented here, but I will admit there is a delicious selection of sushi — and being licensed certainly improves my mood.  The restaurant is swank enough to have a clever built-in wine cellar which allows for one of the largest selections of wines I've seen outside a hotel.  Overall, prices skew a bit higher than I think appropriate, but I'm confident are in line or just below nearby Zuma.  Dining out in the capital is never going to be a cheap endeavor, is it?
Service is a bit on the nose (I expect that had to do with my guest 'Mr. David' and the specific nature of our visit), and the music was either lacking or so unmemorable that I've forgotten it a week later.  A calmer staff and better tunes (again, the timing of my daytime visit could've added to this) would help push the ambiance up a notch.
Worth noting?  The Golden Bricks, AED159.  Trends always on point in the UAE?  Put some gold on it.  While the photo is certainly Instagram worthy, I'm not entirely sure I would order it again.  I did like the texture, but could've used a bit more protein overall.
The overall winner was easily the 99 Black Cod…  A ubiquitous addition to any restaurant that calls itself 'Asian,' I'm reasonably certain venues are required BY LAW to serve this dish in the UAE.  If you like miso black cod in general, then you will like this version as well.  Furthermore, I will mention the cost and portion size make this a contender for one of the top versions in the city.  For AED209, I challenge you to find a better option, which is easily split between two diners (as are most of the plates we tried).
For those interested in cooked food, Wagyu, other cuts of beef, and a few other options can be found.  Sorry vegetarians, as you might imagine, this restaurant is going to be difficult for you to find something to fill up on.
Would I go back?  Yes, but… While this is an excellent addition to the Galleria restaurants (although Zuma still wins for overall ambiance), I'd love to see the price point on all dishes come down 10-15%.
Have you been to 99 Sushi Bar?  What's your favorite restaurant in the Galleria?
A to Za'atar was a guest of 99 Sushi Bar.  Opinions are my own, just ask my husband.