I'm beginning a bit of a love affair with this brand, am I not?  This is my third visit to the luxury SPG category this year, with visits to the spa at St. Regis Al Habtoor Polo & Resort Club and the forget your wallet St. Regis Vommuli Maldives in April.  At the St. Regis Dubai, while I've previously been to the Iridium Spa (amazing treatments and staff, but design flaws leave guests wondering in the amenities area) and to try the new menu at J&G's Steakhouse (the lack of review on my blog should probably be telling of whether I would go back or not), I was more than ready to check out what else the hotel had to offer.  As always, any visit to this property starts with the absolute show stopper of a lobby, which is among my favorite in Dubai.  Grand staircase, marble everywhere, and a stunning chandelier immediately place guests into something of a film set.
With keys to our Grand Deluxe Suite, the next question is…
Should I Stay or Should I Go?
Pros
A property unlike any other.  Whether it's the stately driveway, the opulence of the lobby, or the sheer amount of space inside the rooms, the St. Regis is unique, even in a country that already has three other branded hotels (the St. Regis Corniche and Saadiyat Island Resort in Abu Dhabi, and the aforementioned Polo Club).  The St. Regis Dubai stays very true to the brand, with its requisite nightly champagne and specific-to-the-property Bloody Mary.  Even with the five-star obsession in Dubai, the St. Regis does manage to step into a class occupied by only a few others.
An utterly elegant room.  Given we're in the Middle East, there is a trend for hotels here to heavily lean into 'arabesque' design (I'm looking at you, Shangri La).  Not so at the St. Regis (and all the better for it).  These rooms are ones you would identify as being St. Regis rooms no matter where you were in the world.  The many details — his and her sinks in the bathroom, Remede bath products, luxury thread counts, complimentary pressing of garments, fresh flowers, and that iconic logo sewn into bathrobes and bedding, all add up to a more sophisticated stay.  After a tour of the property, classy ladies that my friend and I are (read her account of our visit here), we flipped on a music channel and simply relaxed — talking, drinking tea, and lounging in our very comfortable beds.
OTT Suites.  While we did not spend a night in either the Bentley or Churchill Suites, we were kind enough to be given a tour of the two incredible spaces.  As the Bentley was designed entirely with the theme of the car in mind, it's masculine with stylish accents, including the closest thing to a 'man cave' I've ever seen in a hotel.  The Churchill Suite, complete with its own elevator, is one of the most exclusive suites in the world.  And yes, it feels adequate to use that superlative.  Retailing at AED75,000 per night (!), this enormous space feels like a hotel within a hotel.  Similar to the John Jacob Astor estate in the Maldives, I love that the brand caters to a level of eliteness I will simply never obtain…but it's fun to have a look around!  Personally, having visited both rooms, I could see hosting some sort of globally ranked chef for a private dinner.
Champagne traditions.  For those who've not stayed in a St. Regis previously, there is an evening tradition of sabering champagne (in this instance, Tattinger, I had Ruinart at the Maldives property).  Guests gather promptly at 7:00 PM to usher in the evening with a glass of something bubbly.  It's a classy, memorable detail.
Cons
Location.  If visiting Dubai, chances are that you want to be close to one of three things: the downtown area near the Burj/Dubai Mall, one of the beaches, or the marina.  While the St. Regis sits with the other SPG properties (the W and the Westin), none of these is particularly close to anything (with the exception of La Perle).  Ongoing construction makes the road leading to the hotel, shall we say, less than glamorous?  Also, I do find it strange that the Abu Dhabi St. Regis properties are far better placed within the capital, and the Dubai hotels seem to have come up short.  This is evidenced by our amazing room, with a stunning view of… Sheikh Zayed Road.  For those who appreciate a city hotel, there will be no cause for concern, but I can think of alternatives that would not necessitate a taxi (see, Manzil Downtown) or simply have better views.
A confused butler service.  In previous stays, the butler was my point person for literally everything… As in, no detail was too small (and in the Maldives, even came with a video greeting prior to arrival).  At the St. Regis Dubai, for the most part, every time we dialed the dedicated Butler line, we ended up being transferred to the In Room Dining extension.  I'm not going to say this was frustrating, but perhaps we were misinformed as to the coverage out butler was meant to provide.
Food outlets that need attention.  As mentioned above, a recent visit to J&G's fell far short, as did the food at the St. Regis Lounge (although the service and drinks were on point).  My disappointments were to the level that I would sincerely encourage guests staying on site to look for dining opportunities off-site.  While I did enjoy the fantastic range on the room service menu, including both healthier and more luxurious items you wouldn't usually tend to find, I will also admit that our room service breakfast did arrive 15 minutes late (with prompting by yours truly).  While this is the epitome of 'first world problems,' I was a bit shocked (and glad we had allowed for extra time).
A disappointing pool.  Dubai is home to a number of epic pool bars, decks, and lawns, although the St. Regis would certainly not come up on any of these lists.  In fact, the pool seems like such an afterthought, I'm not even sure why it was added!
Cost.  Our room retailed for over AED2,000.  While there is no question the level of luxury and square footage, and I realize most people don't think 'value for money' when they are booking the St. Regis, I do think it's worth understanding where and how money can be spent on holiday.  In this category of spending, guests would have access to a beach property like the Four Seasons Jumeirah or One & Only Royal Mirage.  I'm not saying the St. Regis isn't worth the money, more that guests should understand what they want in a property and book accordingly.  St. Regis enthusiasts will be impressed, but those interested in some of the other activities Dubai is known for might want to reconsider.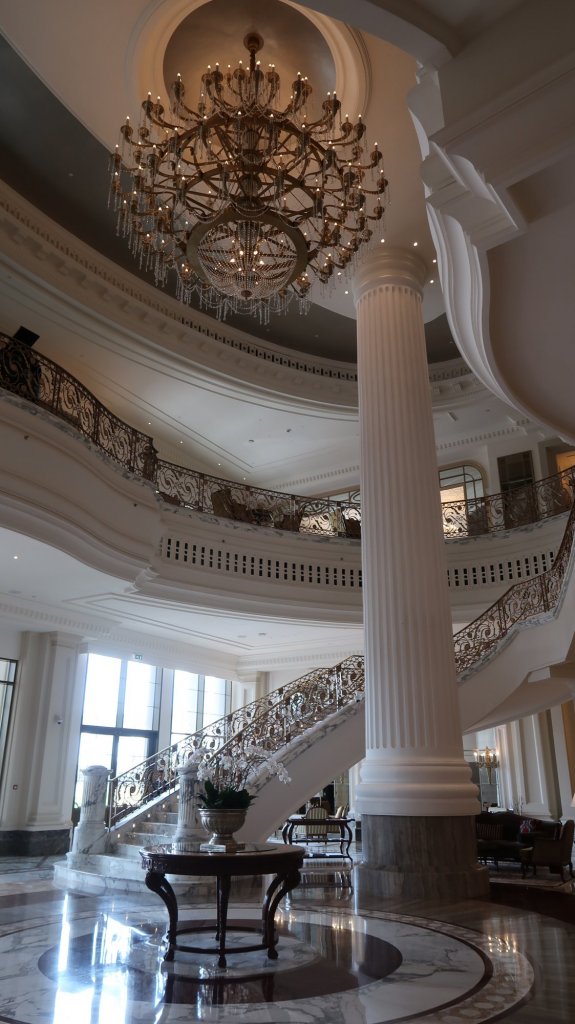 So, would I go back?  I would definitely return to Sidra for one of the best afternoon teas in the city, or the spa (all about that voucher life, yo!).  However, for the price point, I think another stay at the St. Regis Dubai is going to be awhile in the future.
Have you visited the St. Regis Dubai?  What's your favorite luxury property in Dubai?
A to Za'atar was a guest of the St. Regis.  Opinions are my own, just ask my husband.