The Manzil Downtown in Downtown Dubai has been a favorite hotel of mine for many years (yes, I can remember before it was reconfigured and when it was called the Al Manzil).  In fact, it has been my go-to property to recommend to visitors from out of town for the past five years or more.  Thus, when I was invited to officially review the hotel, I jumped at the chance to return.  Even better?  I was able to time my staycation for an evening when I had tickets to the opera and enjoyed being within walking distance.  So, why do I love the Manzil Downtown so much?  What makes this hotel better than the many other options in the city?
Should I Stay or Should I Go?
Pros
Location is everything.  When we lived in Doha, we would regularly return to Dubai, and this was always my preferred location.  Why?  Dubai Mall and all it has to offer is but a short walk away.  There's a Spinney's practically in the hotel.  Cab drivers know exactly where it is.  You can easily make plans with friends and be close to everything.  In the span of a day, without a car, I could take care of so much, and then have a clean, fresh hotel room to return to.  Certainly, there are other nearby hotels in the city, but when you factor in value for money, service, and other intangibles, for me, the Manzil Downtown always comes out ahead of the others.
Excellent F&B options… Both in the hotel and close by.

Nezesaussi Grill.  As I have been both before and after renovation (yes, seeing things become 'new' again is one of the perks of living in a city for ten years), this neighborhood bar is without pretension and (shh!) offers one of the best value for money brunches in the city.  Going with a group?  No problem.  Want to bring the family along?  Also, okay.  Is there a sporting event you're interested in watching?  One of the many televisions in the venue will ensure that you can watch no matter where you sit.   The menu isn't particularly memorable, it's nice enough pub grub, but they do offer pork, should you be in the mood.
The Courtyard.  I can remember stumbling through this location before the space was opened up — it was a bit cramped and not at all pedestrian friendly.  After the renovation, the courtyard (located just off the lobby, at ground level), might be one of the best-kept secrets in the city.  Hubs and I popped down for a pre-theater drink and shisha and were impressed by the atmosphere and service.  With a double apple hubbly bubbly and a few cocktails, we quickly passed an hour enjoying the cooled space.  Given the under the radar feel, this is a venue I would definitely take out of town friends to.
Baker & Spice.  Located in the neighboring souq, I always love popping over to buy some of the market items before checking out or the hotel or picking up a healthy salad to take back to the room.

The views.  While Dubai is home to countless superlative experiences, to me, there is nothing more iconic than a view of the Burj Khalifa.  Honestly, this is a room category that is well worth the extra spend.  With all of the construction in Business Bay, the views from the Manzil are unobstructed.
A four-star that over delivers.  I found plenty of small details throughout the hotel that makes this hotel punch above its weight.  Fresh flowers in the lobby.  Sophisticated, modern design elements.  Friendly and helpful staff throughout the hotel.  These are all elements that deliver better than some of the five-star star properties in the country.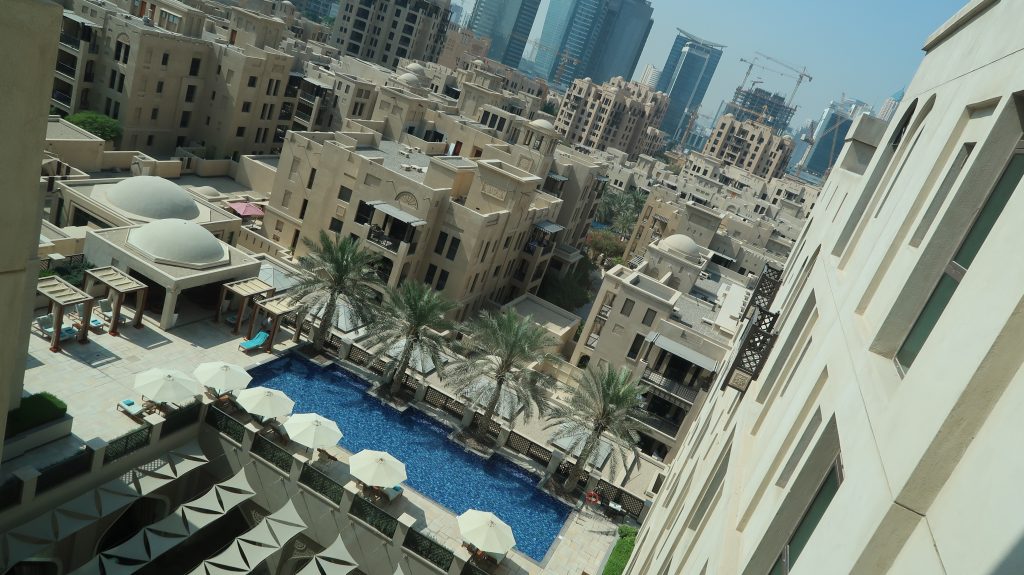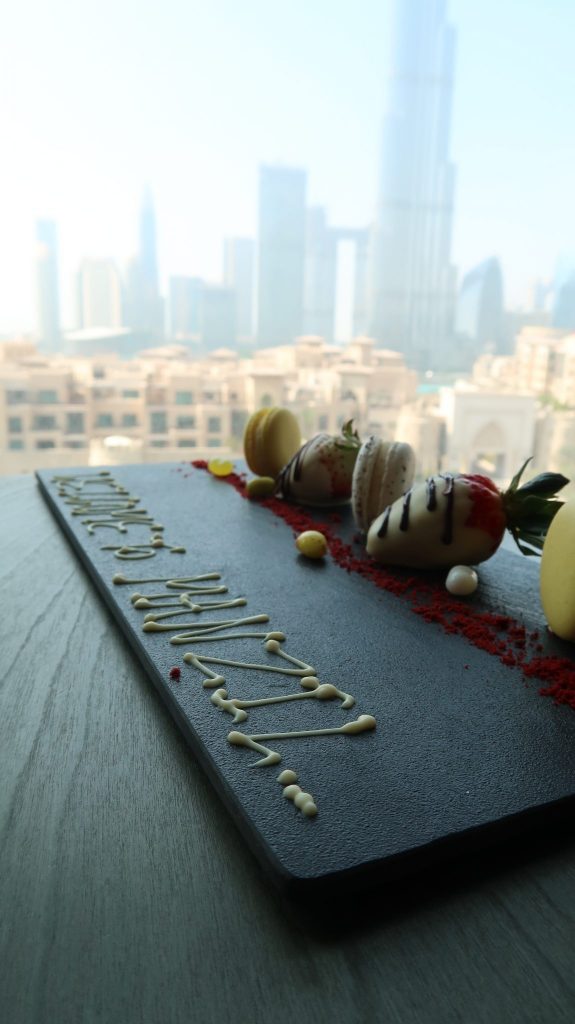 Cons
A weird breakfast.  While it was a weekend, I was a bit shocked to have no one greet us at the restaurant downstairs and overall, the experience was basically one step above chaos.  A dedicated hostess would easily solve most of the problems, as would seating structure for larger groups, and a clearly defined explanation of what is offered.  A few extra staff would also help in clearing plates and delivering dishes.
Smaller, less private rooms.  While not the same experience as the Marriott Al Forsan's attempt to hide the bathroom behind a screen, the size of the Manzil Downtown rooms (at least those in the standard category) require you to be in a relatively intimate relationship with the person you're sharing a room with.  The layout doesn't offer as much privacy as other hotels do.  If traveling with a friend and not a spouse, you might want to consider another nearby hotel (or be prepared to take your relationship to the next level).
Would I go back to the Manzil Downtown?  Yes, I am happy to continue to recommend this hotel, and look forward to my next visit!
Where is your favorite place to stay in Dubai?
A to Za'atar was a guest of the Al Manzil, as well as the listed F&B properties. Opinions are my own, just ask my husband.