Having visited Demoiselle by Galvin earlier in the year (and generally impressed with their offers), I was delighted to give nearby Galvin a try.  To start, upon arrival, the interior is an absolute knockout.  It's everything the closed up Ivy (RIP) wanted to be.  Sophisticated and moody, diners will feel like they've stepped into a completely different space than the rest of Citywalk.  It's not that I don't like the area, but Galvin, more so than other nearby venues, has done an outstanding job in completely 'owning' their customers.  From the moment guests enter, there is a real sense of control and planning in the design.  While there is a small lounge-y bar immediately to the right of the reception area, upstairs, diners interested in the cocktail menu can head directly up without disrupting other guests.  Past a unique wine storage system, guests dining in the main room should be happy to see a large layout, with a semi-open kitchen plan (with private dining available).  The dark wood and crisp design features are a win for me, which is unfortunately not followed through in the rather cheap, metallic placemats at the table (an easy fix, and probably a detail no one but me cares that strongly about…).
With a glass of branded house bubbly (ask about this uniquely imported item, as its value for money is quite good), we take a quick look at the shortened menu provided for the media preview.  In the spirit of full disclosure, we were able to select from a limited menu, and I'd be very curious to see what the remainder of the dishes were.  To start, I order the much-lauded lasagne of Devon crab.  I'm told this plate 'well received everywhere,' although I find it to be missing texture.  Fortunately, the accompanying sauce delivers on its promised creamy lobster flavors.  Across the table, one of my dining partners chooses the salad of organic beetroot.  Plating is a strong point here and if you like beetroot (I do not) then this would be one to order.  Overall, both dishes are gorgeous to look at, albeit a bit difficult to see in the moody lighting.
For mains, my Beef Tenderloin is, unfortunately, strangely laid out and much tougher than I prefer.  I find myself repeatedly sawing into the meat to break down a piece small enough for eating.  In short, other than the starch on the plate, there's not much to celebrate, and I would not order it again.  This comment is not particularly well received, but it was my experience.  When Graze (just a stone's throw away) is offering far superior protein, I think it's important for a venue to step up its game.  Next to me at the table, the sea bass has perhaps the most beautiful plating of the evening, but gets average remarks on taste from my fellow diner.  Sides also need a bit of work, as they come across as quite basic and could use something to elevate them.
The evening is most fortunately saved by delicious desserts.  My chocolate fondant is memorable — the dark chocolate not too sweet, and the inclusion of the crunchy honeycomb an excellent addition of texture.  Although offered a taste, the passion fruit cheesecake disappears quickly and with high marks.  The table also celebrates the inclusion of petit fours — a generous end to the meal.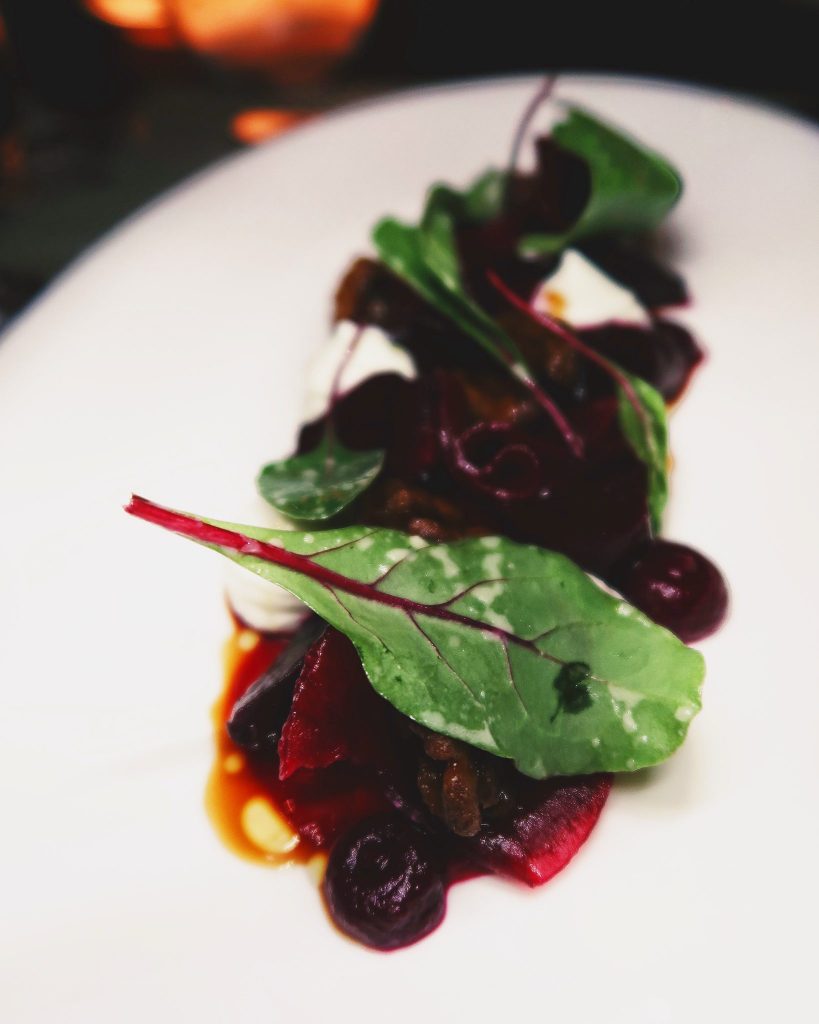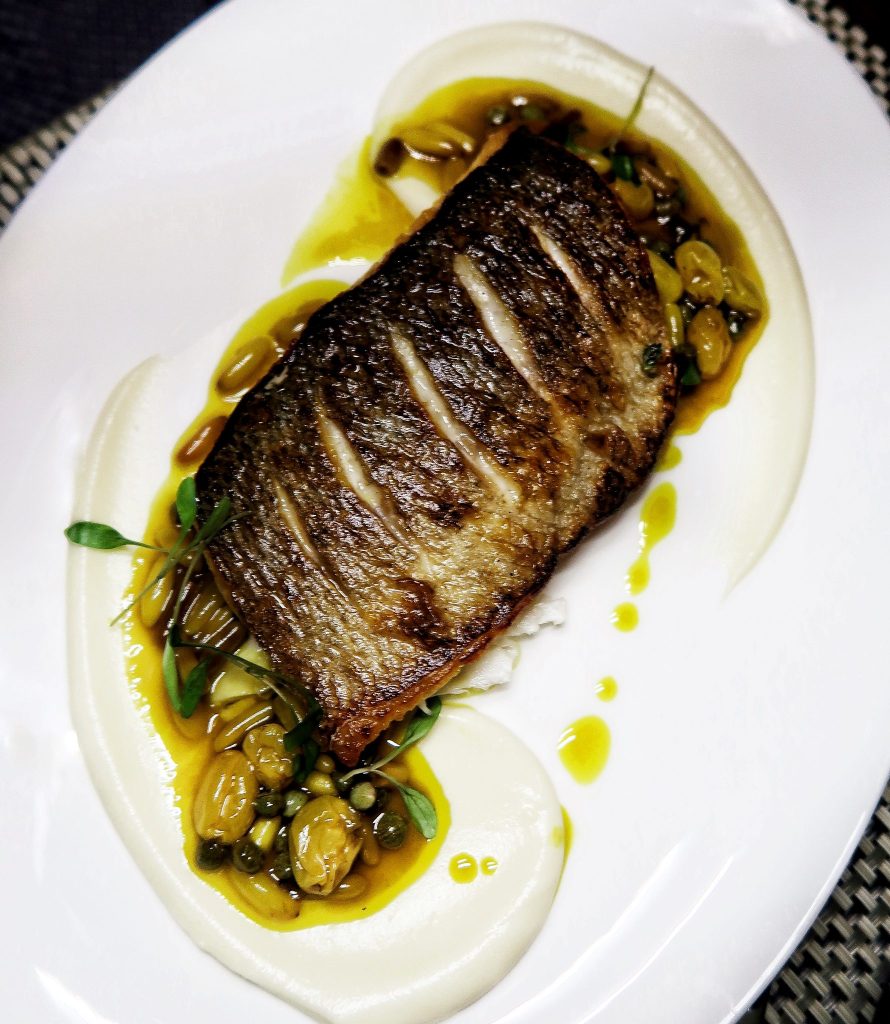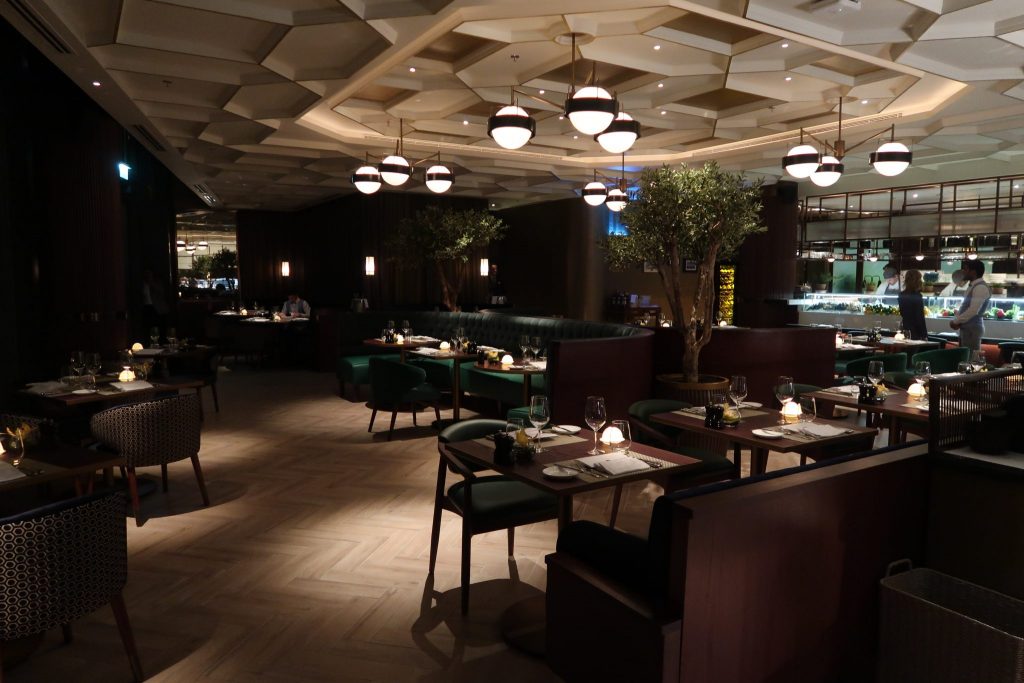 Would I go back?  Before committing, I would be very curious to review prices of the dishes.  Given the amount of selection of restaurants in the area, I'd want to ensure my dirham was going as far as possible.  However, if a friend wanted to meet up for a drink, I wouldn't hesitate to say yes.  Overall, Galvin is a classy establishment with above average service.  I'm optimistic the issues I encountered would be overcome within the first weeks of being open.
Have you been to Galvin yet?  What's your favorite restaurant at CityWalk?
A to Za'atar was a guest of Galvin. Opinions are my own, just ask my husband.