Let me start by admitting something to all of you; I had purposely been saving this venue for a special occasion.  Knowing I was in for something unique, I specifically avoided dining at The Experience by Reif Othman until I had something suitable on the calendar.  If Hubs' 40th birthday wasn't a good enough excuse, I'm not sure what else would qualify.  Fortunately, having dined at Play and a few other outings with Chef Reif, I was able to send a message through Instagram and make the booking directly with him for our party of six. /humblebrag
For those not acquainted with the restaurant, The Experience is located on the 37th floor of the H Hotel (home to Zahira, Play, and Moombai & Co., among other venues).  Elevator doors open directly into a lobby that doubles as the smoking lounge.  Through a set of paneled doors and passing the iconic signage, guests walk into one of the most unique restaurants in Dubai.  Part kitchen, part dining room, part lounge area, part chef's table, part private dining space — there really is nothing like it in the country.
As the best restaurants in the world tend to 'own' their guests from the moment they enter, The Experience places itself in the same category as the other global greats, reminiscent, to me at least, of our time at The Test Kitchen earlier in the year.  A team of personable, professional servers is instantly on hand to welcome you — in our case, with a glass of champagne, compliments of the chef.  Waiting for our guests, we entered the restaurant and made our way towards one of the velvet upholstered couches, to relax, enjoy our bubbles, and take in the view of the Dubai skyline.  What I love about this concept is that while a reservation might begin at a particular time, the meal itself can start when the group is ready.  The nature of letting diners not be confined to a formalized experience makes this restaurant immediately stand out.  As another example, the other guests stepped outside for a smoke break during their courses — dining resumed when they returned.  Furthermore, with multiple parties present that evening, I never once felt that our group had a moment's less attention than any of the other groups (although, it's worth mentioning that the entire venue seats under 20 people).  At the same time, I also had the sense of having the place to ourselves, which was the exact experience I wanted for my friends and the guest of honor.  My sincere respect to whoever configured the layout.
As much as I loved the interior (except for the carpet — which is just not for me and seems out of place in such a chic establishment), to me, the hero of the visit was definitely the food.  The best part?  Each version of the meal is different.  As in, no one is ever going to have exactly the same set of dishes cooked in exactly the same way.  To that point, menus are handwritten (a first for me this year).  In that spirit, while nearly every dish was a hit with me, I thought I would share my favorites from the evening.
Reif Caviar + Cauliflower (followed by 'Ocean')
Creamy and luxurious with just the right amount of texture, this was an absolutely brilliant start to the evening.  The caviar is created especially for Chef Reif, so it cannot be purchased elsewhere.  This is the kind of bold dish that lets the diner know they are in for a fantastic meal.  And yes, the below photo is after a bite or three.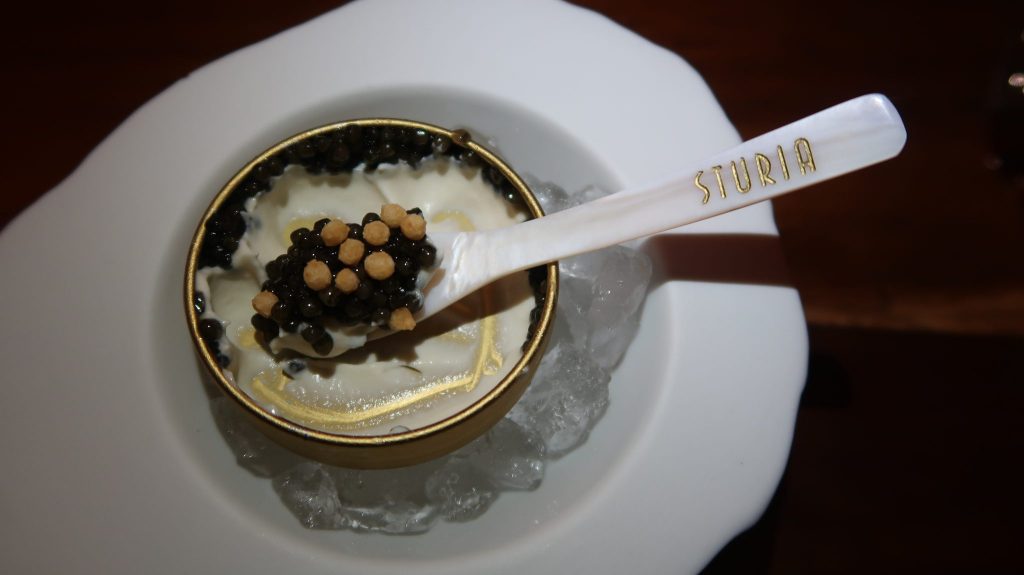 Zucchini Flower Tempura
Another bit of wow factor here in the third course.  Light in texture and stuffed with a bit of seafood goodness, it is not only the taste of this dish that succeeds, it's the incredible technicality that also shines.  10/10, I would happily eat this for just about any meal.  As with the caviar, the restraint and portion sizes allow guests for a beautiful plate, without overburdening diners with too much in one course.  This balance is something I see lacking in just about every other venue in Dubai.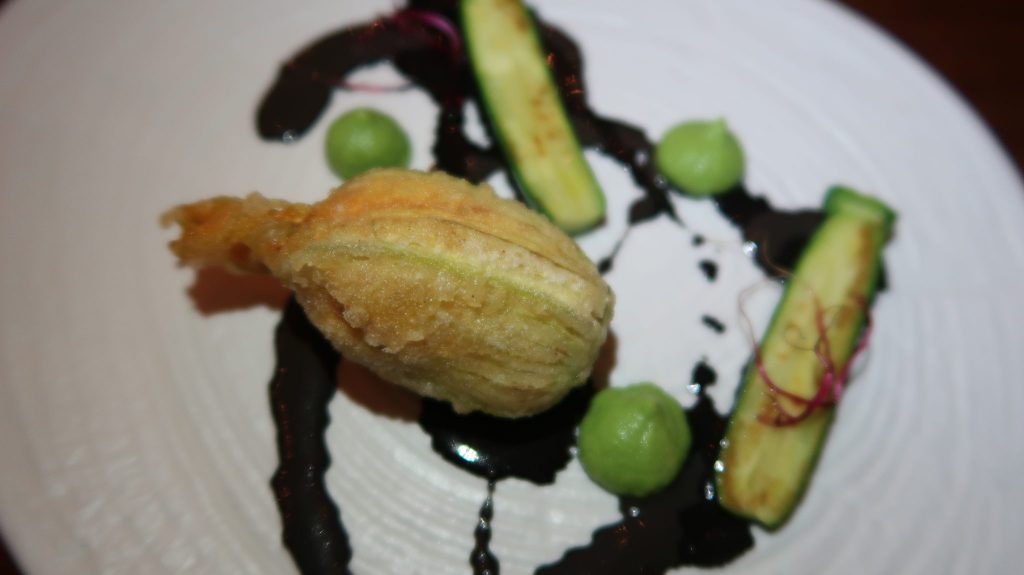 Wagyu Nirigi
If I had to pick Dubai on a plate, this dish would be near the top.  Deluxe cut of beef?  Check.  Gold leaf?  Check.  Something with fusion and over the top?  Also, check.  I'd glimpsed this dish a few nights previous (when I was attending the Six Hands event), and it was once again delivered.  I believe a version of this might be available at Play, and I would strongly encourage you to try it, should the opportunity present itself.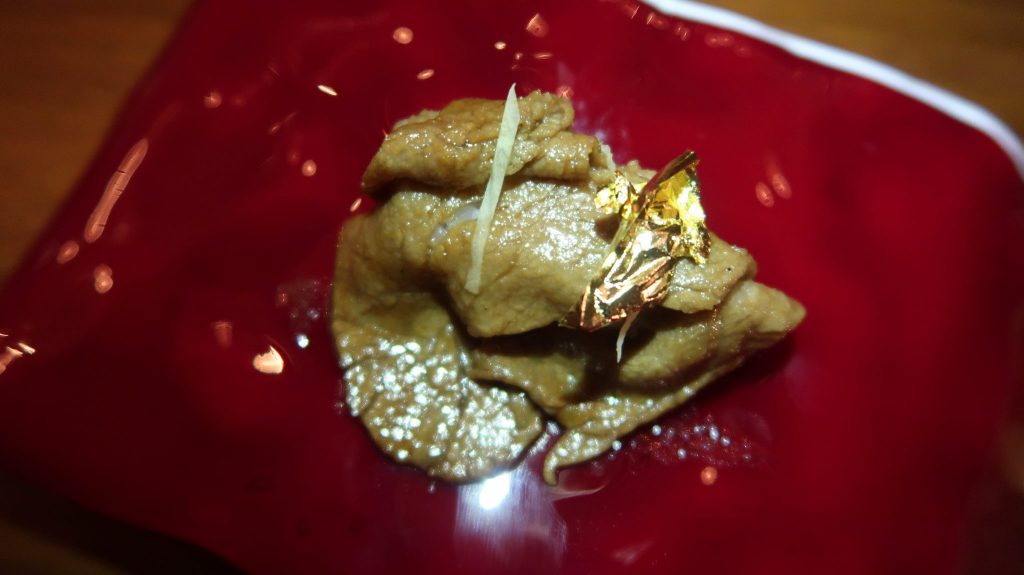 The price point for an evening at The Experience starts at AED750 per person (including a welcome beverage).  I would expect that with alcohol, guests can expect to pay somewhere close to AED1,000 per person.  Sure, that's expensive.  However, my argument would be that one could pay similar for a nice cut of beef, appetizer, and dessert at a nearby restaurant that doesn't come anywhere close to the sophistication of this meal.  Why not enjoy a collection of impressive, original courses in a stunning venue?
It is also worth mentioning that the pacing and service at The Experience far exceed what many others are trying to accomplish, especially in the UAE.  I never once had to alert the kitchen we were ready for the next course — they appeared exactly as needed, without rush or question.  Similarly, our servers had a great read on the group and were more than capable of letting us enjoy our evening (even if we forced requested them to enjoy a post-dinner liqueur with the group).  Also, depending on the timing of your visit, Chef Reif will most likely be on hand to personally deliver and explain the dishes — another small touch that sends the venue over and above what anyone else is doing.
Would I go back?  Yes.  The Experience by Reif Othman is currently my number one restaurant venue in Dubai for delivering on creativity, fine dining, service, and overall experience.  The price is not cheap, but I think it is reasonable for a memorable date or special occasion. I wouldn't hesitate to return for a celebration or recommend this restaurant to visiting international foodies.
Where is your favorite restaurant for fine dining in Dubai?
Highly recommended.