Similar to the bright interior of Coya, Bombay Bungalow is a venue that entertains guests before they've ever even had a bite to eat. With soaring ceilings, views of The Beach, brilliant blues, quirky portraits, and attentive staff, the rebrand of the former House of Curry is a definite step in the right direction.  There's not a bad seat in the venue, and for me, I enjoyed the unique mix of building materials, plus a relatively fantastic chandelier.  Always on the lookout for natural light, my dining partner and I grab a spot by the window (also a great place for people watching, should you be interested).
To start, we decide on the Raita Tray (AED40), Guac Pani Poori (AED30) and Corn Mung Chaat (AED40).  Of these three, I would happily order each again, with the corn dish sealing itself as one of the brightest, more texturally interesting, and best vegetarian dishes I've had in a very long time.  Overall, I was thoroughly impressed by the trio.  There was texture and balance in each plate, and plenty to share between two people.  While I think perhaps the Raita tray is priced just a bit high, overall, the table side presentation elevates the dining experience a bit, and I don't mind the price.  As much as I hate to use the term, but there is a real playfulness in these three dishes.  This is not some standard, cookie cutter food.  In a cuisine where there are certain expectations, these are the kind of plates that show creativity and thoughtfulness.  My sincere compliments to the kitchen.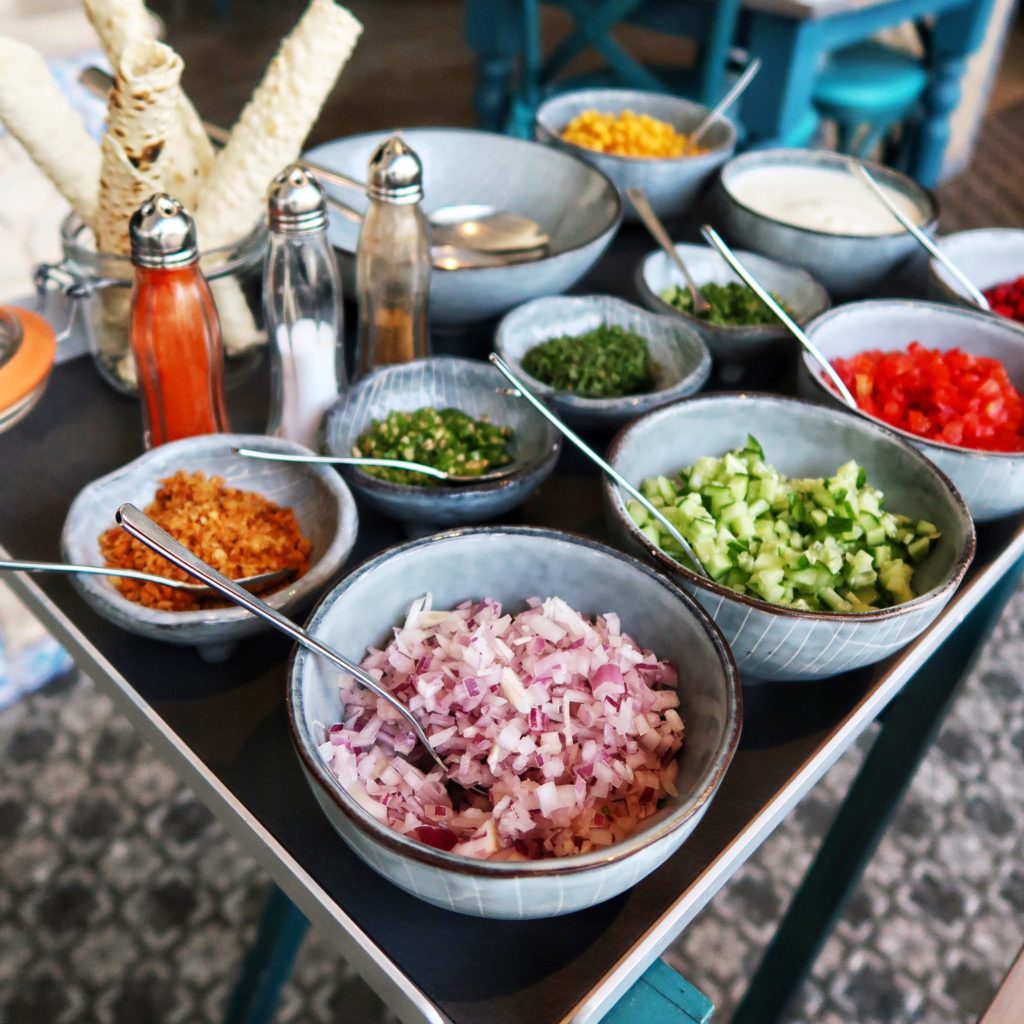 Instead of some of the other dishes available — standard kebabs and tikkas, we were already starting to fill up and had our eye on the main courses.  Of the signature dishes, it was easy to order one that many people in town have talked about, the Burrata Butter Chicken (AED80).  To even things out, we also ordered Ghee Roast Coconut Crab (AED120) and, for me, of course, the Gruyere Pav Bhaji Fondue (AED75).  As with the starters, the presentation is on point here.  And also like the starters, the dishes are all generous enough to share between two guests.  We added some basmati rice and naan to complement the main dishes.
While I wanted to love the fondue, I think the Swiss are probably safe.  Served with bread and small roasted potatoes, the concept delivered, but the taste not so much.  When I hear 'fondue,' I think 'ooey-gooey, melty cheese,' and when I did not receive this, I was a bit sad.  Points though, for a creative take.  Fortunately, under the category of total fusion, the Burrata Butter Chicken sounds kind of wrong but tastes so right.  I mean, both dishes are good, so why not put them together?  And why did it take so long for someone to figure this out, anyway?  10/10 would order again.  10/10 would perhaps even drive out of my way to order.  Big in concept, but also a bit of a failure in the delivery is the coconut crab.  While the accompanying rice is delicious, and the curry sauce quite moreish, the dish itself is super awkward to eat.  Even with the correct crab accouterments, I don't think this much effort should be put into one's lunch.  ¯\_(ツ)_/¯ While I wouldn't necessarily order two of the dishes again, I do think they might be enjoyed by others.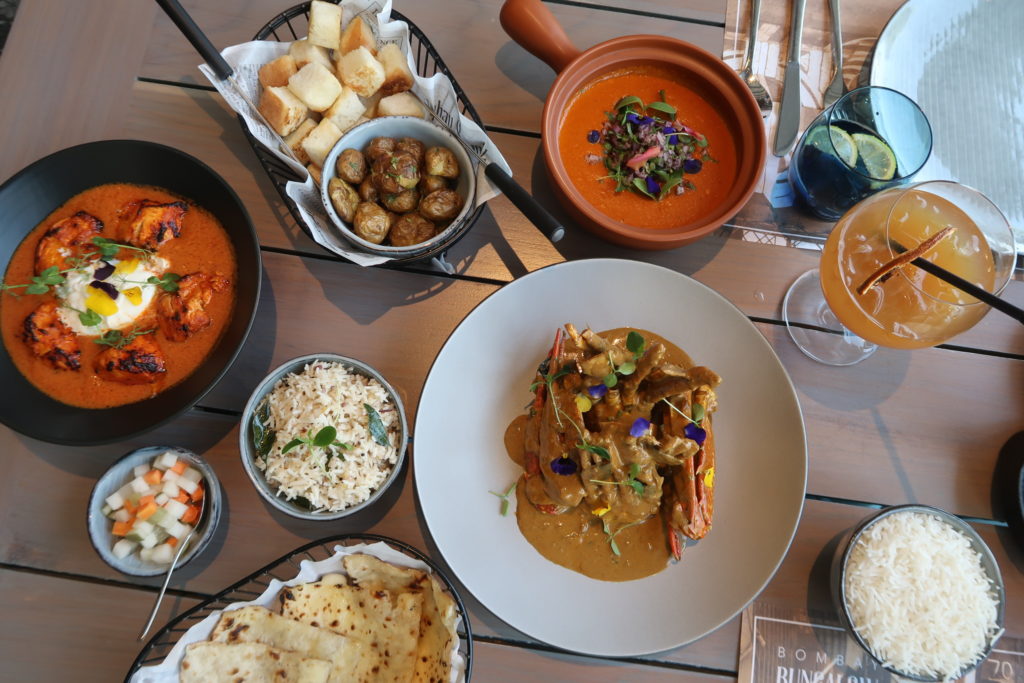 As you might imagine, there was no room for dessert, to the point that I was so full from lunch that I skipped dinner entirely (a very rare occurrence!) and brought home leftovers (which lasted for two additional meals).
Would I go back?  You bet!  The attentive service, value for money, and overall delivery of all dishes put this venue well into the above average category.  Here's hoping that one day the Beach at JBR will one day be licensed.
Highly recommended.
Where's your favorite place to dine at The Walk?
A to Za'atar was a guest of Bombay Bungalow.  Opinions are my own, just ask my husband.