We've probably already established I am a creature of habit, and as such, my time in Abu Dhabi is primarily focused on Saadiyat or the main island.  Thus, when an opportunity to explore a bit more of my former city, my interest was piqued.  For the record, the Marriott Al Forsan, located in Khalifa City, is not in a location I would usually seek out.  I prefer staying on island for proximity to restaurants and other things to do in the capital.  Fortunately, it didn't take much to win me over — the hotel has a lot of great things to offer.
Pros
A modern, new property.  If you're looking for a hotel that still has all its polish and shine, then the Marriott, opened recently, should be your destination.  With a huge 'wow' factor in the overlarge lobby and rooms designed with essential components, the hotel plays to the roots and strength of a brand known around the world.
Excellent F&B options.  As the Marriott Al Forsan is a bit further out from the city, guests don't have to worry — there are plenty of places to dine at the property.  During our stay, we were able to try three of the six F&B outlets (click here for a review of The Grill).  I was also happily surprised at the range of options at Appaloosa, including the memorable service and delicious soft pretzels.
Great pool vibe.  While I prefer a quiet or private pool, I realize I'm probably in the minority.  When we walked by the pool area, every lounger was taken and fun times were in full swing.  If you're looking for a swim up bar, don't worry — there's an underwater bar stool with your name on it.
Industry leading service.  From the moment we stepped into the hotel until our departure, every person we interacted with — front desk staff, housekeeping, chefs, servers — ALL went above and beyond to be welcoming and hospitable.  I mention this because I know some venues can get a few of the categories right, but the Marriott truly delivered personal service at every point of interaction.  Honestly, other hoteliers should look into the Marriott's training regimen and take notes.
Cosy, comfy beds.  Most days, I rarely sleep past 7 AM, but at the Marriott, I slept past 8 (and Hubs slept even later)!  I credit this entirely to the super comfortable bedding and mattress.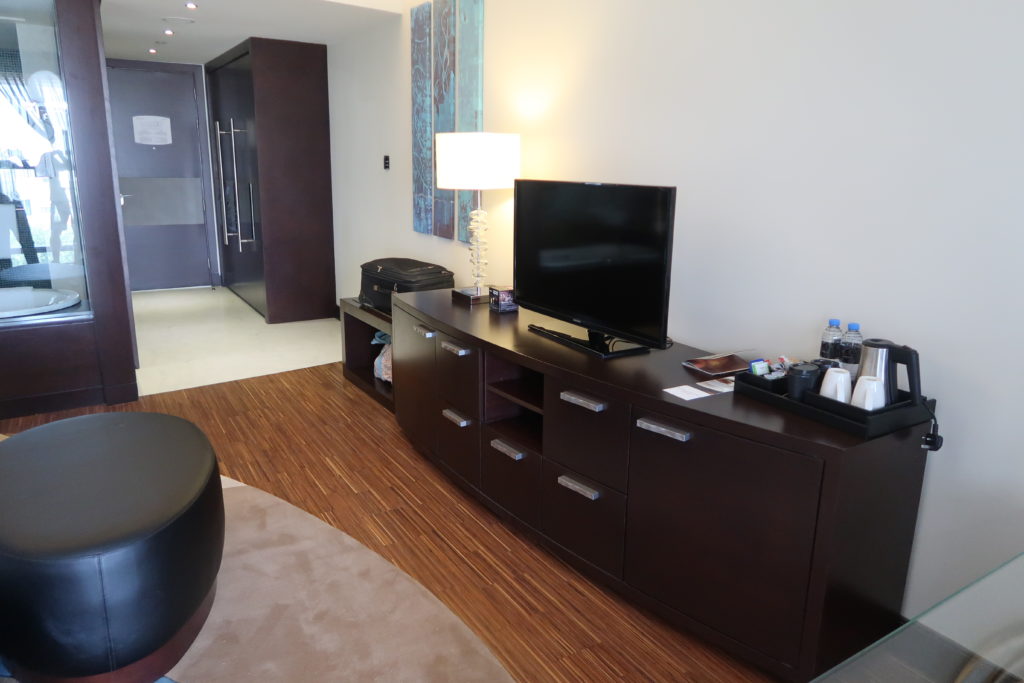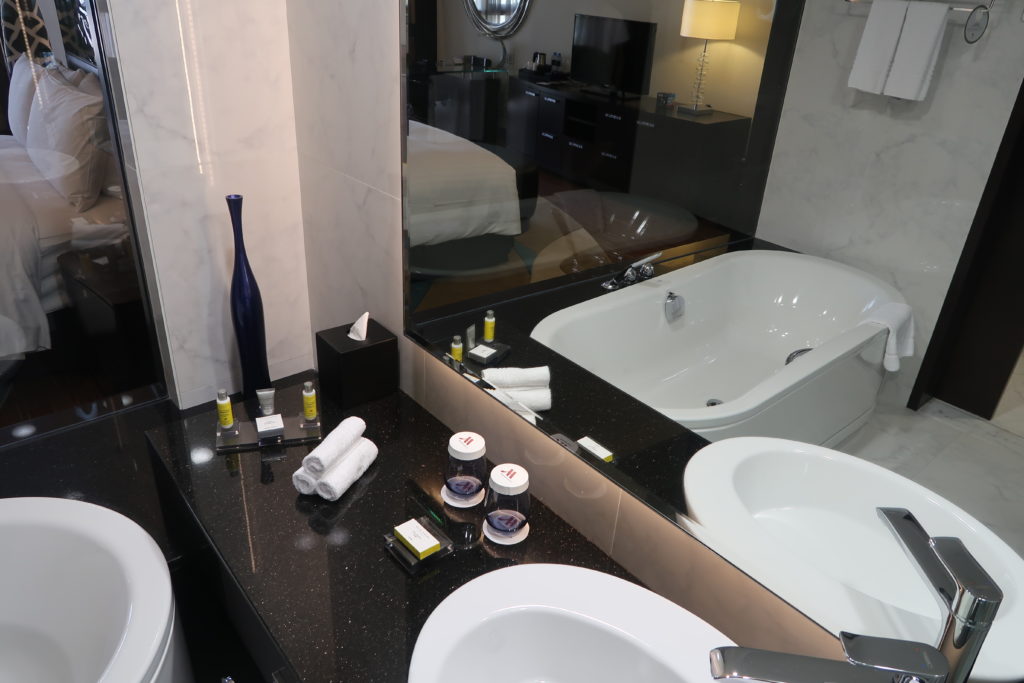 Cons
Location, location, location.  I really did want to get past the seemingly middle of nowhere location of the hotel, but I like to think of potential visitors and what their experience would be (and how much of a stay would be spent driving around the city).  Obviously, the hotel cannot change where it is, but fortunately, for those loyal to the Marriott brand, there is another similarly new property, the Marriott Hotel Downtown Abu Dhabi, found closer to more of what the captial has to offer.
Balconies.  In our room category, we didn't get one.  Those who have visited the property will recognize the distinct outer structure of the hotel, which has a rather limited number of balconies.  I fully admit that in the summer they would not get much use, but I do like a bit of outdoor space.
Lack of privacy.  There is a style of bathroom that some properties seem to love, and I've addressed this topic previously.  I completely understand the need to squeeze the most possible out of the square footage they have.  I know hotels need to run at a profit and maximize as much usable space as possible.  However, I'll never understand or enjoy a clear toilet next to a window that looks into the bedroom.  This arrangement is never going to be something I'm comfortable with.  As much as I've traveled with Hubs, I still prefer some distance between the bathroom and the bedroom.  And no, the remote control privacy screen doesn't particularly solve this problem.
Strange laminate flooring.  I'm all for different materials being used in a room, but the pseudo wood flooring seemed a cheap option when tile would've been absolutely fine.
Too Marriott.  I realize this is a relatively personal opinion, but I like a bit of personality in my hotel room.  In a country with some truly dynamic designs, the generic art, furniture, and layout of the Al Forsan left a little to be desired.  I know there will be plenty of guests who appreciate and enjoy the simplicity and dependable nature of the room, but I think there is a fine line between modern and forgettable.
Would I stay here again?  I'm going to be brutally honest and say probably not.  For myself and any visitors I might have, my inclination would be to stay close to something (anything!) in the city.  Even as a way to get out of town, there's simply nothing in the area that warrants this classification (yes, there are activities at Al Forsan, but it's a bit different than say, the Aloft in Al Ain).  In Abu Dhabi, I would go with Emirates Palace, the beaches of Saadiyat, or try the Waldorf in RAK instead.
A to Za'atar was a guest of Marriott Al Forsan.  Opinions are my own, just ask my husband.