When planning our trip to South Africa, I knew I wanted to sneak away to Franschhoek for at least one night (we'd visited previously for a wedding and fell in love with the town).  When I saw that friends had visited The Tasting Room at Le Quartier Francais in December 2016 (and their collection of stunning food photos), I knew I'd found the right place.  With a 3.5-hour tasting menu, I hoped I'd made reservations for the perfect birthday dinner.  While I so (so!) much wanted to like this restaurant, perhaps after our incredible meal at The Test Kitchen, overall, I found The Tasting Room disappointing in a number of areas.
While I realize Chef Margot Janse is a celebrated and talented culinary professional, I felt the menu was underseasoned, not equipped with enough food to truly be a full degustation (!) and I wasn't impressed with some of the staff (a few of which seemed to be merely phoning their service in).  Whether a case of 'senioritis' or not (the restaurant is closing at the end of April to make room for La Colombe, which I would love to go back and try), a few of the plates were delivered with a vibe of 'here is the damn food, these are the damn ingredients and get out of my damn face.'  I guess I could've been reading the situation incorrectly, but I feel like I've dined out enough to know these things.  Additionally, while Hubs had a few dietary requests, he somehow ended up with an entirely separate menu than mine.  However, as we looked around, it appeared that other tables were getting a mix of dishes as well.  Without explaining the dual menu was the concept (which I'm still not sure if it was or not), nor putting up what I would consider 'sharing' plates, I thought this was a terrible decision, and one that did not lend itself to an elevated meal.  Sorry (not sorry), but I'm not going to pass across finely plated dishes around the table.
While I could find no fault in the presentation and many of the selections made for either menu, as an 'African' inspired menu, I felt the choices of proteins were very (very!) limited, and thus there was a missed opportunity to focus on some of the more unique textures and tastes the country (continent?) has to offer.  I also thought there was a lack of snacks at the start of the meal, which I would have enjoyed and might have began the evening on a better foot than eating strange (and awkward) 'snow' with one's hands.
Having read online the wine pairing was a bit intense (8 separate glasses), I was glad we opted out and after the opening glass of champagne, switched over to a bottle of Chardonnay.  Watching glasses (upon glasses) stack up at the tables around us, I felt we had made the correct decision.
But it wasn't all bad…  A few of the plates did 'pop' for me.  And while the rest were all gorgeous to look at, they were not particularly exciting or flavorful.
Favorite Dishes
Beetroot, granny smith, almonds.  Yes, that's beets appearing as a favorite of mine (which they are most assuredly not).  I thought the technique of the 'soup' was truly incredible and was impressed with the balance of flavors and texture.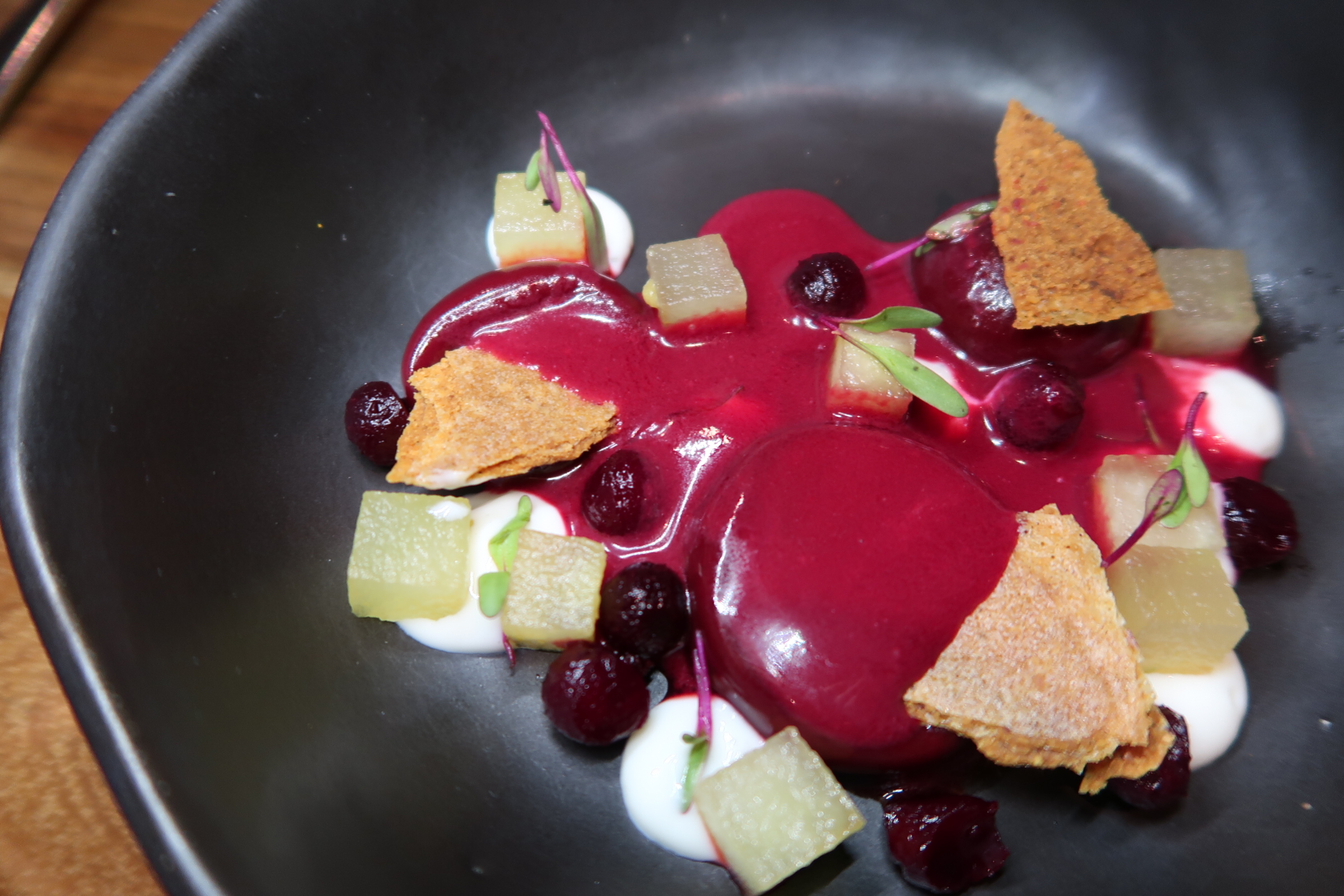 Huguenot cheddar, caraway crisp bread, tarragon, watercress.  I know, I know, the cheese course was one of my favorites?   However strange it might seem, this plate did rate very highly for me!  Not only was the plate uniquely presented, but the rich, creamy cheese was balanced with the crispy bread.  Honestly, much like my love affair with a salad course, I'd love to see more chefs include a formal (or creative) cheese course like this one.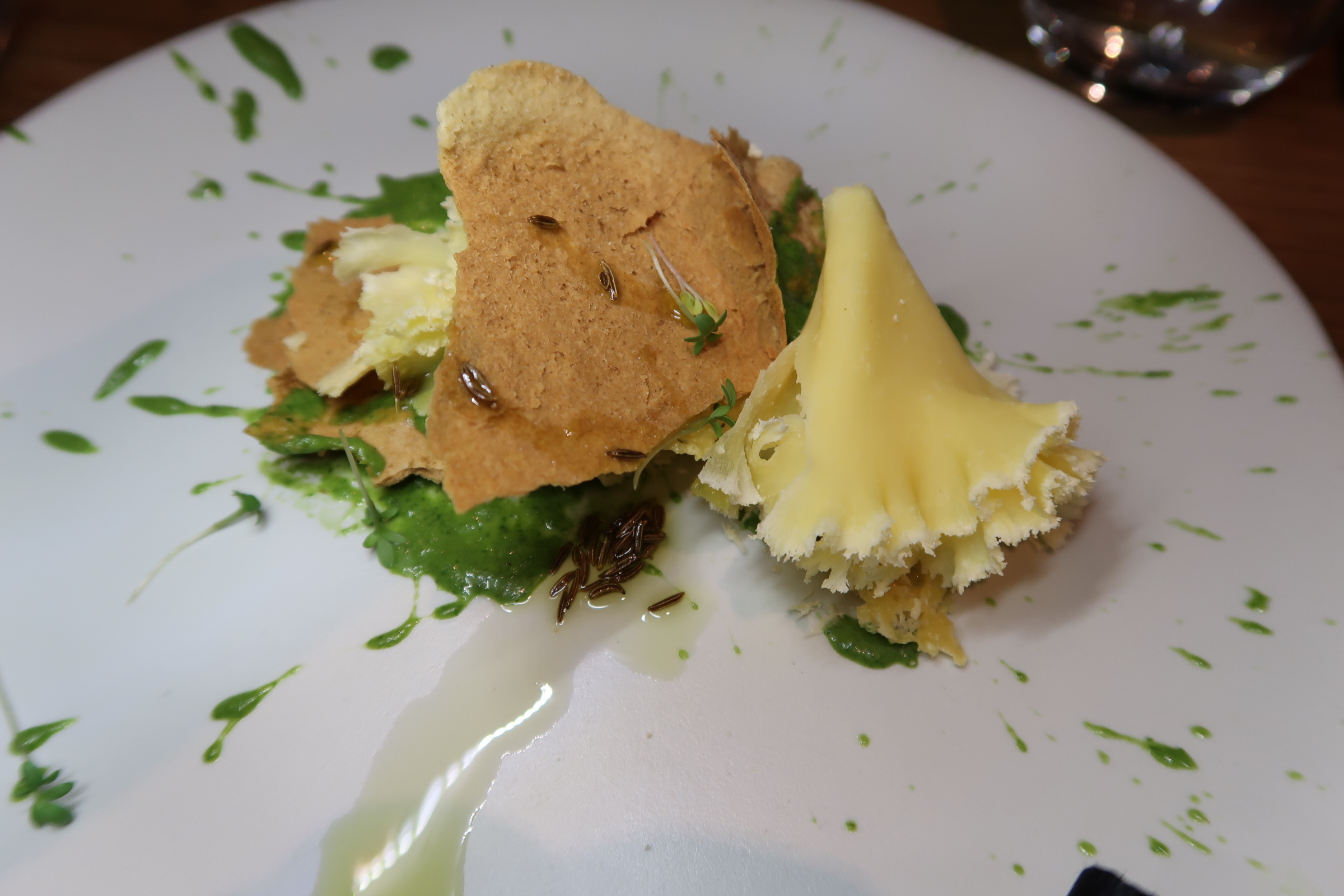 Granadilla, chocolate, and buchu.  More points for creative delivery (even if it failed the first time).  Chocolate dirt has always been a favorite of mine.  Although this was a bit difficult to eat, I thought it was playful (and perfectly sweet).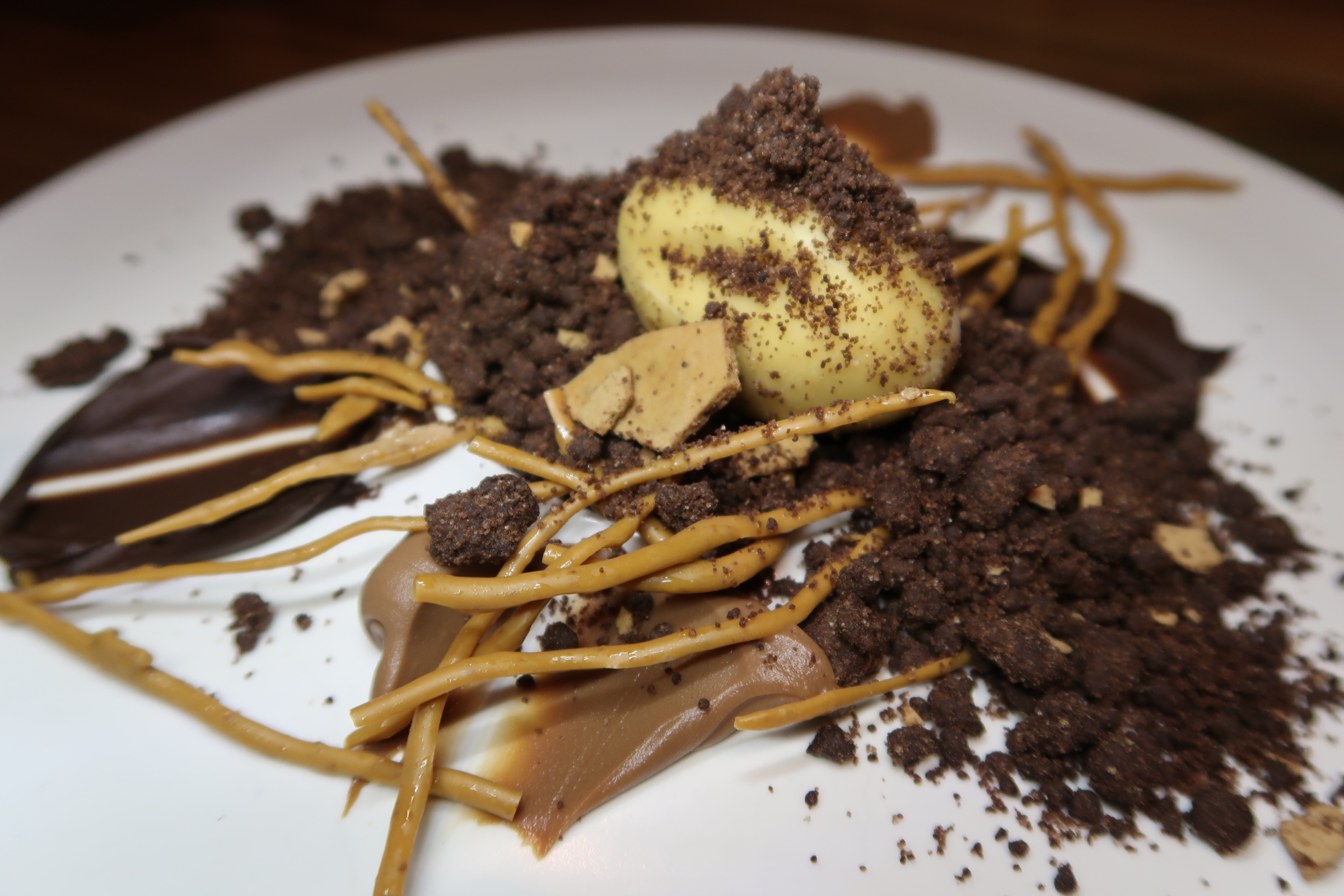 Other Food to Enjoy Looking At

Would I go back to The Tasting Room?  Well, given it's about to close, I think it's a fairly easily answered question.  While I'm very excited about the restaurant that will be filling the space, should you find yourself in Franschhoek in the next month, I would point you in the direction of Foliage, a more exciting culinary destination than this rather awkward meal.  Fortunately for Hubs and I, because of the restaurant, we ended up staying on property and I have nothing but wonderful things to say about Le Quartier Francais (which I'll review in a separate post).
Did you make it to The Tasting Room?  What did you think?