Imagine the highs and lows of the morning of February 1, 2017. For those who aren't involved in the high stakes world of world class dining reservations, most venues of this caliber are hotly contested and difficult to get into (even when you make plans and do everything you are supposed to). Thus, at 10:00 AM on the dot, I logged into the website for Test Kitchen. By 10:02 AM all the 2 tops for March 16th were gone (and with a window of only one day, I didn't have any flexibility in my calendar). Disappointed, I remembered I had requested my hotel (the Cape Cadogan – which I'll review in a separate post) to make a reservation as well. Holding my breath, I contacted them, and they confirmed they were successful in obtaining the reservation (even if I had to go under the name of someone else)!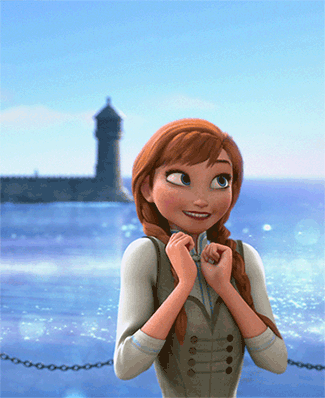 So, does the restaurant live up to the hype? Was it worth all the stress of getting a reservation? I think yes… The Test Kitchen is definitely doing their own thing (while the food is definitely on the level, this is not a super formal experience you might expect at a Michelin starred restaurant) in the best possible way.
Pros
So much delicious food. Sophisticated dishes. Intriguing sauces. Brilliant presentation. Fantastic ingredients. I realize this should be expected, given their ranking, however, I don't think that's always the case.
Unbelievable wine. Score one for the new world. Readers might think it funny, but as a citizen of a new world wine region, I tend to love winding up sommeliers and ask why they don't include more new world offerings. This is clearly not an issue in South Africa, which is home to some absolutely incredible blends. My favorite of the group was off the Iconic pairing, the 2007 Ken Forrester FMC Chenin Blanc, which was simply out of this world.
Artisan cocktails. When eating snacks in the Dark Room, we were informed that there were two complimentary drinks with the service (nice touch!). I opted for bubbles, but Hubs was intrigued by the bespoke gin they had created. Botanical and delicious, we mentioned how much we enjoyed it, only to find that it was available for purchase. Happily, we went home at the end of the night with a bottle of Hope on Hopkins.
Honest service. It's where I see the Dubai market fall down again and again compared to the rest of the world. Our server (and everyone we interacted with) was genuine and enthusiastic in his presentation of the dishes. You could sense the pride that came with working at the venue. Even at the top restaurants in Dubai (with the exception of maybe Weslodge), I just don't feel the connection the servers have to the food.
Pacing. You already know this is one of my biggest pet peeves, and it is such a joy to see it done well. The Test Kitchen never rushed our experience (which is why we had to finally end things after the fourth hour).
Favorite Dishes
Local licorice cured Wagyu biltong. I can guarantee you will be seeing this in my favorites for the month of March. Picture the buttery, rich quality of the Wagyu paired with the slight sweetness of licorice — it was truly a perfect and original bite all at once.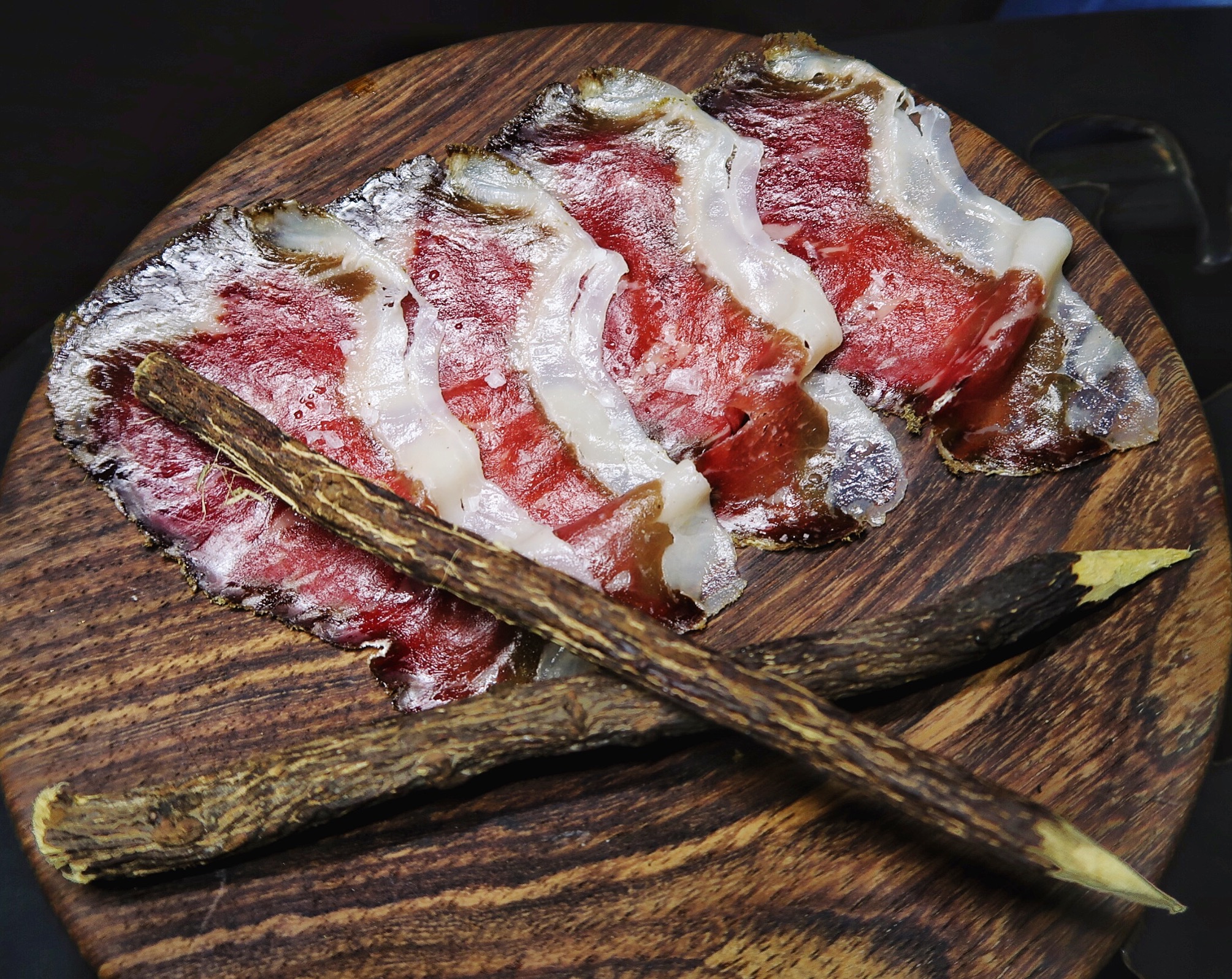 Smoked lamb, barley and toasted ginger wafer with XO dressing. As much as I loved the wagyu, these little snacks were simply perfect. Texture, protein, sauce… Everything added up. This was Hubs' favorite of the snacks (and he's still talking about it nearly a week later).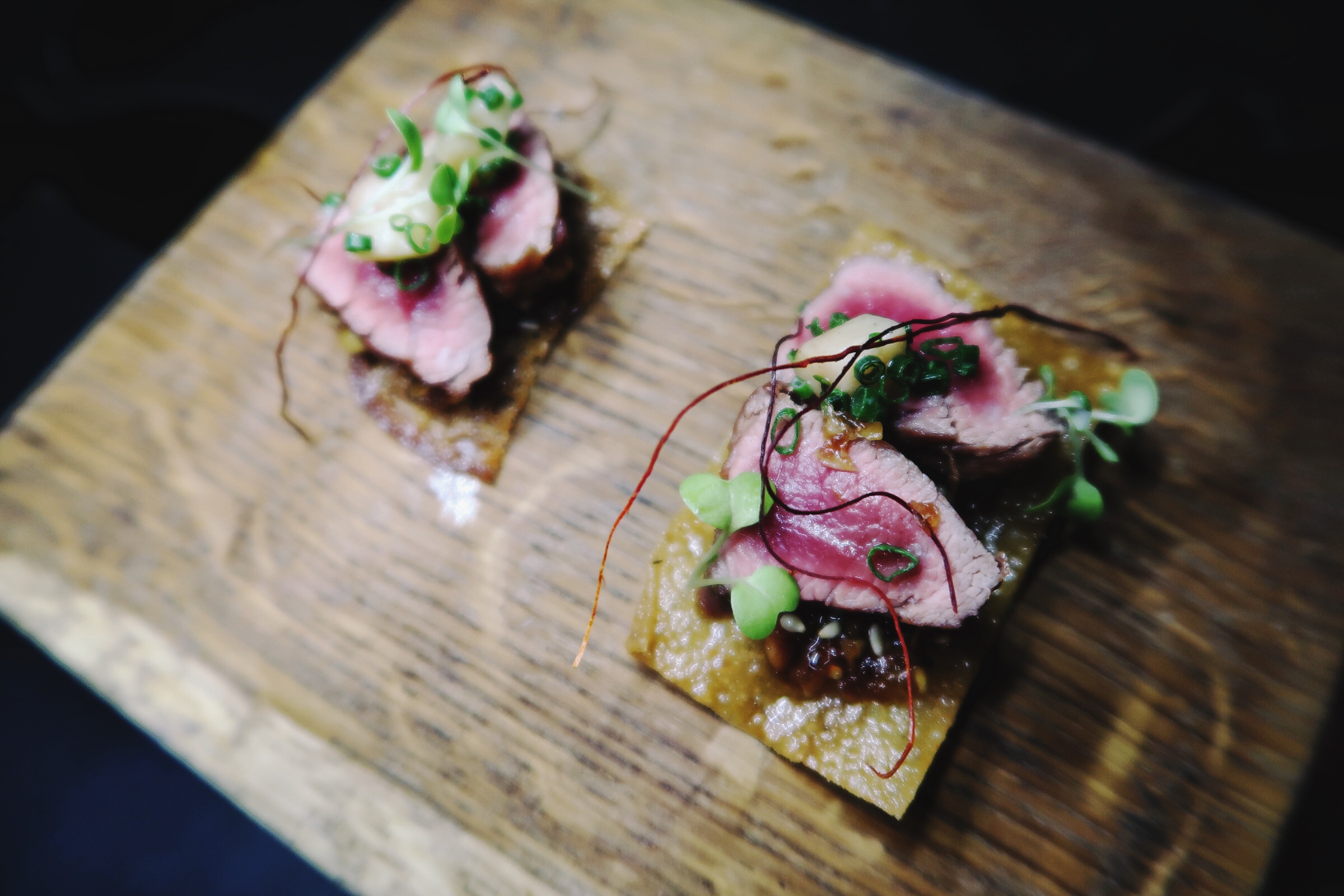 TTK Nicoise Salad. I'm always a fan of salad in a tasting menu, and this one was done quite well. This deconstructed/reconstructed version of traditional Nicoise salad included a beautiful presentation, another perfectly sized portion, and like many of the other dishes, was well seasoned.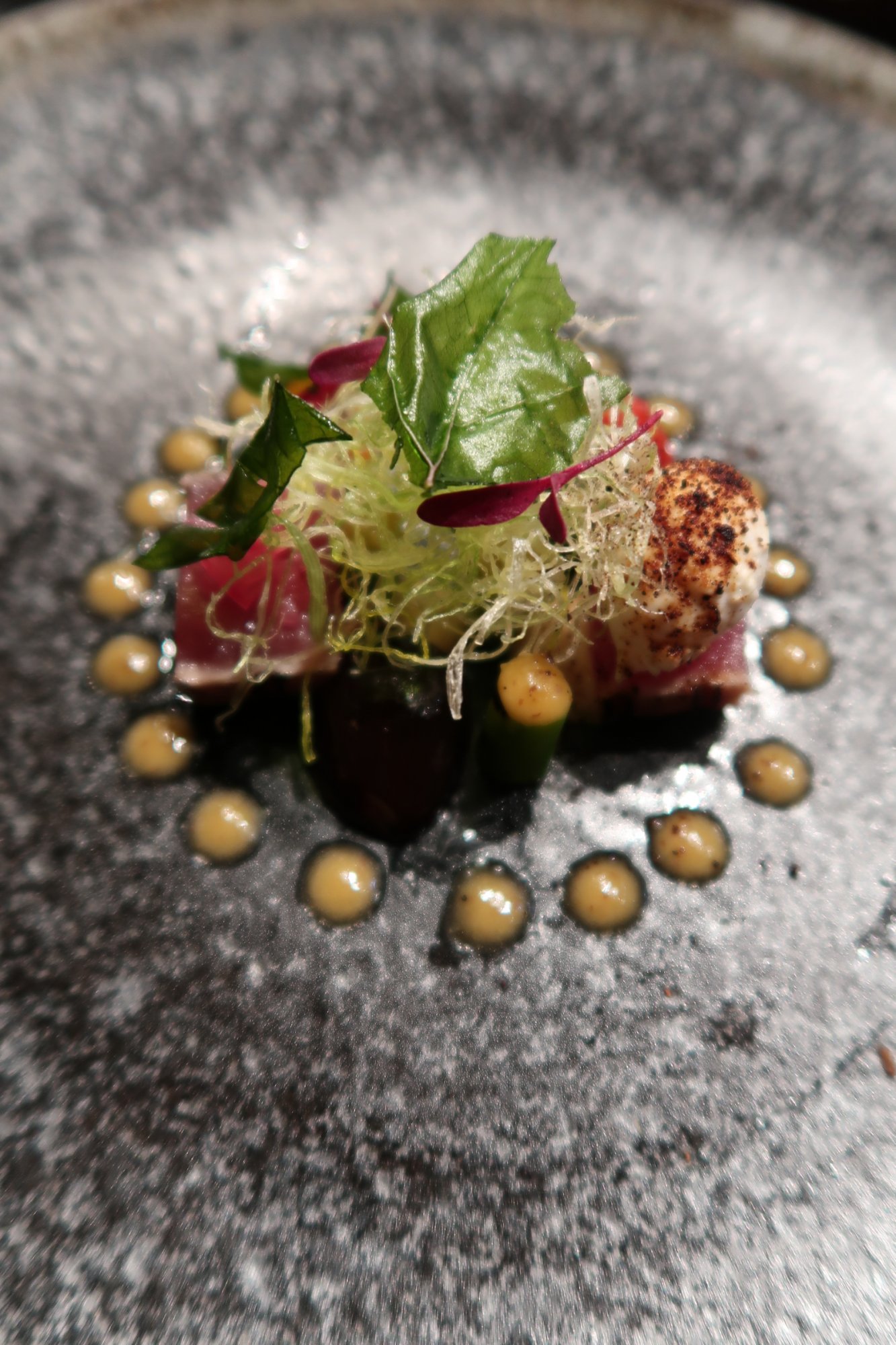 Cons
Layout. While enjoying our snacks in the Dark Room, I realized the set up is a bit tight, such that we could hear the orders being placed for other diners. I certainly have no problem listening in on expo, but I do think it takes the customer out of the experience. (This could be because of where we were sitting and also that it was early in the evening, but the room itself is a bit cozy). Again, it was not enough to make the evening any less special, more that I think if the configuration was different, this issue could be avoided.
One dish too many. While I genuinely loved the meal, between the lamb and the duck, I believe one could definitely be removed (for me, it was the lamb…it simply didn't work as well as the others — I blame a weird texture). There was enough protein going on without these two, such that I would give guests extra room for the other courses.
No 'story.' The more meals I have like this, the more I realize something like my meals at Suhring, Dill, or Chef Franzen's turn at Palazzo Versace were truly in a league of their own. It wasn't that any part of The Test Kitchen tasting menu was bad, more that the other menus showed a bit more cohesion. It's difficult for me to name and a bit intangible a concept, but with the above-mentioned degustations there was a particular thread throughout the meal (one of those 'I'll know it when I see it' type of things).
Advice
Come to this evening very, very hungry! Additionally, as we were a bit jet-lagged from arriving early that morning, we weren't able to go much past the 4-hour mark (although the meal could've easily gone for five).
Request the chef's table if you can. We sat at one of 6 counter seats (the two to the far right are the best — thank you to whoever placed us here) which are located directly at the pass and (of course) a fantastic way to feel part of the action.
Be patient when trying to get a reservation. Hopefully, you'll have more flexibility than we did (literally, only one night in the schedule that would work).
Obligatory Pic Spam
Would I go back to The Test Kitchen? You better believe it! The entire evening was the perfect way to end my 36th year. In fact, it was fun to inform many of our South African friends (and Uber drivers) that they had such a world class restaurant in their country.
The cost of the tasting menu is ZAR1600 per person (with options of a tea pairing ZAR2000, the Gourmand wine pairing ZAR2250 and the Iconic wine pairing ZAR2650).
Highly recommended.
Have you been to The Test Kitchen or one of the sister properties? What was your experience?